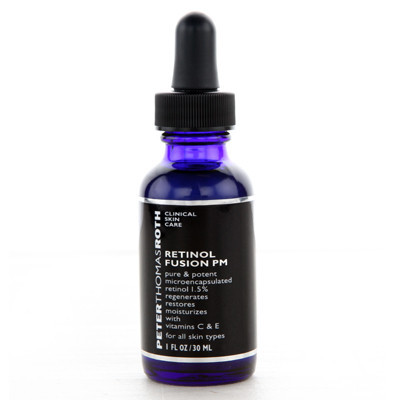 Photo: Bobby Doherty
When it comes to anti-aging, there are a few tried-and-true ingredients that we know work, one being retinol. A derivative of vitamin-A, retinol is super effective at reducing fine lines, minimizing pore size, evening tone and fading spots. It does so by rapidly exfoliating the skin; the removal of dead skin cells is what helps generate smoother, younger-looking skin. The strongest form is prescription-strength Retin-A. While most effective, it can be harsh and result in dryness and irritation while your skin acclimates. That's why an over the counter version is a great introduction to a retinol skincare regimen.
One of the most important things to keep in mind is that retinol is photosensitive. You should always wear it at night; it has a reverse effect in sunlight. Also, wear lots of sunscreen (but you're doing that already… right?). Your skin will be more delicate, so you should make sure you're keeping it protected. And since you will notice some dryness, exfoliate a few times a week to keep everything even and smooth.
Herewith, our favorite retinol-infused products for prettier, more youthful looking skin.