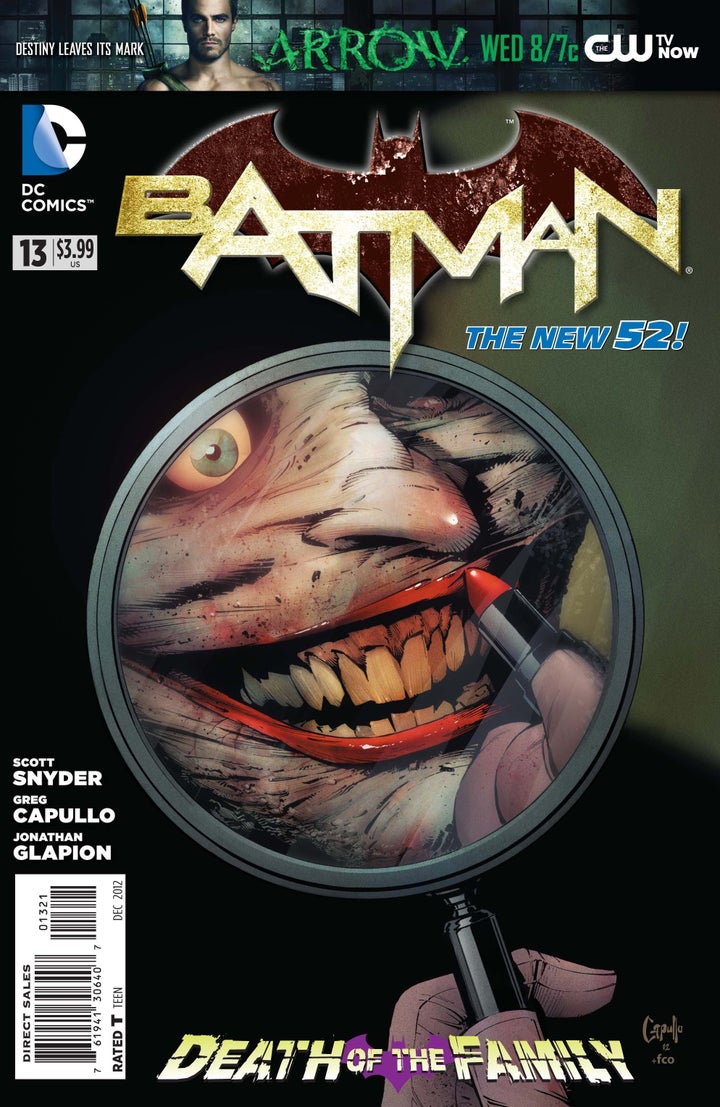 Reading Scott Snyder and Greg Capullo's brand new issue of Batman, you'd think they've been doing this for the whole of their lives. They've created a look and feel for Batman that seems iconic and old, but all at once their own. From the opening pages of Batman #13, you get the feeling that something isn't right, it has that unsettling gravitas that only one force in Gotham can conjure: The Joker.
Absent as a central villain in DC's New 52, Batman #13 propels Joker into the spotlight once again. And it's lethal, scary, and unsettling.
This Joker is one so uniquely Scott that it's not fair to compare it to others. It has the whimsy of Mark Hamill's Joker (though Scott tells me it's his secret fanboy dream to shake Mark Hamill's hand, not just because of the fact that he's Luke Skywalker, but because he created one of the best Jokers in Batman's history.) Scott's Joker has the calculated chaos of Heath Ledger's Joker, and even some of the cool confidence of Jack Nicholson's.
This Joker is incredibly fun to read, but nerve-wracking at the same time. What horror is going to befall my beloved heroes?
In an interview last week, Scott explained to me about how be became interested in the family Batman has accumulated and how, "as a sort of father, he's vulnerable and frightened for their safety. And I thought to myself who would be the most frightening in that situation. That's Joker. Joker is about that thing that looks at you and knows what you're afraid of and knows how to exploit it."
The last time I interviewed Scott about Joker, he told me something about his take on the Joker that I think still resonates: "I think Joker works best as a demon on Bruce's shoulder. He's bringing horrifying things to life for Bruce..."
And reading this issue, it's true. Knowing that Snyder and his team seem to have carte blanche in the Bat universe, I'm starting to become very afraid for some of my favorite ancillary characters in the Bat-universe. I'm most terrified for Tim Drake, former Robin, current Red Robin, who isn't headlining his own book. Reading this first issue, it feels clear that no one is safe, and Joker has a habit of taking out Robins. In fact, the title Death of the Family hearkens back to my favorite Batman story, Batman: Death in the Family, which is about the time Joker beat Jason Todd, the second Robin, to death with a crow bar and blew him up.
Bad things are going to happen and I'm not sure I can handle it. Even just thinking about it as I write this piece I'm getting uneasy.
But that's really a testament to the team working on the book. Scott brings a tremendous literary quality to the writing, showing us what Batman is made of by doing the most horrible of things to him. Greg Capullo is giving us some of the best pencils in his career, and FCO Plascencia is doing the most atmospheric colors of his life. Speaking of the rest of his crew, Scott told me that he's "honored to be working with this art team. Batman has never been as richly imagined."
This is a book you need to read. Whether you're a fan of comics or not. If you're a fan of good storytelling and can buy into the conceit that a man dressed as a bat can make a difference in the world, then there's no better book for you than this one.
Batman #13 hits comic book stores on Wednesday.
See below for images from the new comic book.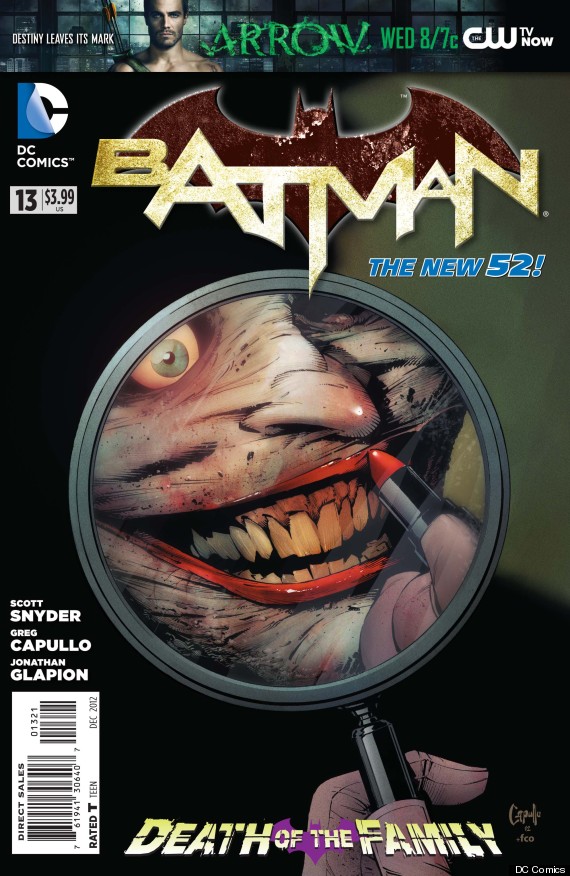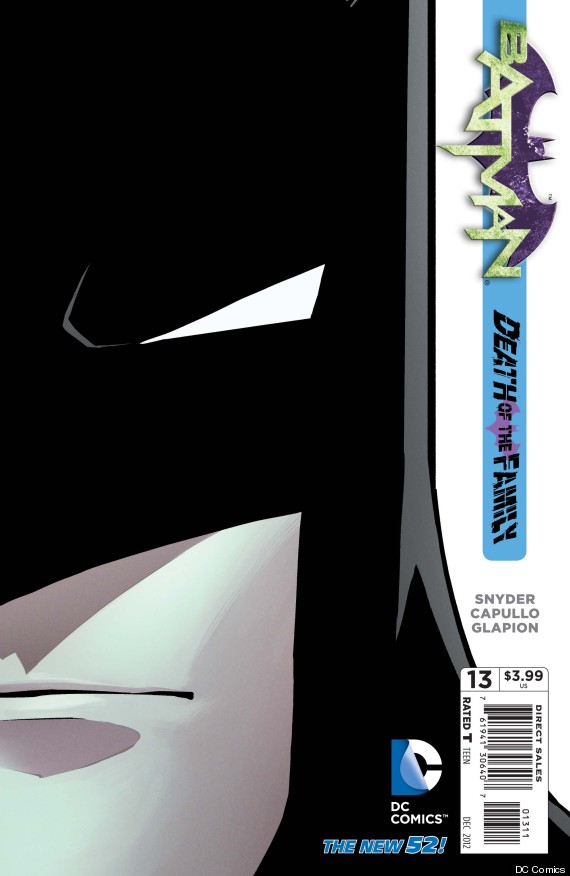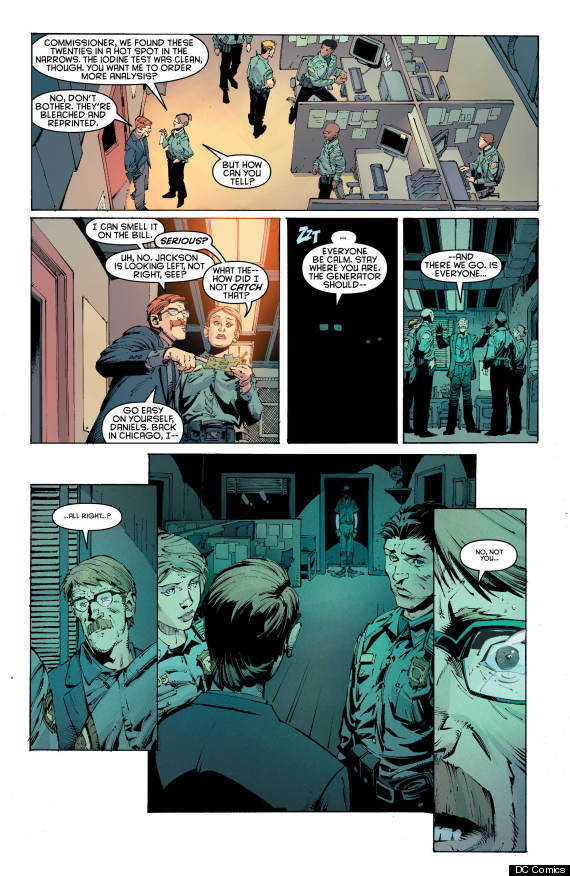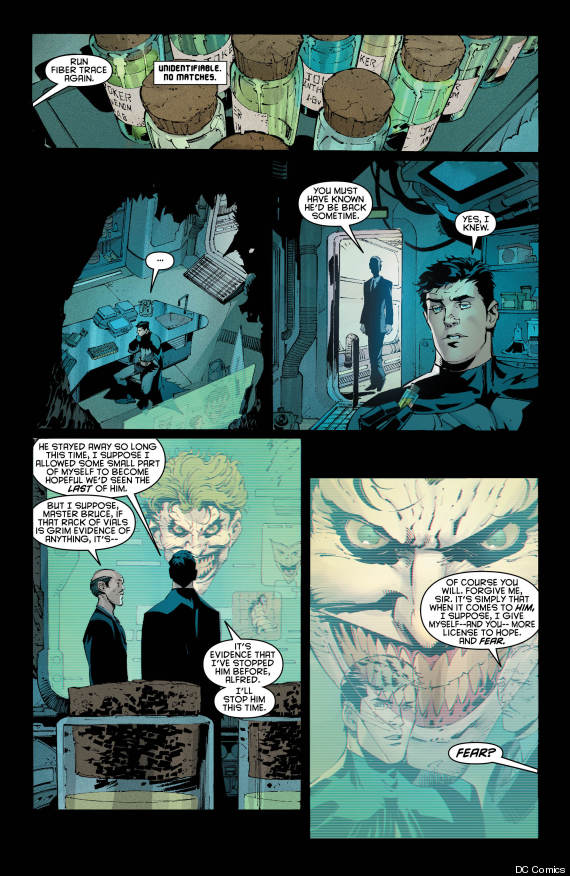 Calling all HuffPost superfans!
Sign up for membership to become a founding member and help shape HuffPost's next chapter