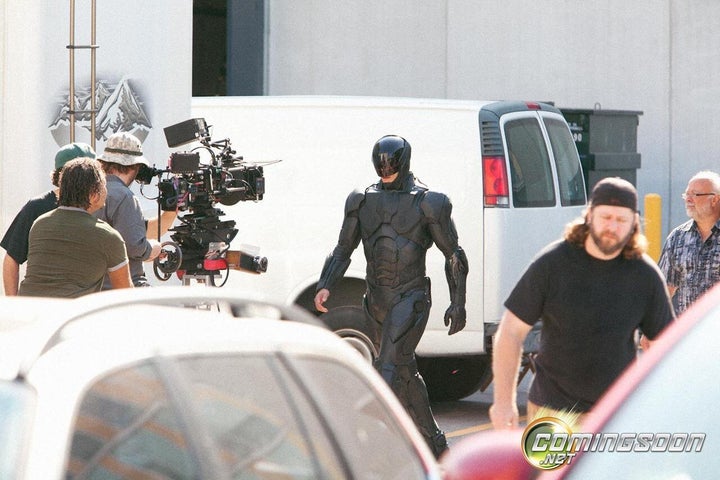 Despite featuring a cast filled with beloved character actors like Joel Kinnaman, Jay Baruchel, Gary Oldman, Samuel L. Jackson, Michael Keaton and Michael K. Williams, the new "Robocop" remake can't seem to catch a break. Back in August, HitFix critic Drew McWeeny used his Twitter account to trash an early draft of the "Robocop" script: "I tried to read the 'Robocop' remake, but 20 pages in my nose started bleeding and I forgot my name," he wrote, before revealing that the new version of "Robocop" roundly mocks the original film's suit design as looking like "a toy from the '80s."
"I wonder, is this 'Dark Knight' getup the only version of RoboCop we'll see in the new movie?" wrote Lauren Davis from io9.com, noting the similarities between the Robocop costume and the threads worn by Batman in Christopher Nolan's "Dark Knight" trilogy.
"Why change a design so perfect and distinct?" wondered Jack Giroux from Film School Rejects. "You can keep the original suit without making your remake a carbon copy. Changing RoboCop's suit is like getting rid of Jason's hockey mask or Freddy Krueger's whole getup. It just doesn't feel right. People, even non-nerds, know what RoboCop looks like, so why change that when you're attempting to cash in on the familiar?"
In an interview with Movieline earlier this year, Kinnaman (who you may know best from "The Killing") said that the entire film was getting an update from Paul Verhoeven's 1987 original, including the costume design.
"It just comes from the realization that our vision of a robot 30 years from now is very different from the vision of what a robot was in the future in 1987," he said. "That is the main thing. Obviously there are some things in the script that lead into that, but that stuff I can't talk about."
"Robocop" is set to hit theaters in August of 2013.
Popular in the Community