 Pop music's British Invasion of the 1960s gained one of its first footholds right here in Southern California. The Rolling Stones launched their first American tour with a performance at San Bernardino's Swing Auditorium on the night of June 5, 1964. The band's first album, "England's Newest Hitmakers The Rolling Stones," had been released in the U.S. just two months previously.
Local promoter Bob Lewis initially had tried to sign the Beatles for the San Bernardino gig, but the deal with a New York booking agency fell through at the last minute and he was offered the Stones as a consolation prize. Lewis remembers, "I had never heard of them, but my son said they were cool, so I said OK."
San Bernardino radio station KMEN, which sponsored the show, hyped the Stones on the day of the concert as "Britain's bad boys" and "the ugliest band in England." KMEN disc jockey Brian Lord drove to meet the band, who had arrived in Los Angeles two days earlier, and accompanied them to San Bernardino.
Nowadays, tickets for the Stones' new "50 Years and Counting" anniversary tour that just launched in Los Angeles range as high as $2,375, but tickets to that 1964 show in San Bernardino, which co-starred the Byrds, were only $5. Even at those prices, a less-than-capacity crowd of 3,500 showed up at the 5,000-seat Swing, but fans were enthusiastic.
See photos of the Rolling Stones' May 3, 2013 show. Story continues below.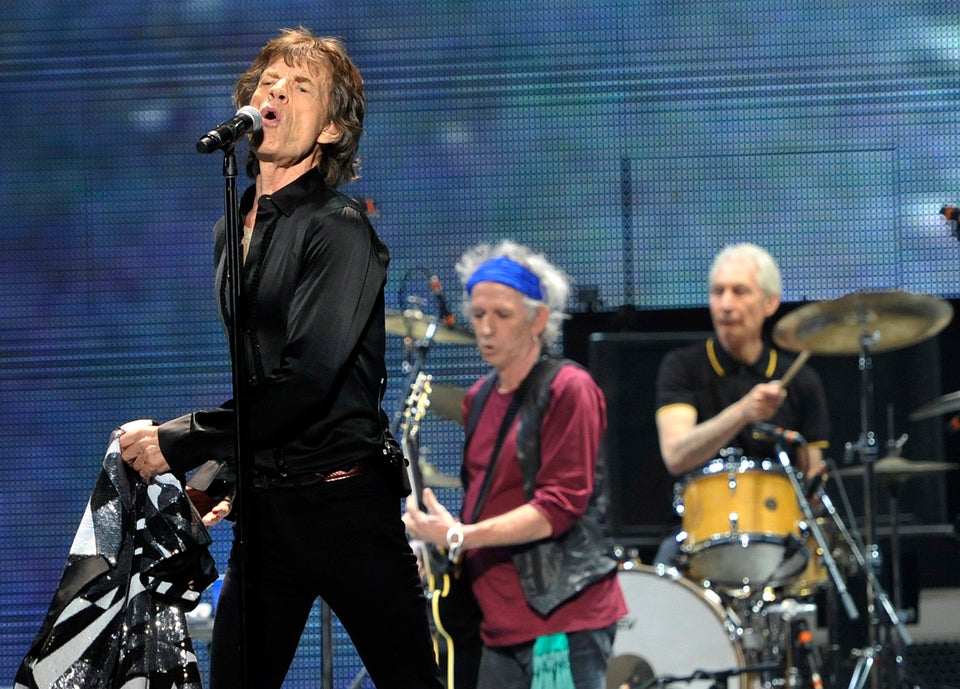 Rolling Stones Perform May 3, 2013 In LA
"The previous weekend," Lewis remembers ruefully, "San Bernardino High School had held their graduation ceremony at the Swing and stairs had been put in at the front of the stage so graduates could walk up and receive their diplomas. Well, we just left those stairs there for the Stones concert. We were so new at this. We didn't know what to expect. Well, with those stairs, there were all these girls rushing the stage during the show. They could just run up there. In fact, one of those girls actually stole Mick Jagger's tambourine. Somebody out there has a real nice souvenir of that concert. "
The Stones performed 10 songs that night, including the audience favorite, "(Get Your Kicks on) Route 66," the lyrics of which mention San Bernardino by name.
Recalls guitarist Keith Richards, "Our first American gig was in San Bernardino. It was a straight gas, man. They all knew the songs and they were all bopping. It was like being back home. 'Route 66' mentioned San Bernardino, so everybody was into it. "
Lewis, now 84 and retired, with homes in Claremont and San Diego, remembers, "The crowd was so crazy that the Stones didn't even take a bow at the end. They did what was called a London Exit. They just threw down their instruments after the last song and ran off the stage. "
Fans proceeded to swarm a parking lot where the band's bus was located, but they were held at bay by a combined force of San Bernardino police officers and a crowd control unit deployed by the San Bernardino County Sheriff's Department.
In next-day coverage of the event, a reporter remarked, "It's a good thing the riot squad was there." ___
(c)2013 the San Bernardino County Sun (San Bernardino, Calif.)
Visit the San Bernardino County Sun (San Bernardino, Calif.) at www.sbsun.com
Distributed by MCT Information Services
Related
Popular in the Community