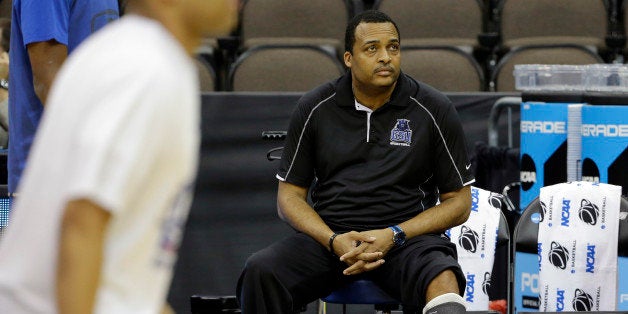 But the White House, also like many Americans, are giving Georgia State its due now.
Led by the father-son team of coach Ron Hunter and his son RJ, one of Georgia State's star players, the team has become one of the most fun squads to watch.
Mostly because of Ron's hilarious post-game celebrations.
After injuring his Achilles in the team's Sun Belt Conference Championship game on Sunday, he flew out of his chair Thursday when his son nailed a three-pointer with just seconds left to take the lead and the victory over Baylor.
After the game, Hunter jokingly jabbed Obama for doubting his team.
"Obama, I hope you make better decisions in the presidency than you did about Georgia State," Hunter said in the locker room after the game.
Well, Ron, message received apparently.
"That was a great shot there at the end of the game," White House press secretary Josh Earnest told reporters during a press briefing Friday. "I think there's no question that that kind of high level of performance when the chips are down is certainly the kind of spirit that the President would hope to summon in the context of his job, too."
The Hunters and the rest of the Panthers will face off against No. 6 Xavier on Saturday.
Calling all HuffPost superfans!
Sign up for membership to become a founding member and help shape HuffPost's next chapter