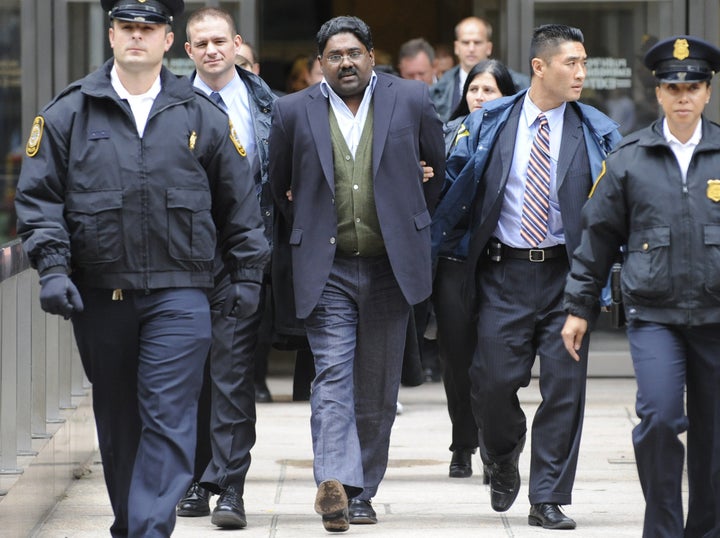 The name of the informant who tipped off authorities to one of the largest insider trading cases in history has surfaced.
According to The New York Times, Roomy Khan, a former employee of the Galleon Group hedge fund, ratted out her former boss, Raj Rajaratnam, after authorities learned of illegal trades Khan was making.
She taped conversations with him and told prosecutors that she had provided inside information about Google and other stocks. She has agreed to plead guilty to conspiracy and securities fraud and is working with law enforcement in hopes of receiving a lighter sentence, according to the criminal complaint.

Ms. Khan, who was identified by people close to the case, has a legal past that may present a hurdle for federal prosecutors. In a lawsuit settled last month, a housekeeper for Ms. Khan and her husband, Sakhawat, said they had violated minimum wage laws by paying her about $250 a week for 80 to 90 hours of work. The lawsuit was settled after a judge said the Khans had fabricated evidence.
According to what seems to be her LinkedIn profile, Khan is currently employed at Trivium Capital, where she is listed as a "consultant."
Yesterday, with its founder free on a $100 million bail, Galleon announced that it was winding down its massive hedge fund. Here's more on Khan from the WSJ (in the below, the informant is Khan):
The informant sought to rejoin Mr. Rajaratnam in late 2005 when facing financial difficulties, the SEC complaint said. Mr. Rajaratnam asked if the applicant had inside information about any public companies, the complaint alleged. According to the complaint, she said she could get access to inside information regarding Polycom Inc., a San Jose, Calif., maker of audio and data-conferencing products. Investigators say the informant and Mr. Rajaratnam both traded shares of Polycom multiple times, as well as shares of two other companies where the informant allegedly got inside information: Hilton Hotels and Google Inc.
The returns generated by Rajaratnam and Galleon appear to be almost hard to believe - and its unclear how much Khan contributed to those gains during her time at Galleon. Earlier today, the Pragmatic Capitalist blog, suggests Galleon was trading on insider information for many years: "I have run the risk adjusted returns on hundreds if not thousands of portfolios throughout my career and I have never seen numbers like these. NEVER. There is virtually ZERO downside volatility in these figures."
Read more at the New York Times here.
REAL LIFE. REAL NEWS. REAL VOICES.
Help us tell more of the stories that matter from voices that too often remain unheard.