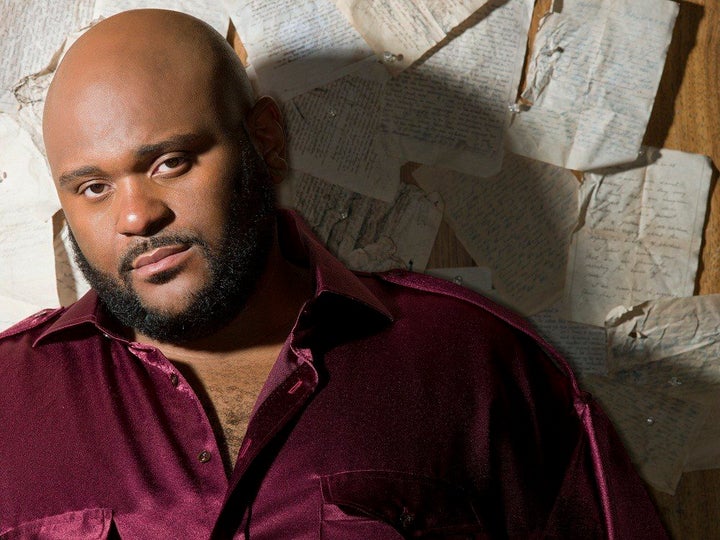 In a candid interview with The Huffington Post, the "American Idol" Season 2 winner opens up about his album, his divorce, the state of today's singing competition shows and why he doesn't see himself as a spokesman for health and wellness.
What's the concept behind the album's title, Letters from Birmingham?
Me and one of the writers of the album were going through the airport in Atlanta and they have this historical display in each of the concourses. So in one of the concourses they have a Martin Luther King exhibit, but they also have a transcript of the letters from a Birmingham jail. And I remember it just instantly hit me like, That would be a great thing for an album. This album is really a reflection of life for me. And it's also a thought-provoking title like, "I wonder what Ruben is talking about on this album."
And then also Birmingham is the place where I garnered a lot of my support. My hometown was always behind me. Whether I was wearing the 205 jersey or whether it was the No. 1 state for votes while I was on "American Idol." They really supported me and I just wanted to kind of do something to draw them back in to let people know that I'm still proud of where I'm from. I want to do all that I can to continue to put Birmingham on the map. So it's important for me to find ways to incorporate the little things about who I am in every album.
The album's lead single, "June 28th," dives into your personal life a bit. Can you elaborate on the song's lyrics?
The song is kind of self-explanatory. In life we all go through different situations that cause you to reflect. I had the opportunity to be married to a wonderful person. And for some reason two good people couldn't make a good thing work. But in life, the one thing that I love about being an artist is that you can sometimes use the pain that you go through to make beautiful things. And I think that's what "June 28th" is really about.
How personal would you consider this album to be in comparison to your previous efforts?
I think it will be my most personal album. Because the first album I was just getting songs from everybody because, of course, I was on tour with "American Idol" and I really didn't have the opportunity to be as involved as I wanted to be in the album. And with this album I was able to pour my heart out into the songs. And also I'm 33 years old. I'm not the same cat that I was when I first came out. So I feel a lot different about stuff. There are a lot of sexy songs on there; it's just a real R&B album from top to bottom.

You also decided to cover Bobby Brown's timeless classic "Rock Wit' Cha" on the album. What inspired you?
Everyone compares me to Luther Vandross. So I kind of wanted to take what he does and use it for myself. He would always remake songs that were popular when he was a young person. Instead of me just remaking a Luther Vandross song, I wanted to remake something that was popular when I was a young kid. And that Bobby Brown record in particular had a special significance with me because when I was in seventh grade, that album had just came out and I had all Fs in conduct. [Laughs] So when I do this song, I do it because I'm a fan. I was really big New Edition fan.
Did you also sport the famous Bobby Brown haircut in the seventh grade?
Ah, man, I had everybody's haircut. I had Kwame's. I had a Kid 'n Play jumpoff. I remember when Troop came out, I begged my momma to get me an S-Curl in my hair. Now things are pretty consistent. [Laughs]
Speaking of Bobby Brown, have you heard any feedback from him about the song?
I don't know if he has heard as of yet, but I know that [Babyface], has heard it and he liked it. He wrote the song.
How was the recording process with him?
I did my first single with Babyface. The first song that I ever recorded with "American Idol" he produced it. And the guys who produced my single "Sorry 2004," they basically came up under him. So I had the opportunity to have a lot of his influence around me because I recorded a lot of my first album at Edmond Towers. This past summer I got a chance to do a duet with him while I was on tour with David Foster.
I heard that you recorded the album to reflect the movie "The Notebook." What's the connection?
That's the way that we molded the album together. When you listen to it, it kind of feels like that movie. So we got the personal letters that I wrote; I'm reading them throughout the album. It's narration through it, but you can understand the subject matter of the song.
Switching gears a bit, as an "American Idol" winner, what are your thoughts on the influx of television singing competition shows on the air?
I think it's just like anything else with popular culture. When one person does something that works, everyone else wants to do it. So it didn't surprise me at all to see people come with different versions of "American Idol" and a lot of them are exactly the same but with different twists.
Have you been in contact with Paula [Abdul], Randy [Jackson], or Simon [Cowell] lately?
No, I haven't talked to them in a while.
Among the projects that you're involved in, you also held a [Ruben Studdard celebration] weekend in Birmingham last November. What are your future plans for the initiative?
We're going to do it every year now. The city responded really well to it. Everybody was thrilled to watch me do something that was most definitely out of the box for me. Nobody would've expected me to run a 5K at all. I was tired as hell, of course. But, hey, it's for the kids. [Laughs]
And the theme of the event is music and fitness, correct?
Right. Everyone is at different fitness levels, and this is just something to inspire people to get started. And it inspired me. We had a lot of people who have never ran anything before that were complete couch potatoes come out there and support the children of Alabama. And for me that was a blessing. So hopefully since I'm doing the event, as a city we can make better choices for ourselves.
With you having your own weight loss journey in the past, how important would you consider staying on top of your health is at 33 years old?
I never want to try to be a spokesperson for health and wellness because I most definitely am not the most in shape person in the world. But I do know that it's important that we all have our regular checkups with our doctors and try to have some type of physical activity so that we can have a decent level of health, so that we can ward off a lot of the things that happen -- especially in the African-American community. It took me to be in my 30s for it to become somewhat of a mission for me because I grew up in the South. So we used to eat everything. And still to this day I have a problem with sweets, which is something that I hope I can get control over in the near future. But everyone has different obstacles that they have to conquer and I'm looking forward to having the opportunity to conquer mine.
Calling all HuffPost superfans!
Sign up for membership to become a founding member and help shape HuffPost's next chapter