WASHINGTON -- The leading federation of labor unions in the U.S. has issued a withering critique of so-called social auditing programs, the corporate-funded inspection systems now used by major American companies to monitor working conditions in their supply chains here and abroad.
Entitled "Responsibility Outsourced," the 60-page report from the AFL-CIO (below) accuses such programs of catering to corporations at the expense of factory workers in places like Pakistan, Indonesia, China and Latin America, calling the certification process for garment plants a "facade" of voluntary and non-binding scrutiny compromised by conflicts of interest.
"Not only has it helped keep wages low and working conditions poor," the report's foreword states of the auditing industry, "it has provided public relations cover for producers whose disregard for health and safety has cost hundreds of lives." It determines the "central failing" of such audits to be "short and cursory visits to factories and no proper discussion with workers."
The report follows several high-profile workplace disasters in Asia, including a massive factory fire in Pakistan that claimed the lives of more than 260 garment workers last year. Survivors of that tragedy said locked emergency exits and bars over factory windows had turned the plant into a deathtrap. Even so, the facility had recently earned a certification under the authority of a leading social-auditing group, the non-profit Social Accountability International (SAI).
"The certification and monitoring systems used by these initiatives," the report claims, "cannot be relied on to deliver on even the most basic of goals: stopping entirely preventable deaths caused by factory owners' negligence or outright refusal to observe the most basic safety requirements."
SAI is a recipient of much of the report's criticisms, along with another non-profit, the Fair Labor Association, which has monitored the Foxconn plant that supplies Apple.
SAI officials said they had asked the AFL-CIO for a chance to review the report before it was published but were turned down. The group criticized the report for what it called mischaracterizations and inaccuracies.
"The vast majority of SAI's funding, including corporate funding, is restricted –- the funding is specifically used to pay for needed improvements in managing a company's supply chain through training or capacity building programs," SAI said. "It is appropriate for business to pay for this, as all parties understand that is a type of investment in human capital that is key for both human and economic development."
The two groups emerged after a series of sweatshop scandals in the 1990s, when U.S. retail companies and politicians, including then-President Bill Clinton, decided to bring more transparency and accountability to working conditions in the garment supply chain. The auditing process, largely funded by corporate members, now serves as one of the few forms of scrutiny of garment factories in countries with weak government oversight and poor enforcement of labor laws.
Labor activists, however, argue that such auditing is deceptively insufficient, and they've grown more critical of groups whose boards are comprised largely of corporate members and academics. According to the report, a majority of Fair Labor Association's dues money was derived from corporations such as Apple and Nestle in 2010, and two-thirds of Social Accountability International's funding that year came as earned income from member companies as well as accreditation fees from for-profit auditors.
"I think they are well-meaning, but they do more harm than good," said Sharan Burrow, general secretary of the International Trade Union Confederation, the largest union federation in the world. "It's more about a corporate whitewash than a deepening of worker protections. It's not an appropriate model."
The Fair Labor Association declined to address the report directly, noting that it hadn't had a chance to review its contents. (HuffPost was shown a draft of the report and offered to relay its criticisms in detail.) Such groups have heard many of the charges before, and their defenders point out that the voluntary compliance programs for corporations are better than nothing.
"As one of the only nonprofits bringing together labor and human rights organizations, companies and universities, FLA is proud of the work we do to improve workers' lives around the world," a Fair Labor Association spokesman said in an email.
Although unions were initially consulted in the creation of Fair Labor Association, the nonprofit now has only one labor rights organization on its board. Labor leaders argue that the two non-profit groups pay too little attention to living wages for workers and collective bargaining rights, noting the involvement of the company brands and retailers they audit in the groups' governance structure.
Labor groups have grown more critical of the social auditing system since the Pakistan fire. The factory in that case, Ali Enterprises, had passed a safety inspection roughly three weeks before the disaster, earning Social Accountability International's widely recognized SA8000 certification, as The New York Times reported in September. Although inspectors did not work directly for Social Accountability International, they had visited the factory on behalf of the social-auditing group, which has its own affiliate that licenses outside, for-profit firms to perform inspections.
The founder and president of Social Accountability International, Alice Tepper Marlin, told the Times that the group began a review of its subcontracting process after the fire: "We think we do make a difference," she said. "We're just trying to help get a culture of compliance."
The fire also brought on some self-examination at UNI Global Union, an international federation of service-sector unions. UNI had been on the board of Social Accountability International, but quit after the tragedy. Christy Hoffman, UNI's deputy general secretary, told HuffPost the trade union resigned its post in November believing the system was too flawed.
"It just really wasn't sustainable for us," said Hoffman. "Anyone on the SAI board has to be really committed to engage in some deep reform there. We were very disappointed with the way SAI reacted to the tragedy in Pakistan."
"Without independent worker representation," Hoffman added, "these systems fail."
Among other episodes, the report criticizes Fair Labor Association over its handling of a labor dispute in Honduras in 2008, when Russell Athletic announced the closure of a plant shortly after a trade union had successfully organized the workforce. A private auditing firm hired by Fair Labor Association initially found that the closure was due to economic factors and not union-busting, contradicting a different report done by another non-profit, the Worker Rights Consortium. Fair Labor Association later put Russell on probation, and the company reopened the factory.
"I wouldn't trust any kind of organization that purported to investigate labor issues but was tied to corporations or brands," said Evangelina Argueta, an organizer with the union that organized the plant, Centro General de Trabajadores.
Last year, Fair Labor Association received both criticism and praise for its monitoring of the Foxconn plant contracted by Apple.
Labor activists like Argueta argue that voluntary compliance programs with non-binding resolutions can't substitute for government oversight or collective bargaining contracts. In addition to trying to unionizing factories, labor groups have been pressuring major American retailers into written agreements that will require time and investment to rehab factories and enforce safety standards when they lapse.
As HuffPost reported earlier this month, one survivor of the horrific garment fire in Bangladesh that killed more than 120 workers last year has been touring the U.S. trying to urge brands like Gap to sign onto a binding contract over factory safety. (Gap did not have clothing manufactured at the facility in question, though Walmart did.)
Scott Nova, executive director of the non-profit Worker Rights Consortium, argued that if the current compliance systems were adequate and aggressive, the garment industry "would either be much safer or much smaller" in places like Bangladesh and Pakistan. He called the Pakistan fire a "particularly compelling example" of the failures of "corporate control monitoring."
"We know the factories are not going to police themselves, and we know the governments are are not going to," said Nova, whose group does not take money from the corporations whose facilities it inspects. "The brands have been saying for 15 years that they're policing themselves, but we know they're not. That's the reason why a binding agreement is necessary. The brands have long been promising to protect the safety of workers, and they have failed."
This report has been updated with SAI's response.
The report
:
Related
Before You Go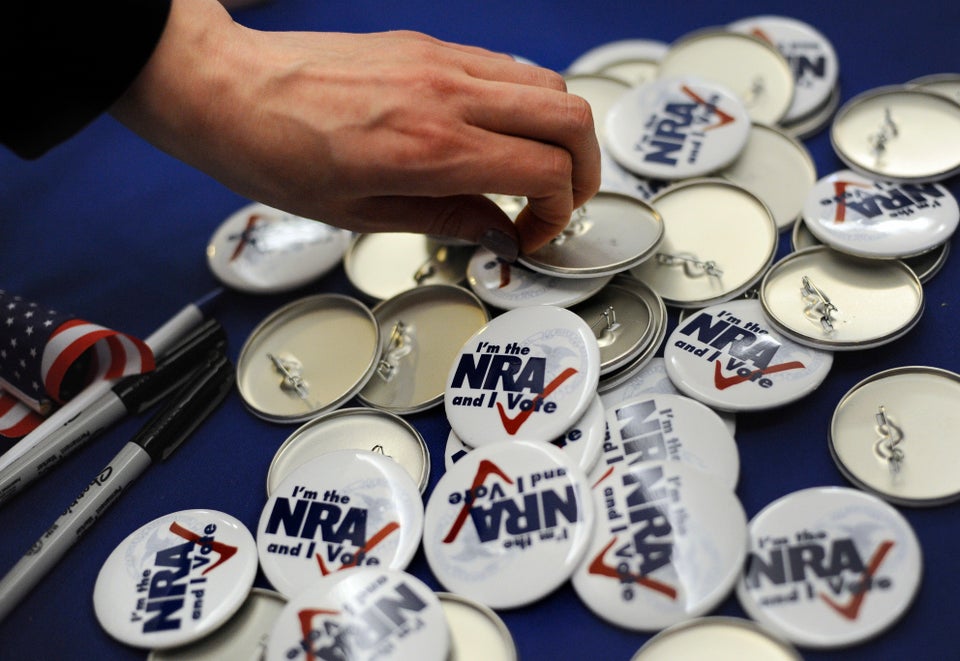 15 Things The Gun Industry Wouldn't Admit
Popular in the Community