 Kansas Gov. Sam Brownback (R) is being criticized by a secular group for speaking at, and promoting, a religious rally Saturday in Topeka.
Americans United for Separation of Church and State is criticizing Brownback's participation in the Day of Restoration, sponsored by ReignDown USA, a national group, Fox News reports. In addition to speaking at the rally at a Topeka park, Brownback taped a video message promoting the rally and signed a proclamation heralding the event.
"We've been favored like no nation in history, and we've forgotten God," Brownback said in the video posted on the ReignDown USA website:
In his proclamation, Brownback quoted former Presidents George Washington, Thomas Jefferson and Abraham Lincoln on prayer and said that former President George W. Bush had issued a proclamation for a 2008 ReignDown USA rally in Washington. Brownback wrote that he wanted "every citizen of our state to join in asking a Holy God to bring healing and restoration -- help in mending broken lives, bringing peace to our families, our communities, and this land."
Vickie Sandell Stangl, the president of the Great Plains chapter of Americans United for Separation of Church and State, said that Brownback needs to "repent" for his participation. She accused him of trying to be a "pastor-in-chief" for Kansas instead of a governor.
"The people of Kansas do not need politicians telling us when, how or whether to pray," Sandell Stangl said in a statement reported by Fox News. "If anybody needs to repent, it's Gov. Brownback. He needs to repent for violating the constitutional separation of church and state."
The Topeka Capital-Journal reported that Brownback spoke at the rally for 10 minutes, touching on a series of topics including his own religious journey and the Sept. 11 terrorist attacks. He also asked for forgiveness personally and for a series of historical decisions, including slavery and the United States breaking treaties with Native Americans.
"I pray this as a child of God, I pray this as a sinful man, I pray this as somebody in the position of governor in the state of Kansas, I pray this in the name of Jesus," Brownback said.
U.S. Rep. Trent Franks (R-Ariz.) also spoke at the Topeka rally, telling the crowd that people "desperately need God," The Topeka Capitol-Journal reported the crowd knelt as Franks prayed for Congress and President Barack Obama.
Brownback has long been one of the most conservative and religious-minded governors in the country. Earlier this year he supported the creation of a prayer room in the state capitol, and he has hosted prayer events in the capitol. Brownback did not comment on the Fox News report.
Before You Go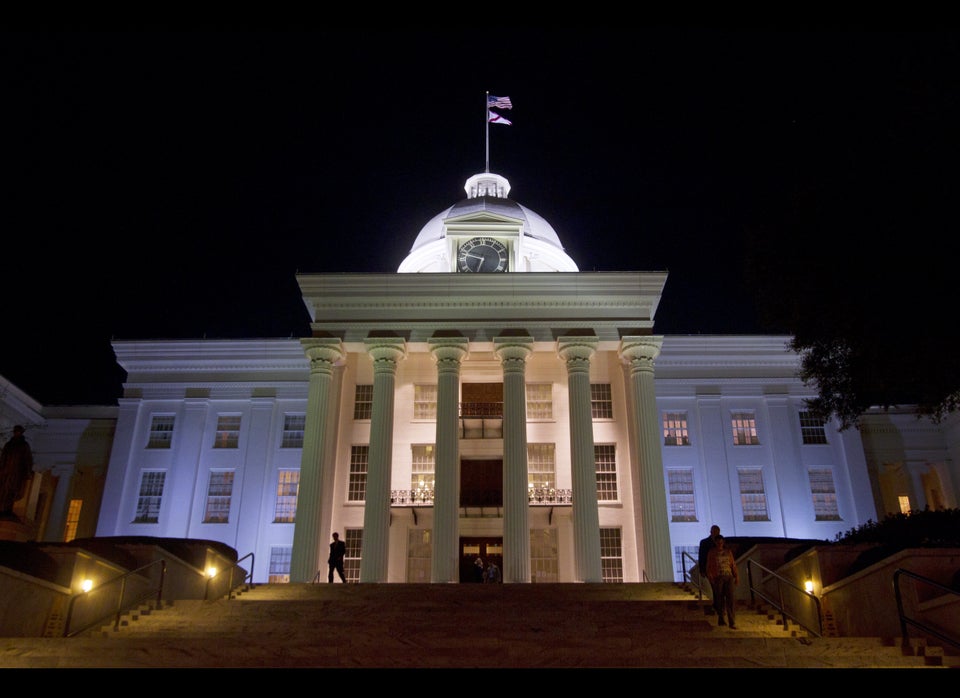 U.S. State Capitol Buildings
Popular in the Community