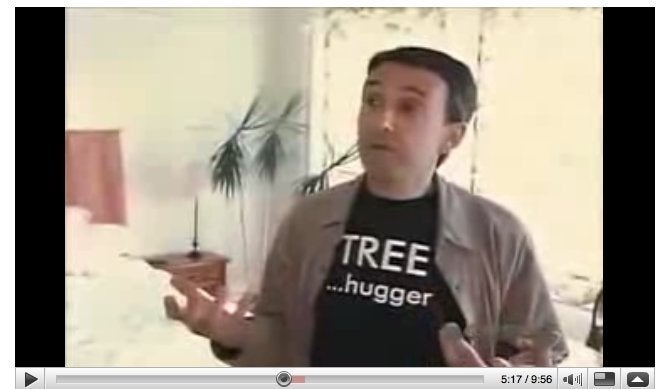 SAN FRANCISCO - It's safe to say Stephen Fowler probably wishes he never appeared on "Wife Swap."
Fowler's stint on the ABC reality show last month, in which he called a rural Missouri woman spending two weeks in his San Francisco home stupid and simple, has made him famous in the worst way.
His performance has inspired a Web site, StephenFowlerSucks.com, a Facebook group, "I Can not Stand Stephen Fowler from `Wife Swap,'" and public condemnation by his own wife, who on her blog urged him to get professional help.
What has generated such wrath is Fowler's condescending treatment of Gayla Long, a mother of four from rural Missouri whose family likes fast food and paintball. In wince-producing remarks, Fowler, who is British, wrote off middle America with such pronouncements as "Your two languages seem to be bad English and redneck."
Three weeks later, Fowler's "Wife Swap" antics are still a YouTube sensation, with at least 10 postings from the show's Jan. 30 episode displayed on the Web site, most with headings such as "ridiculous elitist" and "elitists gone wild."
Last week, Yahoo posted a clip of the show on its site under the heading "Husbands Behaving Badly." Each new posting or story generates thousands of views and hundreds of galled comments.
Fowler, an environmental entrepreneur who develops biofuels, apologized in a statement posted on his wife's blog for behaving "like a complete jerk" and said he has resigned from the boards of two nonprofit corporations for reflecting badly on the organizations.
Some news outlets have reported that Fowler says he has received death threats. Neither Fowler nor his wife, Renee Stephens, could be reached to confirm the reports.
"Wife Swap" is a social experiment of sorts in which wives from two very different families exchange lives for two weeks.
Stephens, a self-described life coach and "destination coach" (who says her goal is "to eradicate weight struggles from the planet") joined Long's husband, Alan, the mayor of a town of 55 residents in Missouri.
Fowler, wearing T-shirts that say "Go Solar," "Tree Hugger" and "Sustainability," hosted Gayla Long with his young son and daughter. At one point, as Long read a list of rules for the Fowler family, Fowler told her, "I didn't know you could read." When Long challenged Fowler for acting like he was better than her, he responded: "I probably make more in a week than you make in a year."
At the end of the visit, he said, "God, that woman is the most stupid woman I've ever met in my life."
Friends quoted anonymously in the San Francisco Chronicle said Fowler told them he was instructed to ham it up by "Wife Swap's" producers. His performance evoked a stereotype of the San Francisco elitist liberal -- the tree-hugging do-gooder who acts morally superior while putting down others.
The Fowlers, who live in a large Victorian house in the affluent enclave of Noe Valley, work from home, but a neighbor said he had not seen them in a few days.
The backlash against Fowler appears to have hit his wife as well. On Friday, her blog, on personallifemedia.com, was defaced by a strip of bacon -- an apparent reference to her boast on "Wife Swap" that her family only eats the finest organic, healthy food money can buy.
HIGHLIGHTS:
HIGHLIGHTS PART 2
Popular in the Community