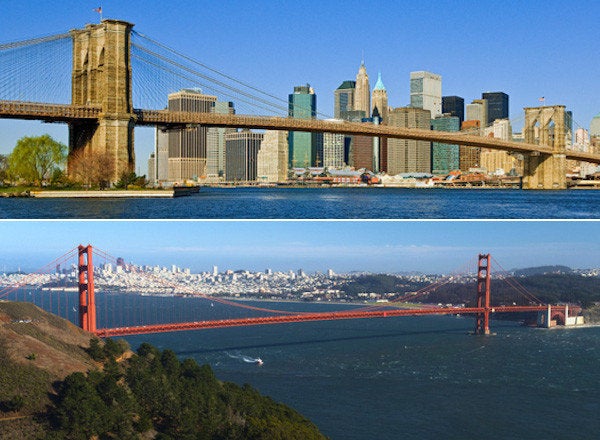 San Francisco has burritos, New York has bagels. San Francisco has the Gay Men's Chorus, New York has Broadway. San Francisco has Dolores Park, New York has the entire population of Williamsburg.
Are America's two greatest cities really all that different?
Local designer Teddy Hose recently set out to answer that question, analyzing scientific evidence that ranged from quality of produce to percentage of trust fund accounts per capita. His research led to the following infographic outlining the dispositions of young San Franciscans and New Yorkers (story continues below):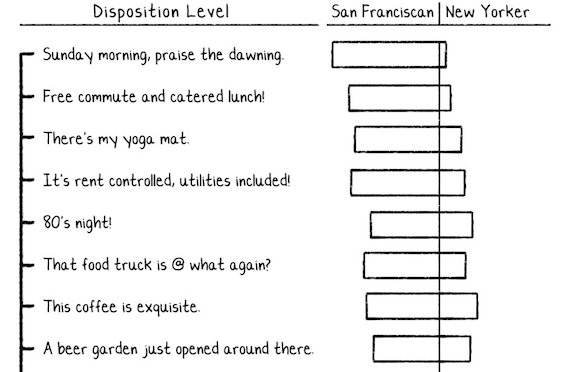 "I often find myself having talks with people here in the Bay, comparing the two cities," Hose told The Huffington Post. "As it shows in my piece here, while I see a lot of similarities I miss the 'nothing's sacred' attitude of New York, which comes with a bit of a darker disposition and sense of humor."
Dark dispositions aside, we can't help but appreciate the dual proliferations of bike enthusiasts, coffee snobbery and art walks. "It's my love letter to being a 20- or 30-something in the city," Hose explained.
And he's right. Whether you ride your fixie across the Golden Gate or the Brooklyn Bridge, whether you shop at the Trader Joe's on Masonic Avenue or 14th Street, there's no denying that to experience life as a young adult in San Francisco or New York is to experience life in the city.
Related
Before You Go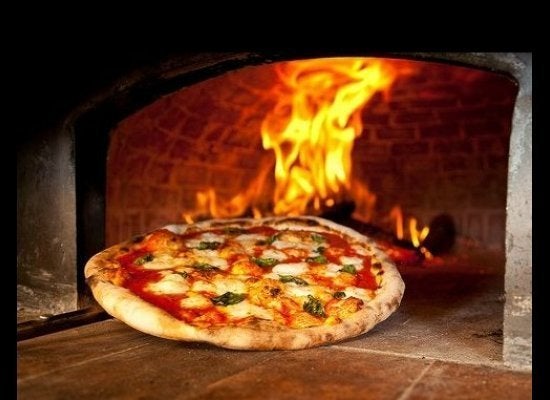 New Yorkers In San Francisco
Popular in the Community