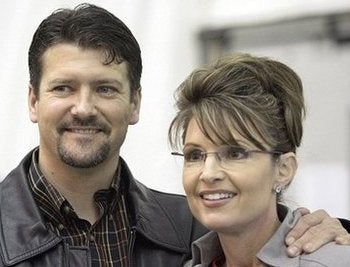 As numerous outlets have reported upon McCain's choosing of Sarah Palin to be his running mate, the Alaska governor, who has a reputation for being a reformer in a state fraught with corruption, faces her own state ethics investigation.
The Alaska Legislature voted last month to investigate allegations that Palin dismissed the state's public safety commissioner after the official resisted pressure to fire a state trooper involved in a contentious divorce from Palin's sister.

The Legislature has hired a former district attorney to investigate the case and asked him to issue a report by Oct. 31, just before the Nov. 4 general election, state Senator Hollis French said in an interview.

The vote by the Legislative Council to authorize the probe was unanimous, said French, a Democrat from West Anchorage. The council conducts state business when the Legislature isn't in formal session.

Palin fired the public safety commissioner, Walt Monegan, on July 11. Several days later, Monegan said he had been pressured by members of Palin's administration and family to fire state trooper Mike Wooten, according to the Anchorage Daily News.

French said it ``remains to be seen'' whether the investigation embarrasses Palin. The important issue, he said, will be whether evidence emerges that ties Palin directly to efforts to pressure Monegan.
ABC's Blotter blog, which has a well-detailed account of the history of the incidents that led to the investigation, notes that Palin "is likely to be deposed soon in the case, according to State Sen. Hollis French, who leads the state Senate's Legislative Counsel Committee."
Walt Monegan, who was fired by Palin, gave an interview to the Washington Post Friday in which he discussed the background of the case:
Monegan, 57, a respected former chief of the Anchorage Police Department, said in an interview with The Washington Post's James V. Grimaldi on Friday that the governor repeatedly brought up the topic of her ex-brother-in-law, Michael Wooten, after Monegan became the state's commissioner of public safety in December 2006. Palin's husband, Todd, met with Monegan and presented a dossier of information about Wooten, who was going through a bitter custody battle with Palin's sister, Molly. Monegan also said Sarah Palin sent him e-mails on the subject, but Monegan declined to disclose them, saying he planned to give them to a legislative investigator looking into the matter.

Palin initially denied that she or anyone in her administration had ever pressured Monegan to fire the trooper, but this summer acknowledged more than a half a dozen contacts over the matter, including one phone call from a Palin administration official to a state police lieutenant. The call was recorded and was released by Palin's office this month. Todd Palin told a television reporter in Alaska that he did meet with Monegan, but said he was just "informing" Monegan about the issue, not exerting pressure.

"She never directly asked me to fire him," Monegan said.
Popular in the Community