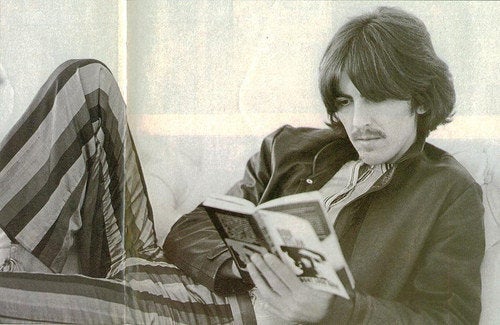 George Harrison had a lot to say about love, music and God, and little to report on politics, bitterness and negativity. Yet in his songs are layers and layers of the man revealing himself as he dove into the deeper meaning of his life. Some of his messages were hidden as riddles as he took you along on a universal journey of peace and compassion. But he was always George telling you what he knew to be his truth. He was his own all-seeing eye and he didn't let you forget it: "Here comes the sun, here comes the sun and I say, it's all right;" and "My sweet Lord, my sweet Lord. I really want to see you Lord. I really want to show you Lord that it won't take long, my Lord, my sweet Lord."
As I watched part 1 of the George Harrison documentary directed by Martin Scorsese now on HBO, I took a wild adrenaline-pumping roller coaster ride down memory lane and came back to earth, shaken and ecstatic. These were my years, my youth, my music. Doesn't everyone remember where they were the first time Cousin Brucie played "I Want to Hold Your Hand"? I was with a girlfriend after school while she was trying on a new pair of checkered capris with her pointy flats. I was jealous. She was a petite, blond-haired, blue-eyed delicate gamine and I was a dork. But my thoughts drifted from worrying about what I didn't have, to having my moment of teenage bliss...hearing something so new and fresh, that it felt like I had just woken up to a new life, in a new time.
The Beatles just kept coming on stronger and stronger with hit after hit and albums in which even their old songs sounded new and innovative. I was caught up in the throws of Beatlemania like a million other fans.
I don't know if my plans to meet them were more sinister or just more mature. But there was no doubt that I had to make it happen. After much ado and undoing, plus a year of in-depth planning, after my high school graduation I got myself invited to a party in a Hollywood producer's backyard to meet the Beatles on their first visit to Los Angeles.
There I was. There they were, four Beatles on four stools under the far-reaching branches of an old oak tree. George Harrison was the first Beatle I met. He tried to hold my hand (how ironic), and it just got twisted with his and we both laughed. I didn't linger, as the press pushed everyone on to the next Beatle on the next stool. Which, by the way, was a very nervous but pleasurable experience: all handsome in their mod suits, their silken hairdos. They were polite and funny and really just...boys. I remember spending an evening meal with all of them as their only guest for dinner. I was in awe but trying to remain very cool. Ringo, George, Paul and I eventually slipped into the bathroom to have an illegal smoke, hovering over a toilet so no one could smell it. Lovely Paul McCartney and I became friends during those halcyon years, and remain so to this day.
Scorsese in Part I captures all the craziness, the heightened and hyped awareness of a changing culture. Our consciousness and need for liberation went hand in hand with each new Beatle record release. Their music began to mark time like the hands of a clock. We're watching them run and jump for joy and play to a thousand screaming fans. We inhaled their energy and their lyrics, then swallowed every dose of their musical wizard-like twists and turns, from rockabilly to psychedelia, from innocent boy-girl tunes to matured standard love ballads. Few escaped the phenomenon. And who would have wanted to? It was joyous.
By part II, the focus shifts to George Harrison as an emerging Beatle. He is writing his own songs and slowly, very slowly, beginning to make his mark away from the Lennon-McCartney songwriting monopoly on the group. He had to be heard. In so many ways, George's work previewed an even more sophisticated musicianship. Listen! Listen to "While My Guitar Gently Weeps": the guitar solo alone is transcendent. You'll realize his pain for the world. You'll feel his heart veiled but opened wide. You'll hear his voice, restrained but stirringly real; you'll know his connection to the world as being here but there.
And there was his spirituality. He was a seeker who pursued his spiritual path with a fiery conviction for all to see. When he met the Maharishi Mahesh Yogi on a trip to India he fell in love with the music, people and the culture. Ravi Shankar, the master of the sitar, was his friend and his mentor. He taught George how to play. And play exquisitley he did... When no one else had ever performed a benefit concert, George Harrison organized it, promoted it and got his friends to play (Leon Russell, Eric Clapton) to raise funds for Bangledesh.
He started meditating on that first trip to India and he continued his practice for his life. He kept writing beautiful and empathetic songs and recorded a quintessentially musical masterpiece with Phil Spector as his producer, including "My Sweet Lord" and the melodic, uplifting, and even the cheeky "Awaiting on You." Kindly and gently, he was waiting for us to catch up with him to harmonize our hearts with his.
Later, he traveled on to earthier plateaus with his group "The Traveling Wilburrys." Surrounded by friends and artists, he begins to relax into being seen by the camera, smiling. (He had a lovely, almost heartbreaking smile.) He had genuine fun playing and writing with the talented group he masterfully pulled together including Bob Dylan, Roy Orbison and Tom Petty. His guitar-playing is bold and the sing-along quality of the vocals infectious. He suddenly seems settled, cozy.
There were many sides to this man. He's Arjuna the great warrior from the Indian epic The Mahabarata, questioning his actions but putting his full faith in Lord Rama who guides him into the ensuing battle. He's Krishna tantalizing the Gopis, his beautiful devotees, with the enchanting music of his flute.
It seems his beautiful wife Olivia knew him best, although Paul, Eric Clapton, Ringo and Dani his son, along with many beloved friends, contribute to the film, adding funny stories, tears and their immense gratitude just to have had known him. He was enigmatic, mysterious and authentic. He saw the world through the eyes of a seer. He was a benevolent light. His soul-filled vocals and his mournful sliding guitar feel like a secret within me. They stir me and they are still taking me on the roller coaster ride, but in this part of my life they are pushing me deeper into wanting to know myself.
Thank you Martin Scorsese for your insight and tenderness and an exceptional film. And thank you dear George Harrison for your time on the planet. You still inspire not only through your music, which will live in us forever, but through your own shining being that touched this world and our hearts in a very profound way.
Related
Popular in the Community