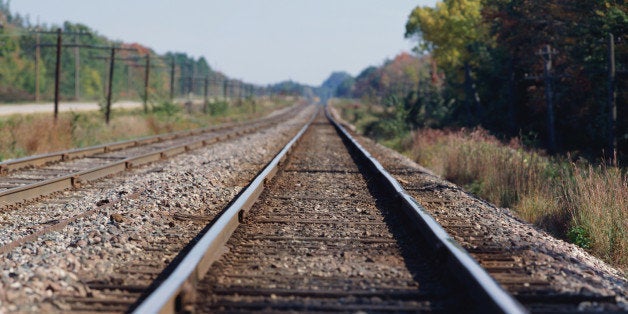 European air travel gets cheaper and easier by the day and I find myself fearing the demise of travel by rail.
As an American, I have to admit to suffering from a bit of train envy. After all, the railways of Europe are often more comfortable, convenient, and sometimes even more cost effective than their airplane counterparts. The trains make it so easy to get from one country or major city to another, sometimes in as little as just a few hours.
When I recently needed to get from northern Spain to central Italy to hop a flight back to the U.S., I could have easily jumped on a budget airplane and been there the same morning. It wasn't a short journey by rail.
So why did I still opt to take the train?
Easy. A journey by rail is like a long meal: classic, a bit romantic, often scenic, and if things are going well, you don't want it to end. It remains a way to slow down a bit, to take life and travel at a bit of a more leisurely pace. And when it comes to vacation (or in this case, at the end of a long conference,) I believe we can all do with a bit more slow living.
Barcelona and Rome are two of Europe's most visited cities. I meandered between the two -- through the south of France and across northern coastal Italy, jumping off when I felt like it or when I heard about a neat stop from another traveler. Flexibility: perhaps train travel's greatest asset of all. For those of you who prefer to have a bit more of a plan in mind, take a look at the places I most enjoyed during my week on the rail lines.
My first stop was along the coast north of Barcelona in Costa Brava, an area famous throughout Europe but little known to Americans. The most central rail station can be found in the small city of Girona, which I had intended to just to be a transit stop. Instead, I loved it immediately and decided to stay a few days. If Costa Brava is a hidden coastal gem of Europe, then Girona is a hidden city gem. It has much of the charm of Barcelona without the overwhelming hordes of tourists.
Although I once lived in Barcelona, I found Girona to be an easier place to immerse myself in the Catalan culture and experience the true warmth of the people of the region. It's fairly easy to navigate, so the best way to experience it is to get lost in its medieval alleyways, stopping for a cafe, a vermouth, or perhaps a long lunch whenever it suits you. Catalunya's cuisine is both traditional and strikingly modern -- in fact, there are more Michelin starred chefs concentrated here than almost anywhere else in the world. If you can, choose a place facing the river and stay awhile. See if you agree with me that the true beauty of Girona lies on the Onyar River and the colorful homes on its banks.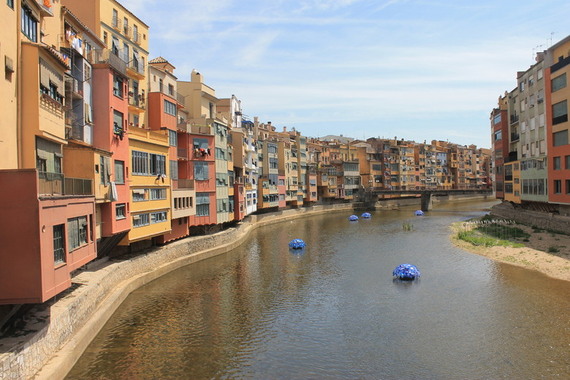 As I journeyed north, it didn't take me long to hit the French border. I was half tempted to get on a fast train bound for Paris, but vowed that, this time, I would opt to explore more of the country before heading back to one of my favorite cities. The only question was: where to? Looking at a map, it became clear that I needed to spend some time in Provence.
I had only visited Provence briefly once before. As a student I had been to the university town of Aix-en-Provence, a short train ride from Marseille, and fallen in love with the place. The streets were lined with trees, fountains, and markets featuring fresh local produce, the alleys held patisserie after patisserie, and I skipped through the cobblestoned streets as I inhaled the near-constant smell of pastries. And then there were the lavender fields. Without a doubt, I needed to explore Provence again.
I asked a few of the Europeans I had met so far on my trip where I should go. Together we agreed that I should visit Arles, a small Provencal town with an ancient Roman arena. I found a small B&B that looked cozy, and set off on the train from Girona.
The same characteristics that drew me to Aix were alive and well in Arles. Fortuitously, I arrived just in time for the Saturday market -- a culinary wonderland of everything we know and love about French cuisine, complete with herbs de Provence and fresh macarons. Many artists have discovered the allure of Provence, and one of my favorite things about exploring Arles was the amount of artists I found painting in its streets. Life slowed down just long enough for me to nearly miss the train to my next stop.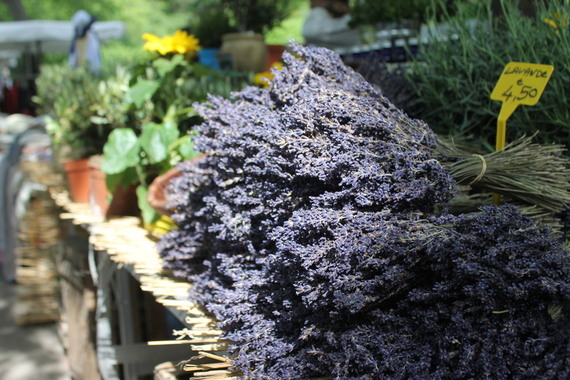 Say the words "French Riviera" and seaside glamour comes immediately to mind. Monte Carlo, the Cannes Film Festival, Saint-Tropez: the fancy cars, the fancy restaurants, the fancy clothes.
I had also visited the Cote D'Azur once before, taken in by the glitz of Monaco and the wide boulevards of Nice. If I were to head back there once again, I wanted to dig a bit below the surface and see what else lingered in this famous area.
After a few discussions with fellow tourists and a little bit of research, I decided upon two stops that showed off a slightly different side to the Riviera. First, the medieval village of Eze, with a historic feel and sweeping views of the coastline from atop a hill. Second, Villefranche-sur-mer, a mere ten minutes from Nice, but a respite from the roughness of Nice and its stone beaches.
How did I get to those smaller villages for the day? By train, of course.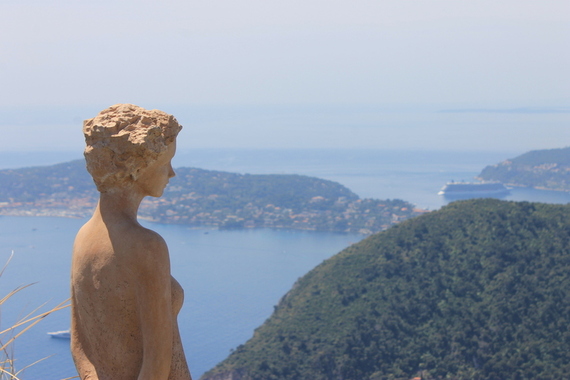 After a few days in France, I began to yearn for Italy. As I traced my finger across the map and across the border, I could almost smell the pesto.
I had been to Liguria on my last visit to finally see the colorful Cinque Terre, five seaside villages perched above the Mediterranean. It was here that I first discovered that Liguria was the birthplace of true Genovese pesto, and of focaccia. As I glance at the map once more, I almost overlooked Genoa -- as most do. Not a lot of travelers talk about it -- the gritty port city is all too often overshadowed by its sisters Venice, Florence, Rome, even Milan. And when travelers do get to this region, they're almost always bound for Cinque Terre (because how could they not be?)
That settled it. I had to experience Genoa. I wanted to understand it, and I sought that understanding mostly through giant bowls of pesto pasta and heaps of gelato. Everyone I talked to was right, Genoa rubbed me the wrong way at first, but it didn't take me long to warm up to its charm, and, in the end, I loved it all the more for the warmth hidden by its tough exterior.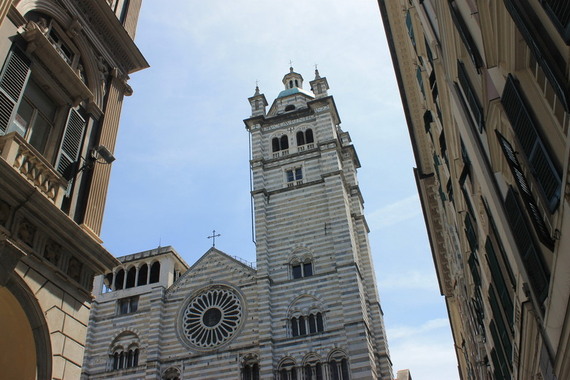 They say all roads lead to Rome. On this journey, that turned out to be the literal truth. For, with over a month of traveling in Europe under my belt, it was finally time to catch that plane back home -- but not without one last train ride through the Italian countryside and a few stops at some of my favorite Rome spots.
If you've never been to Rome, there are so many sights you simply have to see -- the Colosseum, the Vatican, the Pantheon, the Spanish Steps. On this visit however, I stayed with the theme of my rail journey and traveled slowly. Rome unfolded itself to me in a way I had yet to experience. It's hard to imagine a Rome "off-the-beaten-path," but a little less agenda and a little more wandering had me appreciating the city in a completely new way. I recommend checking out the neighborhood Testaccio (especially for its food) and taking a stroll (safely) around the city center by night -- when the crowds are gone and all that you're left with is the sound of the flowing water and the warm glow of the lights on the ancient monuments.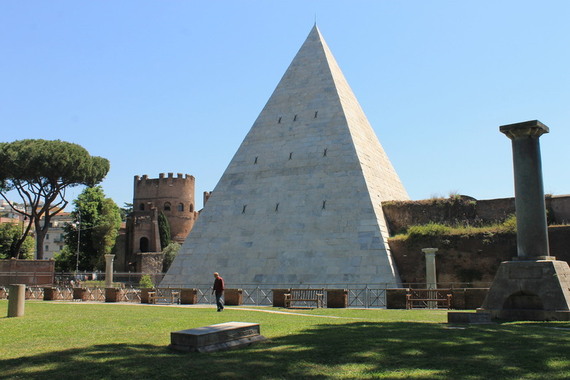 My journey of slow travel ended when I boarded a plane that whisked me back to San Francisco from Rome, at a comparatively quick speed. I could have taken the short flight from Spain to Italy to catch that plane -- but I would have missed the days discovering places and experiences in between. I made new French and Italian friends within five minutes of stepping off of a train platform. I heard about smaller destinations from fellow travelers on the rail. I even practiced my beginning level of French with a kind older woman in my cabin. These are all cultural exchanges and travel memories I now cherish -- ones that couldn't have been made in the security line at the airport.
Traveling from place to place doesn't always have to be an exercise in efficiency and speed. May we all remember the value in slowing down from time to time.
After all, it's more about the journey than the destination -- isn't it?
Related