In today's Huffington Post Gay Voices RaiseAChild.US "Let Love Define Family™" series installment, meet two men who are willing to change their whole way of life for their children that they have yet to meet. RaiseAChild.US contributing writer Eric Criswell shares this story.
On Jan. 1, 2014, Dixon and Scott got married at an intimate ceremony in Los Angeles.
The year before had been spent talking about their love for each other and their desire to start a family. Scott had always wanted to be a father but, Dixon says, "I never thought it was a possibility to have kids because I never saw any role models of gay parents. But then with the marriage equality movement I had a 'wow!' moment and realized it was a possibility to raise a family."
So they researched options from surrogacy to adoption, and quickly agreed that they didn't want to create another life while there are so many kids who are already in need of a family. So they opted to be foster parents with the desire to adopt. Once that decision was made, they sold their bachelor pad lofts in downtown Los Angeles and purchased a house with a yard with the goal to create a home for them and their children. "It was important that we got the right space," says Dixon. "We're in a great school district on a quiet street -- it all worked out perfectly."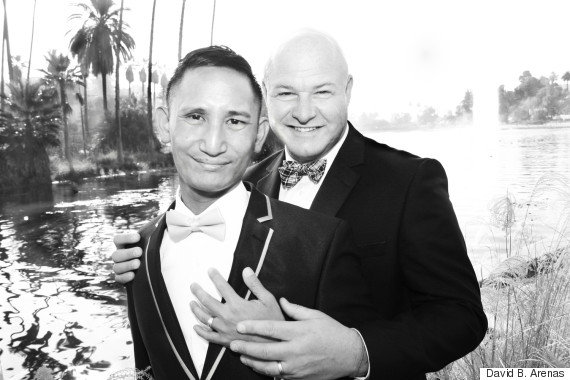 Moving was the easy part of getting ready for their new lives. Soon they attended an LGBT parenting event where they were introduced to a variety of organizations, including RaiseAChild.US and The Village Family Services. Shortly after that event they started their journey with hours of classes, background checks and weeks of home visits from a social worker. Scott talks about the process: "We know it's not going to be easy. There are no promises or expectations, and it's going to be journey that we take with our kids, through good and rough times, but the hope is it will be worth it for all of us."
One of the things they know they are going to have to do is define their roles as a family and as gay parents, not just for themselves but for the community they are in. They are ready to take that step, because their core belief is that everyone deserves a family. Although they currently don't know other gay parents in the area, there is hope that will change as they continue down this path. This has not dampened their excitement or enthusiasm, as Dixon's friends have been extremely supportive and Scott's mother is on "stand-by: to get her airline ticket to visit her new grandchildren as soon as they arrive.
"We're hoping to find siblings of two to three kids, so that we can keep their family intact and minimize their trauma," Scott states. "We just want to give them love and support. We know it hasn't been easy for them up to this point."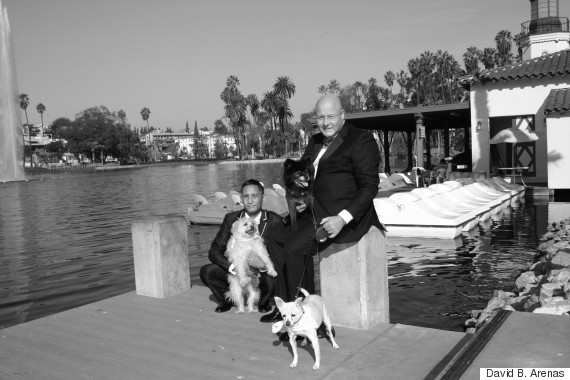 Not surprisingly, they share the same universal thoughts and fears as any new parents. "Are we good enough? Are we ready? How will the kids be treated by their friends and peers? What will the first parent/teacher meeting be like? Will the kids get along with the dog?"
If all goes well, they will be new parents by the end of 2015.
Scott sums it up: "Our only hope is that they grow up to be happy and whole human beings, and that we can do our part in making that happen."
RaiseAChild.US is the nationwide leader in the recruitment and support of LGBT and all pro-spective parents interested in building families through fostering and adopting to meet the needs of the 400,000 children in the foster care system. RaiseAChild.US recruits, educates, and nur-tures supportive relationships equally with all prospective foster and adoptive parents while partnering with agencies to improve the process of advancing foster children to safe, loving and permanent homes. For information about how you can become a foster or adoptive parent, please visit www.RaiseAChild.US.
REAL LIFE. REAL NEWS. REAL VOICES.
Help us tell more of the stories that matter from voices that too often remain unheard.