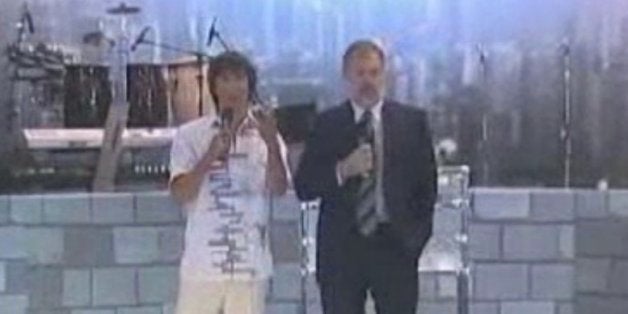 Did an American pastor with a penchant for anti-gay activism inspire Russia's new anti-gay laws?
Lively cut his teeth working with an anti-gay advocacy group called the Oregon Citizens Alliance in the early 1990s, according to The Oregonian. As communications director for the group, Lively helped craft an initiative that called on Oregon to discourage homosexuality as "abnormal, wrong, unnatural and perverse." Lively then began to shift focus overseas, becoming involved with a group called Watchmen on the Walls and embarking on a Eastern European speaking tour in 2006 and 2007.
According to an article by the Southern Policy Law Center, Lively's tour through Latvia was a colorful one. Lively used a translator outfitted in a "No Pride" shirt and, at one point, told Latvian police officers "the gay movement is the most dangerous political movement on earth," the SPLC reports.
In a February blog post for conservative website World Net Daily, the activist noted that his "pro-family message was warmly welcomed by the people of each of these countries, and to varying degrees the homosexual agenda has been slowed in all of them."
Boris Dittrich, the director of LGBT advocacy for Human Rights Watch, told NBC News that there may be something to Lively's self-congratulatory claims. Indeed, Lively's barnstorming through the Soviet Union was followed -- sometimes closely -- by local prohibitions on homosexual propaganda
Lively is currently being sued for his efforts in Uganda, but for the pastor, nothing -- not even the threat of further lawsuits -- will slow his evangelizing.
"I realize I might face future lawsuits on the same logic as the one I'm now facing," Lively told BuzzFeed, referencing the lawsuit pending against him alleging his Uganda activism constitutes crimes against humanity. "That will not stop me from… working to prevent the dismantling of Christian civilization around the world."
That determination may soon be tested by attorney Pamela Spees, part of the team suing Lively for his alleged influence in Uganda. Spees said she is prepared to file a new lawsuit against Lively if she can find evidence that he was "an architect of the persecutory program," according to NBC.
WATCH: Scott Lively speaks in Russia in 2006 about the dangers of the homosexual agenda.
Popular in the Community