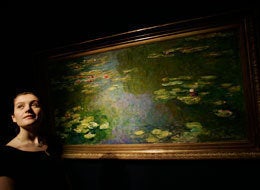 Loose lips sink art sales... well, that won't ever appear on a poster, but the art trade seems convinced that secrecy is a vital component of making deals. Take the auction houses, for instance, which keep a lot of secrets. There is a "reserve" price -- the unstated amount below which the consignor will not sell the lot --for many of the more expensive objects in a sale, and phantom (or "chandelier") bids that the auctioneer announces and records in order to get the bidding up to that reserve. The auction house may have advanced or loaned money to a bidder in order to help that person acquire an artwork up for sale or brought in a third party (usually a private dealer or collector) to guarantee a certain price required by a consignor. That's all hush-hush: None of the other bidders in the room (or online or on the telephone) will be told anything about what they are up against. And, of course, the auction houses hardly ever reveal the identities of buyers.
Frustrated by the lack of openness? Commercial art galleries aren't much better, as they rarely list the prices of artworks on display (one may ask for a price list, which at most high-end galleries is rarely available), and it is not clear that the art is even for sale. Particular pieces may be "on hold" for important private collectors or museums that will get back to the dealer eventually if they have the money and interest. Having ready money and interest doesn't get anyone the art he or she wants, although if one buys enough other things to prove a commitment to that gallery the collector may earn a place on a waiting list for the work of such-and-such artist (and who is on that waiting list is also privileged information). The rest of us just walk out of the gallery wondering, What was the purpose of that exhibition?
Secrecy certainly has its defenders. "Chandelier bids gets the momentum going and builds excitement in an auction," said Debra Force, former head of the American Art Department at Christie's and currently a Manhattan gallery owner. "The public doesn't need to know what the reserve is," Chicago auctioneer Leslie Hindman stated, adding that disclosing it "would prohibit competition." New York's Gagosian Gallery does not "put out a price list," said the woman who answered the telephone there. "It's one of our gallery policies." If someone inquires about the price of a work at the gallery, she noted that "one of our sales associates "will come out and talk to the person, to see what they want." (What do they want?) However, the lack of transparency raises the question of whether or not prices are artificially high. To what degree is the current art market, reaching new heights in the volume of sales and prices, particularly for modern and contemporary art, buoyed on factors that make the market noncompetitive?
Economists who have studied the art market find little to like about secrecy, which they refer to in their published work as "information asymmetry." "Secrecy in a market prevents the market mechanisms from working as they should," said William Baumol, a professor of economics at New York University. "The loans and guarantees and overall secrecy are a form of manipulation by the auction houses to increase their profits." Put another way, "secrecy keeps you from knowing you're paying too much," said Rachel Campbell, an economics professor at the University of Maastricht (Holland) and an advisor to London's Fine Art Fund, the premier hedge fund in the art investment field.
George Akerlof, who won the Nobel Prize for economics in 2001 for his research into asymmetric information and teaches at the University of California at Berkeley, called the buying and selling of art "a rather open market." However, for those who are unaware of available information and where to obtain reliable advice on how to maneuver in this realm, the art market may be an example of "bad capitalism. Capitalism is great at producing what people want. However, many buyers may not know what they want or are willing to pay for something. If buyers are willing to pay more than a picture is worth, then capitalism will create institutions that take advantage of them" -- that is, galleries and auction houses.
Art collectors have even less to like, as artificially high prices make work less accessible. "Many of my clients have watched the prices go up and up, to the point that they are unable to compete for a number of works," said Neil Meltzer, an art dealer and private art advisor in Manhattan, "and they would like to see prices come down." For example, loans by auction houses to prospective bidders have the effect of buoying prices at high levels and generally elevating sales for other, similar lots a well. This was certainly the case for Vincent van Gogh's "Irises," which sold in 1987 at Sotheby's for $53.9 million, based on a $27 million loan by the auctioneer to Australian Alan Bond, who was ultimately unable to repay the loan. Other bidders were not made aware of the fact of Sotheby's contribution to the final bid or what they had been bidding against. However, the net effect was to set a benchmark for van Gogh and other post-Impressionist artists. Auction houses also benefit from loans in another way, since interest charged on those loans tend to be between two and three percent above the prime rate.
Guarantees are another price-maintenance system, helpful in reducing a consignor's risk and potentially increasing profits for the auction houses or whomever else guarantees the final sales price, as they take a percentage of the earnings over the guaranteed price. Certainly, which guarantees present an inducement to would-be consignors, they also represent a risk for auctioneers in the event that lots do not achieve sufficiently high prices (the consignor is paid the difference), and auction houses have tended to spread that risk around to third parties, such as collectors and art dealers. Robert Mnuchin, owner of New York's L&M Arts, stated that he has been a partner with auction houses in guaranteeing artworks -- he wouldn't say how many times or how much money he has made or lost during these partnerships, just noting that "on balance, it's been successful." He added that such partnerships take place all the time in other investment realms, "think of underwriters and mortgage bankers." Instances of third-party participation in a sale are not revealed to bidders, and some observers have identified a potential conflict of interest. "A dealer who has an interest in a certain lot might promote it to another dealer or a collector, 'Hey, you should go after this work; it's really a great piece,'" said Roland Augustine, director of Manhattan's Luhring Augustine gallery and current president of the Art Dealers Association of America. Because of that potential of manipulation, Augustine advocated making any third-party guarantor's identity public. Mnuchin, however, objected strongly to that suggestion. "It's a preposterous idea. Who's business is it?" he said, claiming that he did not know of any dealers who have been third-party guarantors and have promoted an auction lot to potential buyers in which they had a financial interest.
In classical economic theory, the efficiency of the market requires all rational consumers to have full knowledge of the products they are looking to buy and what others in the market are doing. Consumers presumably will reward the sellers of better merchandise with higher prices and pay less or nothing for lower quality products. Certainly, information about an artwork's history of ownership (called the provenance) and condition, as well as public sale records for that work or pieces like it, give would-be buyers much confidence when they look to make a purchase. Economists often theorize that more information leads to higher prices overall, as consumers will pay more when they have greater confidence borne of more knowledge, but the art trade has tended to assume the opposite.
The art market may not respond to traditional economic theory for the reason that a large percentage of the buyers do not see artwork primarily as a financial investment. Collectors retain art for an average of 30 years, far longer than their other assets, according to several studies, and the principal reasons for selling are what auctioneers call the "Three D's," death, debt and divorce, rather than pure profit-taking. Anders Petterson, a former investment banker at JP Morgan and currently the founder and managing director of the London-based ArtTactic art market research and advisory firm, stated that the art market is difficult to understand from a classical economic point of view: "A better theoretical framework to understand what is going on in the art market would be to look at the theories around behavioral finance, such as herd behavior, market anchors, greater fool's theory, overconfidence, etc." He added that secrecy, as well as preferential treatment of certain consignors and buyers, "are all effective tools in creation something exclusive, something which makes even the most wealthy begging for it, particularly in times when people have a lot of disposable income."
Of course, the very wealthy usually think of themselves also as very smart, and their interest in art has been supported by studies and indices that indicate that art, over the long-term, is a good investment. The most noted of these art price indices, comparing the prices of artworks that have sold more than once at auction to the S&P 500, was created by Michael Moses and fellow New York University economist Jianping Mei, who founded an art market research firm Beautiful Asset Advisors. "The prices we use are not secret," Moses said. "Whether the process is rational or irrational is not my interest."
Not all economists are convinced. "It's astonishing what a bad investment art is," said Orley Ashenfelter, an economist at Princeton University who also has studied the art market. He credited the burgeoning volume of art sales and record prices to the growing concentration of wealth in the United States and elsewhere. Year-end 2006 bonuses on Wall Street reached an all-time high of $23.9 billion, according to the New York State Comptroller's Office, and the average New York City law firm partner earned approximately $1.4 million in 2007. Then, there are the newly mega-rich in China, India, the Middle East and Russia who have also entered the art collecting field in significant ways, to the point that the major auction houses have established offices and public sales in these countries (Dubai, Hong Kong, Moscow, Mumbai). "You can only eat so much food, you can only buy so many houses," he noted. "The very rich look around for what else they can spend their money on." In effect, the market for expensive art lies outside of traditional economic theory.
Expensive art -- sometimes called "trophy art" -- also confers status, whose value is measured in other ways than dollars and cents. "Secrecy is valued as a status thing among art collectors," said Robert E. Litan, an economist at the Brookings Institution and a co-author of the 2006 book Good Capitalism, Bad Capitalism (Yale University Press, 2007). "It's gauche to blatantly announce or advertise prices for art at galleries; the secrecy is a signal of worthiness and value. I can't think of any other field in which the lack of a price tag is acceptable, but this is a cultural thing among art buyers."
Compared to other markets, the art market is relatively small (an estimated $30-35 billion worldwide), catering to a relatively small potential audience (the nine million millionaires worldwide, of which some fraction may purchase artwork), and relatively unregulated. According to Karl Schweizer, head of Art Banking at the Swiss-based financial services firm UBS, the correlation between burgeoning global wealth creation and the expanding art market has also led to the growing number of art advisory services for wealthy collectors, such as he provides to UBS customers. "There are people who don't care about what they pay for something," he said. However, "no one wants to be the stupid one, being seen as spending too much money for nothing."
These days, classical economic theory is something taught in colleges but rarely put into practice. Instead, crucial information that is costly to obtain or kept hidden, resulting in a market that is unfair or inefficient, has been the rationale used by most 20th and 21st century economists for government regulation. Twenty years ago, the New York Department of Consumer Affairs promulgated rules about art galleries revealing their prices in a public manner, which the agency promptly chose not to enforce, and a bill that would have the effect of requiring auction houses to reveal their reserve prices is currently awaiting action in the New York State Legislature. The vision of a handshake trade accustomed to secrets turned into a more transparent industry is one picture the art trade doesn't want to see.

Related
Popular in the Community