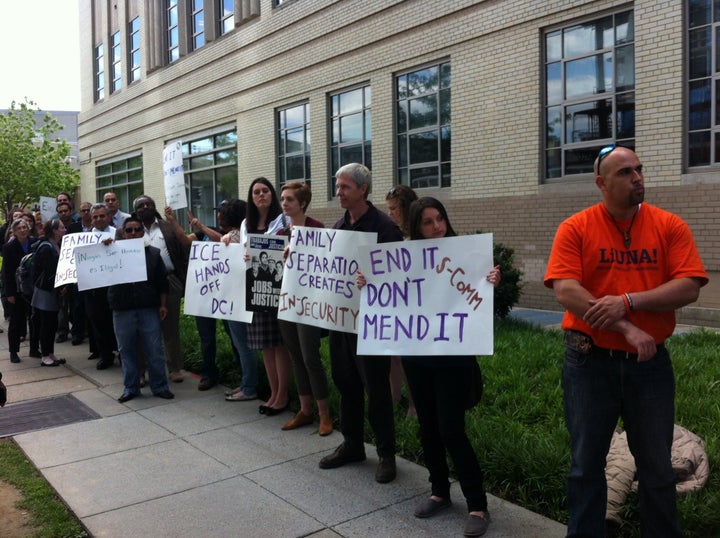 WASHINGTON -- Immigration and Customs Enforcement on Friday announced a policy change for its Secure Communities program, hoping to address concerns raised by advocacy groups and an agency task force.
Those critics were unimpressed, saying the reform did little to respond to complaints about the way ICE detects and removes undocumented immigrants.
The announcement was in response to a task force report that called for reforms to Secure Communities, an enforcement program President Barack Obama's administration considers crucial to its removal effort. Five members of the task force resigned in protest because they did not support the final recommendation.
"The task force recommendations themselves were wholly inadequate," Sarahi Uribe, campaign coordinator for the National Day Laborer Organizing Network, said. "To take recommendations that were to start with inadequate and then to only adopt an even more watered-down version is absurd. It will have absolutely no impact."
Secure Communities uses fingerprints taken by local police during arrests to detect undocumented immigrants. The program's critics, including some in law enforcement, say the program harms the safety of immigrant-heavy neighborhoods and the ability of police to do their job, because the undocumented may become fearful of interacting with officers. Opponents of the program also say it bets that many people are charged but never convicted of crimes that include traffic violations and domestic violence. The new policy would allow ICE officers in some instances to issue immigration detainers on traffic offenders once they're convicted.
According to ICE, immigration authorities will "only consider issuing detainers upon individuals arrested solely for minor traffic offenses, who have not been previously convicted of other crimes and do not fall within any other ICE priority category, upon conviction for the minor criminal traffic offense."
That step would help with an overall effort to focus on deporting serious criminals, which includes a review of about 300,000 deportation cases, ICE officials said in a statement.
"This new policy will help better focus ICE resources on those who pose a threat to public safety or national security, as well as repeat or egregious immigration law violators and recent border crossers," ICE spokeswoman Gillian Christensen said.
The report also mentions an ICE effort to track demographics of arrests under the program to detect evidence of racial profiling. But Rep. Luis Gutierrez (D-Ill.), who has demanded major reforms to Secure Communities, said he was "disappointed" by the ICE announcement and felt too little was being done to address racial profiling concerns.
"While most police do their jobs admirably, everyone knows that some cops target immigrant and Latino communities through racial profiling," Gutierrez said in a statement. "But only the federal government can turn a $50 traffic violation into a broken family by deporting a parent. I expect the federal government to be a check and balance to local instances of racial profiling, yet the new policy is telling local authorities that if you can get someone convicted of even minor traffic violations, the feds will be happy to take them into custody and pursue their deportation no matter what the underlying reality really is."
Secure Communities is in place in 2,730 jurisdictions, 86 percent of the country. The District of Columbia is not yet part of the program, but the government plans to expand Secure Communities nationwide by 2013.
Uribe and about 30 others gathered outside a government building Friday afternoon to protest the program, just before a few representatives attended a stakeholders' meeting with Gary Mead, who leads enforcement and removal at ICE. They gave him a letter signed by 35 advocacy groups and 4 individuals, asking ICE to keep D.C. out of Secure Communities. ICE did not issue a response to that letter.
The government later held a call with advocates, which two people on the call said was only about five minutes long. On that call, they focused on the traffic policy change and no other reform, said Paromita Shah of National Immigration Project.
"It was really nothing of substance because it echoed things they've said before," Shah said. "From our point of view, it just seems really underwhelming."
Popular in the Community