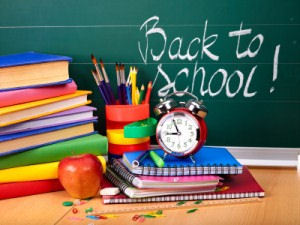 It's a common situation many spouses on the brink of divorce muddle through the school year, concerned that announcing a separation will derail their kids' ability to study hard. These couples generally hold off until June, or more precisely, until right after the final bell of the school year has rung, to tell their children about their plans to separate. Summer vacation is then used as transition time for all parties to accept their family's new arrangements, without the added pressure of school.
It's a noble plan, and one that can and often does work to help children adjust. But now that it's September, and school bells are ringing again, are you ready to support your child in making the transition to a new school year? If you are separated or recently divorced, here are some tips we've collected over the years to help our newly divorced parents to make the grade:
Make a Schedule, And Stick to It: As the school year gets underway, kids have enough to worry about meeting new teachers and memorizing locker combinations. They don't need the added stress of trying to remember which parent's home they're supposed to go after school, or worrying about whether or not you really will be there at school pick up. Whatever parenting time/visitation schedule you have in place (even if it's just a temporary one to cover your separation), faithfully stick to it. An easy tip? Make a schedule for your child outlining which bus to take on a particular day, or which day a different parent will do pick up. Place the schedule in their three-ring binder right along with their school schedules. You can also send a copy to your child's teacher to keep on file.
Make a School Communication Plan: One of the biggest complaints we hear from parents with limited parenting time during the school week is feeling cut off from school announcements, especially when it comes to things like dates and times for parent open houses, parent-teacher conferences, and report card days. The best way to deal with this is to work with the school to put in place a workable communication plan. Sometimes schools will create a weekly "Friday bundle" of paperwork for the child to bring to their parent over the weekend, or the school can simply email announcements.
Set Aside Your Emotions: If you and your former spouse are on less than friendly terms, commit to laying aside your hostility in all matters related to your child, including school. Let's face it, there's only one back-to-school night, one homecoming game, and one science fair. For the sake of your child, make a mutual commitment to stay calm and stay positive at these events.
Keep School Informed: In families where child custody orders prohibit a parent from having contact with a child, ask your school district what kind of paperwork is needed to make sure this order is fully enforced during the school day (and all other school-related events). Some districts have a separate form for custodial parents to provide this information; other districts will require you to give them a copy of the court order. Another good piece of information to provide? Along with who CAN'T pick up your child, provide your school with the names of those who CAN, especially in case of emergency.
Schedule Your Own Progress Reports: Some parents wait until report card time to get the scoop on how their child's school year is shaping up. Because of the transition your family is undergoing, set aside time to check in with your child's teacher about how your child is doing in class more regularly. A quick phone call or email is usually all that's needed.
What's even more important, however, is making time to check in with your child about how he or she is feeling about school. Is he getting used to the different pick up schedule? Does she have all the school supplies she needs when she does homework at her other parent's home? Is he feeling worried or stressed (whether it's school or divorce-related)? What's going well for her this year? Having these kinds of conversations can help you figure out where extra support is still needed, during the school year and beyond.
Related