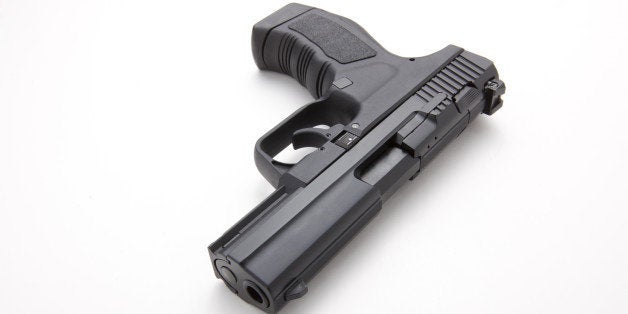 A man was arrested in Camden, N.J., after police said he accidentally shot his 2-year-old son on New Years Eve.
Sergio Rivera, 38, was reportedly driving at approximately 11 p.m. Tuesday when he attempted to conceal a handgun in the car's center console and accidentally fired the weapon, shooting his son in the left arm and left leg, according to CSNPhilly.com.
The boy is recovering at an area hospital and is expected to live. Police said the boy's mother and grandmother were in the car when the shooting occurred.
According to CBS Philadelphia, Rivera drove to the hospital after the shooting, but was uncooperative with investigators. He was arrested on charges including endangering the welfare of a child, possession of a weapon, and aggravated assault.
Police recovered the gun and found Rivera in possession of Percocet pills.
He is being held on $185,000 bail, according to officials.
"Our prayers are with this child as he recovers," Camden Police Chief J. Scott Thomson said in a statement. "Regardless of whether the shooting was intentional or accidental, it's the culture of violence and the illegal possessing of firearms that lies at the heart of our greatest challenge in reducing gun crime."
Correction: A previous version of this article gave the location of the arrest as Camden, Pa.; the arrest occurred in Camden, N.J.
BEFORE YOU GO
PHOTO GALLERY
People Who Want More Guns In Schools