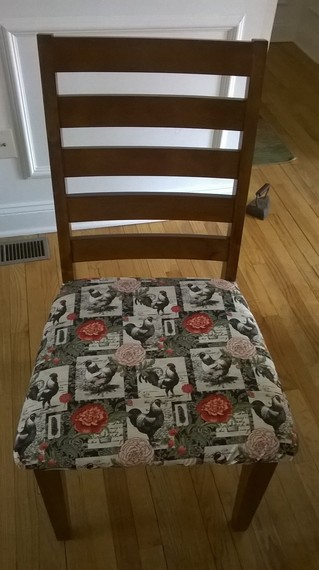 I've never been one to complain that life is hard. I believe that there are tough times in life but always thought that a negative approach on anything would do nothing more than invite further negativity into one's day. Who wants that?
My optimism does not stem from having an easy life. When my husband died when I was 35 years old -- leaving me with four very young children to raise and two failing businesses to turn around -- the moments that followed could rarely qualify as "easy." Every one of them had their purpose, though, and each of them has left an indelible impact on my life. I'm sorta proud of the "grown-up" I've become.
I'm also rediscovering the girl I once knew, lately, as well as "time" has found its way back into my life, allowing me the pleasure of embracing certain sides of myself again -- sides that gave way to the demands, responsibilities, and constant activity being a widow and single parent required of me. For a great many years after the death of my husband, every decision was made from the point of "necessity and time" not "luxury and Laura." My children, our strength as a family unit, and our livelihood took precedence over everything else in my life -- leaving very little room for any side of me that wasn't key to ensuring the health and welfare of these three precedents.
Suffice-it-to-say, I would do it all over again in the same manner. Two of my children are going on to become surgeons; one is on her way to fighting crime; and the final of the four is preparing to save the planet. Out of our pain and thoughtful steps onward, the world is guaranteed an enormous gain. And as my children continue forward in the many stages of their educations and lives, the immense pressure and severe time constraints I have known are "easing up" and finally -- just possibly -- allowing me to make the long, overdue curtains for my windows that I have been denying to my children that we ever needed. Not one of them remained convinced.
You see... I use to love to sew. It was a hobby that produced many a baby's Christmas outfit, a never-ending supply of tablecloths, and, most certainly, every last curtain in my home. When the tides of my life turned, however, I had to make some tough choices because I could not figure out how to add any more hours to my day (God knows I tried). Sewing had to take a backseat along with shopping for fun, crafting, writing, gardening and all of the other labors of love I once knew but could no longer fit into my schedule next to the corporate takeover of my very existence.
Somehow, finding time to sew a balloon curtain after a long day at the office followed by dinner, cleaning, keeping up with my kids and their many needs, managing a household, ensuring that I remained fiscally responsible, and basically balancing an elephant on my head with one arm twirling a stick with dishes and another holding my foot up in the air didn't seem too critical. Needless-to-say, when I was once accused of being "commitment phobic" because I failed to hang every last picture of my kids on the wall that I had ever taken in my life, I all but strangled the individual who made such a nonsense remark.
My deep dark secret has never been that I am commitment phobic rather "short on time and long on being committed to my not getting hung-up on the small stuff when the large stuff was so much more important!" A friend of mine -- a divorced father of six and primary parent -- responded similarly to his own traumatic life change. It left his new home door-less for a good many years. This gentleman could not find time to choose the interior doors for his home while running his company, overseeing his massive and incredibly personable crew, and keeping everything and everyone who depended upon him (including a few dogs) afloat. I wonder if he was ever accused of being commitment phobic during all of it. I would hasten to guess, not. In any event, today, my friend finally does have doors. He also has a tremendous group of kids, a tight and loving family, and a secure life and business. Come to think of it, he may also need curtains now too! I best get crackin'.
With a brand new day upon me, the opportunity to begin sewing again has emerged. Time has finally decided to open the door to the next phase of my life and, for the moment, it feels like I'm on vacation -- reflective of my dining room chairs, all newly covered in roosters, flowers, and frilly script doodles of which I will never be able to decipher. They look so amazing that I plan to sew matching curtains and hang them over my French doors and windows.
No doubt, where the difficult times I've known could have sown bitterness, anger, and a hollow existence in me, they instead sowed fruitful seeds of confidence, optimism, and appreciation for the simple joys that come my way. This includes a lost hobby and long forgotten face. I hasten to think that, in sowing the proper seeds in my past, I have now provided myself the space to sew more in the future.
Given a few spools of thread and a direct route to Joanne's Fabric Shop, my kids won't know what hit this house shortly!
Popular in the Community