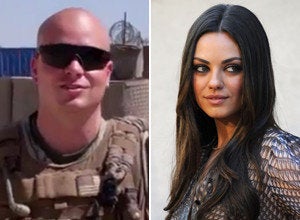 Mila Kunis may pair up with Justin Timberlake later this month in "Friends With Benefits," but that isn't stopping one Marine from pursuing the Golden Globe-nominated actress.
Sgt. Scott Moore, of the 3rd Battalion 2nd Marines in Musa Qala, Afghanistan, has posted a video asking the star to join him at the Marine Corps. Ball on November 18th in Greenville, North Carolina. He even has a YouTube user page set up, dedicated to the cause.
Interested, Ms. Kunis? Contact Sgt. Moore at gowithmemila at gmail.com.
Popular in the Community