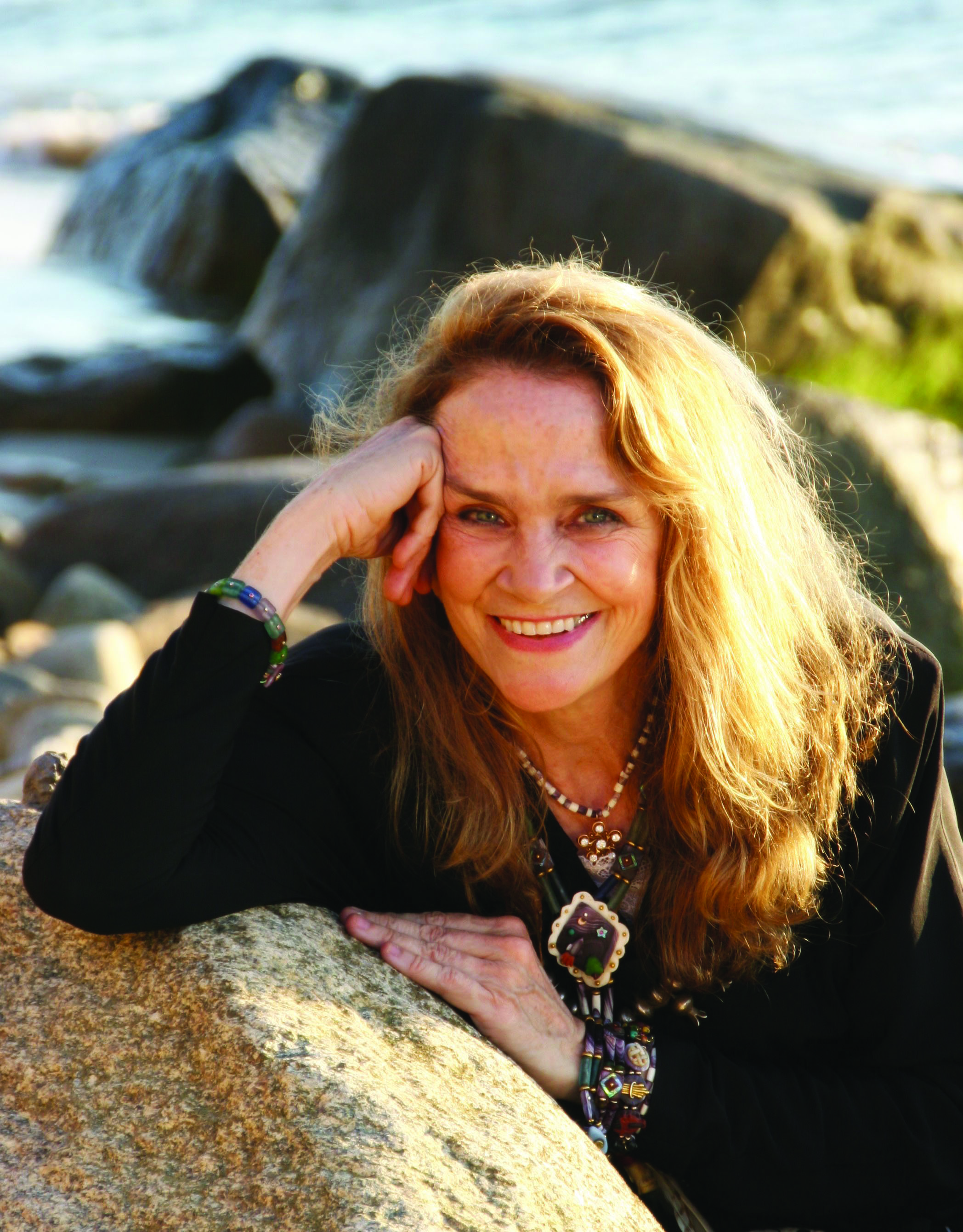 Photo courtesy of petersimon.com.
Denizens and visitors venture into the furnace of a mid-summer night's revelry. It is Martha's Vineyard. From their air-conditioned sanctuaries, all migrate to the Old Whaling Church. They arrive to witness the celebration of the miracle of a mural recreated by the elegant artist, Margot Datz. The celebrant of the evening is Kate Taylor.
The aforesaid mural was created by Carl Wendte. Mr. Wendte, a German muralist, immigrated to this country at the age of 20. He died from pneumonia at 28. During his brief period here, he created extraordinary works of art for churches on Nantucket and Provincetown. Ms. Datz based her recreation for Edgartown's Old Whaling Church on an 1870 photo and also analyzed Wendte's painting technique from the mural in Provincetown. Indeed, it is a understatement to use the word "miracle" to describe Ms. Datz' work. One original photograph remains for the ages.
The mural is situated directly behind where the preacher delivers his sermons; where Ms. Taylor celebrates. It is a trompe l'oeil of an arch with a doorway of light situated on its right side. The gateway evokes an eternal journey. As one walks through it from either side, a seeker is transformed. Transcendent.
Ms. Taylor strides through eternity's door to play for us. She is an apparition in a white sparkling dress. She is a modest rodeo queen who comes dancing into the center of a heated night. Her journey is potent. And she generously invites us to ascend onto the wings of her soul.
What one first notices about Ms. Taylor is her power. She is gentle. Her heart ignites a sea of beauty expressed in a myriad of harmony, rhythm and passion. Musically, she is seamless. With the help of two brilliant musicians, Sam Zucchini on the bodhran, djembe and tambourine and Steve Mayone on guitars, she effortlessly and brilliantly flies through a wide swath of styles, from blues to country to ballad to gospel and beyond. She resonates with Native American rhythms, arousing deep roots that never leave her beloved Island. Ms. Taylor has lived on Martha's Vineyard for more than 40 years. During the course of the evening, she explains that she gave up her career to focus on raising her children. They are now grown and we are the beneficiaries of her amazing gifts as she resumes her career.
She graces us with scenes of visionary trails.
Ms. Taylor shares the lore of the deceased William ("Billy") Vanderhoop, an Island icon and member of the Wampanoag tribe, who would sing on Menemsha Pond as he scalloped. As a majestic whale's song travels thousands of miles so would the gentle undulating currents of the Pond carry the regal Vanderhoop's song to the shores of Aquinnah. Ms. Taylor hears his tone. Later, she was inspired to write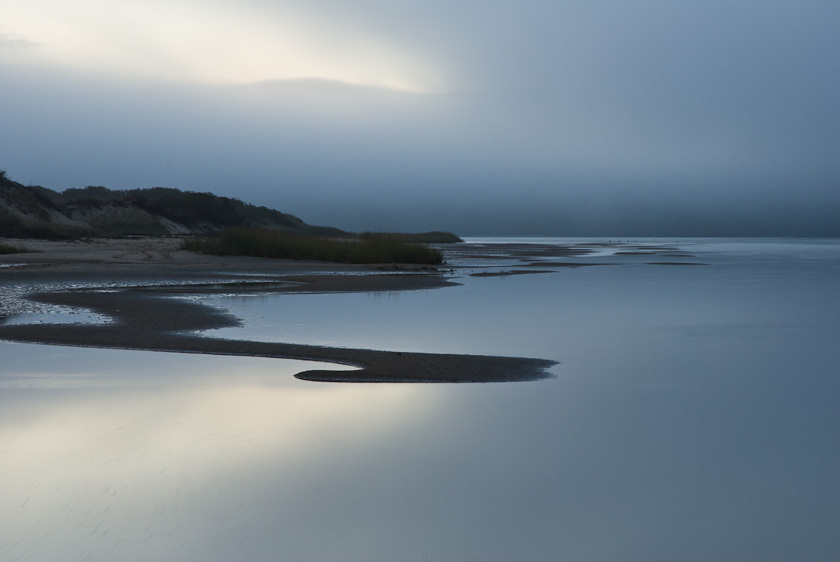 King of the Pond. As she renders her tune in that Old Whaling Church, we can hear the sea rejoicing with the essence of Captain Vanderhoop. I believe in that moment I see ancient Whaling Captains sliding through the same infinite door that the very corporal Ms. Taylor had navigated. They stay rocking out in the aisles and embracing the walls and ceiling, forming ephemeral images. The gang has arrived. (Menemsha Pond at sunrise photo courtesy of www.debcasso.com)
Ms. Taylor drives into a pulse worthy of all Nascar drivers. She introduces it by talking about her car that has more than 257,000 miles to its credit and pleas with us that if we see her on the side of the road immobile by the auto God's lack of grace, to please stop and help. I pledge silently. She sings and dances Brake Job.
The luminosity radiating from the mural grows with Ms. Taylor's performance as she leads us through her ceremony of devotion. Arriving at the night's apogee, Ms. Taylor speaks about her beloved late husband, Charlie Witham, who died after they recorded her album, entitled Beautiful Road. She then sings one of the most profound love songs I have ever heard, Red Tail Hawk, a paean to Charlie.
Before the end of this revelatory evening, Ms. Taylor speaks about how a friend offered her the moniker of "baby elder." Indeed. Those words were perfectly framed by the illuminated entrance omnipresent behind her. She ends the evening with Princess on the Pond and the words, "Thank you is the prayer, because everything else is already here." The congregants stand grateful for the passage through which they have been led, shouting, clapping, as the captains of yore bow gracefully. Even some errant whales have floated through infinity to bless the proceedings with their wisdom. Before we surrender, exiting to slowly move through the still blistering night, it becomes clear to me who Kate Taylor truly is. She is a preacher. Her message is unconditional. Love.
Ms. Taylor's first album was entitled Sister Kate. It referred to her illustrious Taylor family where she was the only girl of four siblings. She is Sister Kate and church is her natural venue. Her brilliant, sparkling persona leaves the stage. We remain, bathed in light.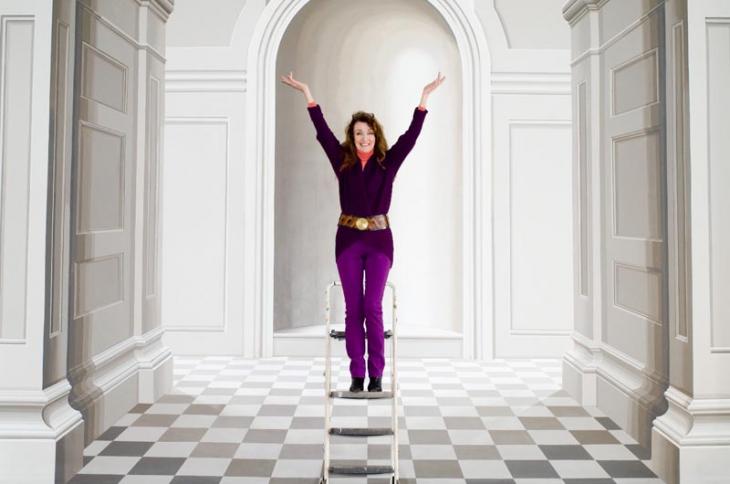 Margot Datz and Old Whaling Church Mural by Carl Wendte (1843)
Recreation by Margot Datz (2013)
Calling all HuffPost superfans!
Sign up for membership to become a founding member and help shape HuffPost's next chapter