Six years after an explosion at Massey Energy's Upper Big Branch mine in West Virginia claimed the lives of 29 coal miners in the worst disaster of its kind since 1970, a court has rendered a sentence on Massey's former CEO, Don Blankenship -- who was convicted of "conspiring to violate federal mine safety standards." That sentence? One year in jail -- the maximum -- one year of supervised probation, and a $250,000 fine. All in all, it's a gross injustice, and on this week's edition of "So That Happened," we tally up the many outrages.
Chief among them, however, is the fact that now that Blankenship has gotten off with a slap on the wrist for fostering a corporate culture that imperiled the men he sent underground, prosecutors missed an opportunity to send a message to other mining company CEOs that the knives are out for similar malefactors. That $250,000 fine, while reportedly "well above what federal sentencing guidelines suggested," is a pittance to a man like Blankenship, who "was paid a cool $18 million in 2009 -- his last year as CEO of Massey Energy before the explosion."
Assistant U.S. Attorney Steven R. Ruby argued that if Blankenship had received anything less than this single year in jail, it would have "signal[led] that committing mine safety crimes might be a good gamble for a CEO."
I have bad news for Mr. Ruby: Committing mine safety crimes is quite clearly still a good gamble for a mining company CEO, and you should expect mining company CEOs to continue making this gamble.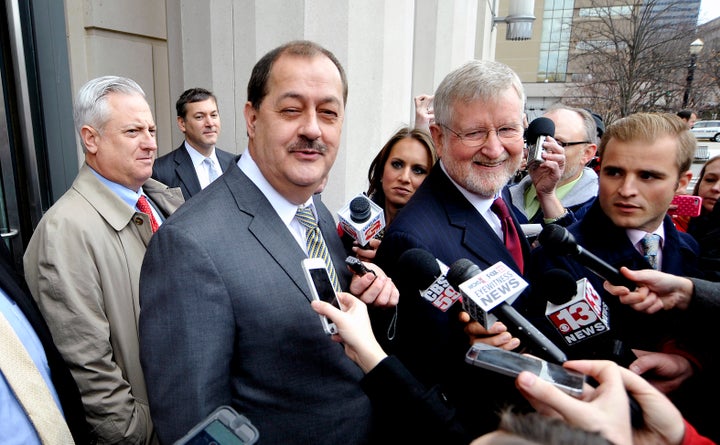 Elsewhere on this week's podcast: Another week, another leak. One week after a sheaf of leaked documents fingered Unaoil as a hothouse of global corruption, we get the Panama Papers -- a massive document dump that reveals the extent to which Panama has been used as a tax haven for the world's plutocrats, and the many global leaders who've been swift to stash their cash offshore. The system is broken, but we'll break down the story with the help of Americans For Financial Reform's Alexis Goldstein.
Meanwhile, with every passing week on the campaign trail, resolution seems further away, and tensions keep getting racheted up. We'll discuss the New York Daily News interview that caught Bernie Sanders up in a hot sack of nonsense. Plus, Wisconsin Rep. Mark Pocan (D) joins us to talk about how his fellow Wisconsinites voted in this week's primary, and how they may vote in the general election.
"So, That Happened" is hosted by Jason Linkins, Zach Carter and Arthur Delaney. Joining them this week is Wisconsin Rep. Mark Pocan, Americans For Financial Reform's Alexis Goldstein, and The Huffington Post's Ryan Grim and Paige Lavender.
This podcast was produced, edited and engineered by Christine Conetta.
To listen to this podcast later, download our show on iTunes. While you're there, please subscribe to, rate and review our show. You can check out other HuffPost podcasts here.