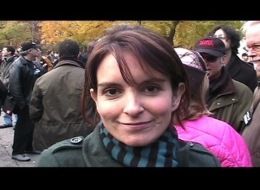 Actors, writers, and politicians gathered this afternoon in Washington Square Park to rally in support of the WGA strike — and HuffPo's Patrick Waldo was there to capture every moment on video, and then edit out the boring parts without celebrities just for you. Strike stalwarts such as 30 Rock's Tina Fey and Jack McBrayer, SNL's Amy Poehler and Seth Meyers, plus Sex and the City's Kristin Davis, The Office's Rashida Jones, The Player's Tim Robbins, The Color Purple's Danny Glover and Michael Emerson, aka the Creepy Guy from Lost. rallied in support of the writers, Oh, and special guest star John Edwards! "This is all about fairness, it's about opportunity, it's about making sure those who create the work that generates revenue actually gets to share in that revenue," said Edwards. "We have to show that we're gonna have economic fairness and economic justice in America again, and I promise you this: When I'm President of the United States, there will be economic fairness in the United States of America again!" Strike rally, campaign rally, whatever.
In addition to signs literally proclaiming "solidarity" (see at 0:22), according to Patrick the event was a study in same, with strikers, celebrities and hangers-on all remaining after the speeches, "chatting it up with the smallest of press members (including me with my Canon Hand Held)." Writers from The Daily Show, The Colbert Report, SNL, and Late Night With Conan O'Brien were all in attendance, plus Jordan Carlos (aka Stephen Colbert's black friend), apparently filing a video report. Comedian Richard Belzer was there with big-fish Sopranos mastermind (and writer's writer) David Chase, near his longtime cast member and now recent 30 Rock guest star Edie Falco. Nearby, ER's Anthony Edwards and Julianna Margulies joined Glover and Robbins, both of whom also spoke, behind SAG NY President Sam Freed.

Writers have been on strike since Nov. 5th over what they assert is their share of revenue from DVDs and digital downloads and streams of their work online.
Related
Popular in the Community