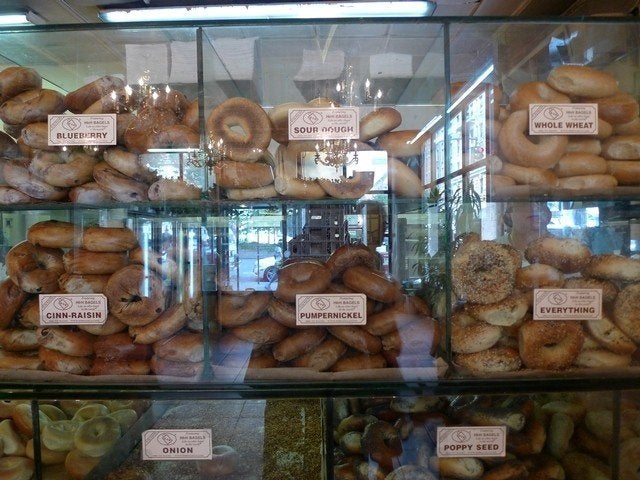 As I was growing up in the 80s and 90s on Manhattan's Upper West Side, my father and I debated countless hot topics: the appropriate length of my "Daisy Duke" jean shorts, the importance of ordering call waiting for my private phone line, the relative inaccuracy of "Student Alert Forms" sent from school about my alleged lateness.
But perhaps most heated of all was an argument -- that continues to this day -- about the merits of H & H Bagels. Even as news spread this week about their Upper West Side location shutting its doors, thereby turning a page forever on a chapter of my childhood, the debate resumed.
My father claims that the perfectly chewy masterpieces are "too sweet." And, while he might have had a valid point with regard to my denim choices, he is definitely wrong about H & H. In its heyday, where could you get a better salt or raisin bagel? But, above all, the place with its brown awning and dusty floors was such a neighborhood institution that the argument is like a betrayal of our very value system.
From kindergarten through senior year, I attended The Calhoun School. Once dubbed "The TV" for its cubed silhouette, now -- like its alumni -- the building has grown taller (by stories). Still, the learning center stands just around the corner from H & H Bagels, as did my best friend's apartment, where -- as we speak -- mourning Upper West Siders wait on line for a last taste.

Like all the neighborhood kids of that era, I trekked there almost daily after school, dwarfed by my giant backpack (or "Chocolate Soup" bag, when that was trendy) and charmed by the smell of onion bagels carried on a crisp breeze. Around the corner, at their backdoor, metal stacking shelves held trays of cooling bread.
Once inside, my friends and I would stroll up to the counter to ask what flavor was hot out of the oven. Unless the answer was "pumpernickel" or that always putrid green St. Patrick's Day creation, the warmest bagel was the way to go.
Upon leaving with paper-bagged goody in tow, a neighborhood homeless person with a blue disposable coffee cup would hold the door open like our version of a Park Avenue doorman and ask for change. (In those days, you might actually have some.) Outside, as we ripped into the doughy goodness, the bagels would actually steam.
In waxing nostalgic about that time before "flagels" and carb-free diets, I know I sound like an elderly grandparent, recalling life in Brooklyn during the Depression. (That was Brooklyn before today's organic gourmet larders and hipster boutiques descended.) It feels like that long ago. And, as H & H Bagels closes, for some it might seem like just another casualty of the recession. But for me and my peers, it's like losing a big chewy hunk of our history.
And we Upper "Left" Siders haven't had it easy. Or maybe we just hold on too tight: we're still mourning Shakespeare & Co. bookstore, Diane's burgers, the Broadway Nut Shop with its sweet smoky smell and even Lichtman's Bakery, which closed going on 25 years ago. Though the Westside Market on 76th Street still stands, it was once a grungy little hole that my father referred to as "The Armpit" -- and yes, I've even managed to romanticize that. Now, La Caridad is left to carry the weight of an entire time.
As I discussed the closing of H & H with my father this morning, he said, "The owners were in legal/financial trouble and so declared bankruptcy. It suggests a possible in-authenticity at the heart of the bagels they produced, excessive sweetness masking an underlying problem."
"The only standard I have for my bagel makers is good bagels," I replied.
But the debate is practically null and void. In the absence of a DeLorean's flux capacitor (and a time machine to make that Back To The Future reference relevant), it's time to say goodbye. In the meantime, it's important to eulogize not just the place, but the time it inhabited.
The closing of H & H on the Upper West Side will leave holes in many hearts, about the size of a bagel's center.