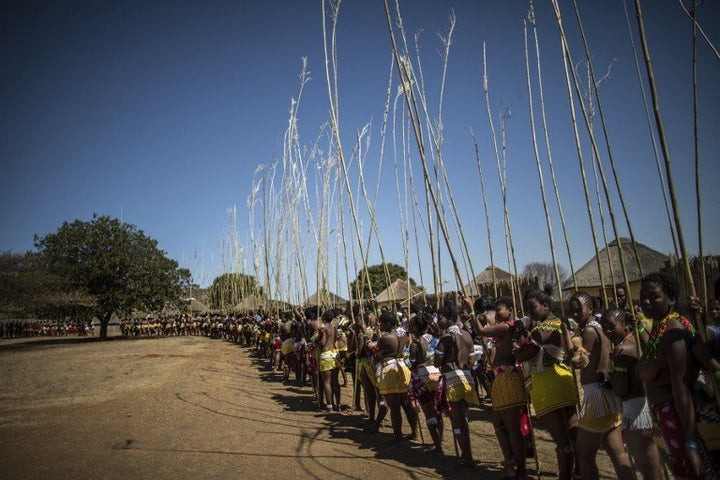 When the South African Commission for Gender Equality (CGE) ruled in June 2016 that a so-called "maiden bursary" scheme introduced by a district earlier in the year to reward women for remaining virgins was "unlawful, unfair, unreasonable and unconstitutional," the decision was welcomed by gender and human rights activists. But cultural leaders in the country are pushing back against the ruling, saying it infringes on cultural rights, and that virginity testing is an integral part of Zulu tradition.
Renewed debate over the subject of virginity testing erupted in January 2016, when the uThukela district council in KwaZulu-Natal province, eastern South Africa, awarded bursaries to 16 young unmarried women, on condition that they refrain from sex for the duration of their tertiary education and agree to undergo regular testing to prove they are still virgins. The council said the bursary was an attempt to curb teenage pregnancy and the spread of HIV/AIDS, both of which are problems in the region.
"As a district municipality, we are facing challenges of teenage pregnancies," said uThukela mayor Dudu Mazibuko at a press briefing in response to the CGE report. "Between January and March [2016], about 383 schoolgirls had fallen pregnant. Almost 20,000 pupils have dropped out of school in the past three years. We have tried everything to curb pregnancies. Workshops are not working. People must come up with suggestions."
Part of the Zulu monarchy, uThukela district has long practiced the tradition of virginity testing ("ukuhlolwa"). Passing the test is a prerequisite for any girl who wants to join in the annual Reed Dance ceremony at King Goodwill Zwelithini's eNyokeni Palace in Nongoma. A celebration of the Zulu nation and of the girls' transition into womanhood, the ceremony involves thousands of girls carrying reeds in a procession past the king – Zulu mythology holds that if a girl is not a virgin, her reed will break. Candidates attend a week-long camp where they are taught about "maidenhood" and Zulu culture, before they are tested by elderly women who issue them with "maiden certificates" if they pass.
During her research on virginity testing, social anthropologist Fiona Scorgie found a number of ways that inspectors claim they can tell if a girl or woman has not had sexual intercourse.
"They inspect the girls' genitalia visually and sometimes use their fingers … to see if the hymen is present," she says. According to the inspectors, they also look for tight muscle tone, firm buttocks and breasts, and a flat abdomen.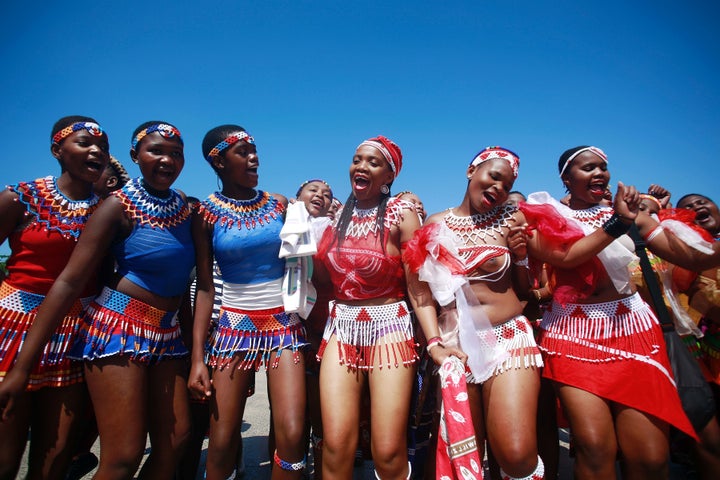 Critics of virginity testing argue that the tradition is discriminatory, and the methods have no scientific basis. After the commission's ruling on the bursary, the group Lawyers for Human Rights commended the decision in a statement, saying "the scheme entrenches gender inequality by holding girls to a different sexual responsibility and standard than boys, and rewarding conformation with a harmful stereotype entirely unrelated to academic potential and the right to education, under the guise of public health considerations."
Much of the debate centers on different interpretations of South Africa's constitution. While the document specifically protects cultural rights, it also states that that protection doesn't override the Bill of Rights, which prohibits discrimination and violence against women and girls.
Cultural activists angered by the CGE ruling say the uThukela district bursary maintains and encourages tradition in line with the constitution. "It is virginity testing and it's a cultural right, and the constitution is very clear that the state must promote cultural rights," said Thoko Mkhwanazi-Xaluva, chairwoman of the CRL Rights Commission, speaking to eNews Africa. "So the municipality said, 'How do we promote virginity inspection?' And they decided, 'Let's encourage [girls] even further by giving them a bursary.'"
At this year's Reed Dance ceremony in September, Zulu king Zwelithini accused the CGE of fishing for media attention and said the ruling was considered a declaration of war on the Zulu kingdom and its culture. When he asked the gathering of over 30,000 girls whether they had been forced to attend the ceremony, they responded with a resounding "No."
Khayelihle Zuma, a 17-year-old student based in Durban, has been taking part in the Reed Dance since she was 10. She says at first she was scared, because she didn't know what the virginity testing would entail. But she has since grown to appreciate the ceremony and what it stands for.
"I am proud that I get to take part in something that is a part of my culture and to bring pride to my family as a maiden, instead of going out to parties at night like other girls my age," she says.
The CGE report noted that the two bursary recipients who had agreed to speak to the commission were adamant that, "they did not view virginity testing as an invasion of privacy or an abrogation of their right to dignity." But it also pointed out that both girls had "a limited understanding of the Bill of Rights in the Constitution."
Sindiso Dube (not her real name) says the young ages of the girls who take part in virginity testing, along with their lack of knowledge about their constitutional rights, leaves them open to manipulation and violation.
The 33-year-old mother of two says that when she was 17, her family forced her to undergo a virginity test after she was expelled from boarding school for breaking curfew. She found the experience "degrading," she says, but felt she could not go against her family's wishes.
"At that age, it's difficult to stand up for yourself and I felt violated in the worst way possible," she says. "But as my family had threatened to send me off to live with my grandmother if I failed the test, I felt I had to comply."
Related
Popular in the Community