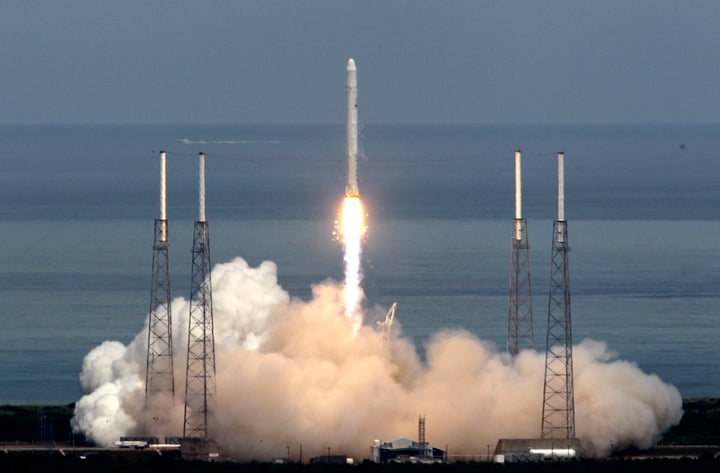 By Irene Klotz
CAPE CANAVERAL, Florida | Thu Jul 28, 2011 6:20pm EDT
(Reuters) - Space Exploration Technologies, a privately owned firm developing a space taxi with U.S.-government backing, plans to launch its second test capsule on November 30 and send it all the way to the International Space Station, a company manager said on Thursday.
The Hawthorne, California-based company is also known as SpaceX. It leveraged $300 million of NASA funds with $500 million from investors, including founder and chief executive Elon Musk, to develop the Falcon family of rockets, multipurpose Dragon capsules, manufacturing and test sites, and launch facilities in Florida and at Kwajalein Atoll in the Marshall Islands.
SpaceX currently is working on upgrading the Dragon cargo capsule for human occupants and has broken ground on a third launch site at Vandenberg Air Force Base in California for a heavy-lift version of the Falcon rocket.
"We see both cargo and crew (flight) services as being the key to opening up not only NASA's full use of the great International Space Station but also to open up other uses of low-Earth orbit, some we are talking about and some we have yet to even envision," Dennis Stone, a program manager with NASA's Commercial Crew and Cargo office at the Johnson Space Center in Houston, said at a commercial space conference on Thursday.
The space station, a $100 billion project of the United States, Russia, Europe, Japan and Canada, is a complex of laboratories and platforms built to take advantage of the unique environment of microgravity for research and to test new technologies.
It was assembled 220 miles above Earth over the past 11 years, primarily with the now-retired U.S. space shuttle fleet.
SpaceX, which in December became the first private company to put a capsule into orbit and bring it back to Earth, is one of two firms NASA has hired to fly cargo to the space station in the post-shuttle era.
The second firm, Orbital Sciences Corp., of Dulles, Virginia, plans to debut its Cygnus capsule next year.
SpaceX intends to combine its second and third test flights with a single mission, scheduled to launch November 30 from Cape Canaveral, Florida, Garrett Reisman, a former astronaut now working with SpaceX, said at the NewSpace 2011 conference that was held at NASA's Ames Research Center in California and broadcast on the Internet.
"The next flight of the Dragon we're going to go all the way and berth it to the space station, drop cargo off and bring stuff back," Reisman said.
That would position SpaceX to begin work on its 12-flight, $1.6 billion station cargo delivery mission.
SpaceX also is among four companies holding a combined $269 million in NASA contracts to develop space taxis that can fly astronauts to the space station, a job now handled by Russia at a cost of more than $50 million per person.
NASA's other partners are Boeing Co, privately owned Sierra Nevada Corp., and Blue Origin, a start-up owned by Amazon founder Jeff Bezos.
Calling all HuffPost superfans!
Sign up for membership to become a founding member and help shape HuffPost's next chapter