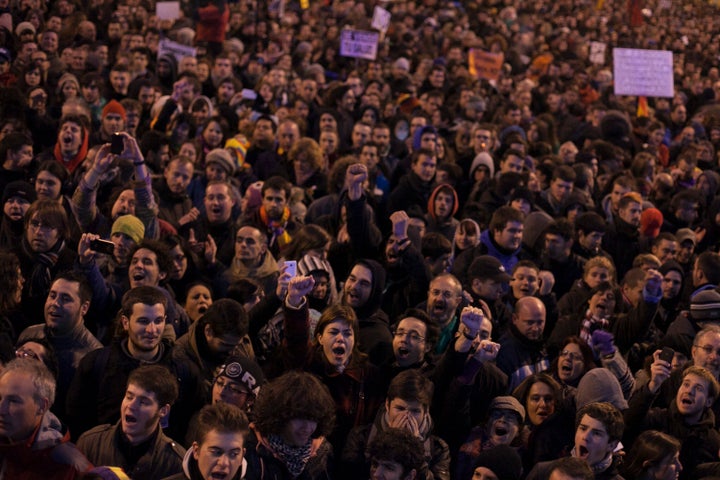 MADRID, Feb 24 (Reuters) - Forty-five people have been arrested in Spain during disturbances following a demonstration on Saturday by tens of thousands of people against spending cuts and allegations of government corruption.
The mostly peaceful march convened in central Madrid on Saturday evening in front of parliament under the watch of riot police, who closed access to the legislature, Ritz Hotel and stock exchange.
However, while most protesters dispersed after the rally, police reported disturbances later on Saturday and early on Sunday around the city's Atocha train station. Nine of those arrested were under 18, police said.
Some 40 people were hurt, including 12 police, though none seriously, officials said on Sunday.
The march was just one of a number of demonstrations across the country to protest against deep austerity, the privatisation of public services and allegations of political corruption.
Protests in Spain have become commonplace as the conservative government passes measures aimed at shrinking one of the euro zone's highest budget deficits and reinventing an economy hobbled by a burst housing bubble.
A corruption scandal involving the ruling People's Party and a separate investigation into the king's son-in-law, Inaki Urdangarin, has further undermind Spaniards' trust in the leaders.
One poll, before the latest accusations of high level slush funds came to light, showed some 96 percent of Spanish adults thought corruption amongst politicians was pervasive.
The People's Party and the Urdangarin deny wrongdoing. (Reporting by Raquel Castillo; Writing by Paul Day; Editing by Alison Williams)

Related
Before You Go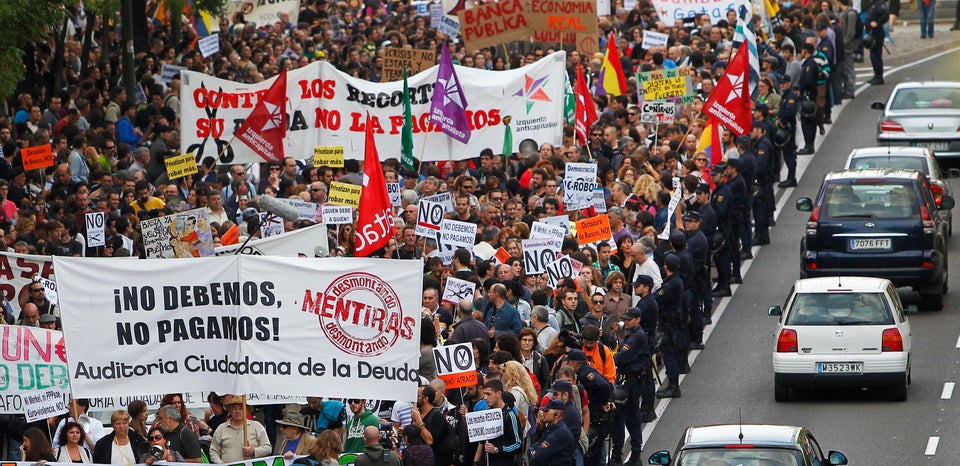 Spain Anti-Austerity Protests
Popular in the Community