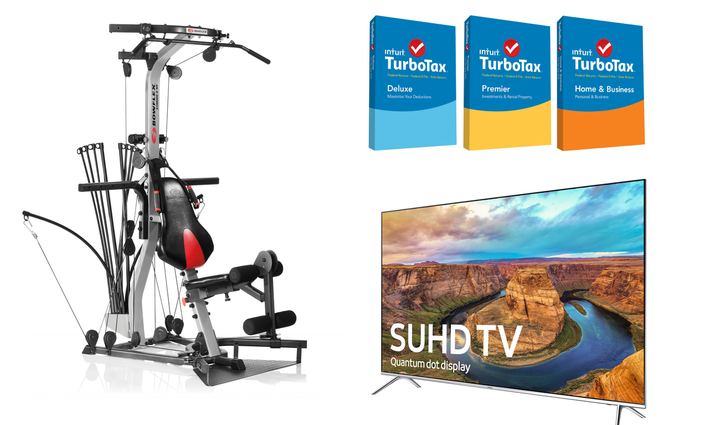 Welcome to TechBargains' Weekly deals, featuring the best deals that will prepare you for spring on electronics, computers, TVs and more. Act fast as stock is limited and these discounts will not last.
If you want a premium Samsung TV without paying a premium price, then these refurbished Samsung's KS800 8-series TVs are what you seek. The current prices are at a lower price point than Samsung's budget models. You will not be disappointed with the picture quality, the sleek design and of course some of Samsung's best technologies around HDR & 4K. We highly encourage you to go for the 65" if you are looking for a truly large screen since it is currently only $1050 compared to over $1500 at Best Buy or Amazon brand new.
This is one of the best prices we've seen on the Bowflex 2. The unique system does away with bulky weights in favor of spring loaded rods for continuous and uniform resistance. No cheating on the weights with this machine. There are no shipping fees and it even includes a free mat valued at $100. If you have the space, the Bowflex is more convenient than going to the gym. Plus you save on a one time cost up front versus a monthly fee.
Foodsaver V3240 Vacuum Sealer for $49.99 after Code: SAVE20 (Orig $99.99) The Foodsaver normally sells for around $85 or more at Amazon but today you can it for the best price we've seen of $50 from Foodsaver directly. Vacuum sealing can keep you food fresh about 5 times longer. Meats can stay fresh up to 3-years with freezing. Perfect for left-overs, fruits, vegetables and even game.
When you need to charge up your phone and there is no outlet around, these portable USB chargers are amazing. This has enough juice to power up an iPhone 7 three to four times and costs less than lunch. We highly recommend this if you are constantly on the go.
This is the best price on TurboTax you will see until the end of March. When April begins we expect prices to jump on TurboTax to take advantage of late filers. All the editions are on sale at the lowest prices we've seen so far. Not sure which one to get? Deluxe fits most tax situations such as owning a home or if you have 1099s. If you have income from rental properties or investment income, Premier is the choice for you. And if you own your own business, are a contractor or self employed then Home & Business is for you.
This costs a little more than your traditional snorkel but has two design enhancements you will definitely want. The breathing chamber is designed to eliminate fogging and make it easier to breath. This also has a GoPro mount to fit an action camera.
After a tiring, stressful day, nothing beats a good neck massage. At $37 this is a steal compared to more recognizable brands that can cost upwards of $90. We've gifted these for multiple holidays and they are a present that still sees use year after year.
Reviews have called this one of the most comfortable smart watches. It is highly usable with a very bright display that is viewable from all angles. It's also one of the few smart watches that has a stand alone GPS. While you can get a FitBit, which is primarily an activity tracker, the Moto 360 is in the same price and functionality in addition to having the power of a smartwatch and Android Wear platform behind it.
If your garage was freezing this winter, you can bet it will be blazing hot during the summer. This insulation kit blocks up to 95% of radiant heat and will save on your energy bill. It's easy to install with adhesive squares you stick onto your garage door. This is a fast and easy project that you can tackle without many complications.
If you don't want to suffer from a sweaty butt during a road trip or have back pain when you sit, this orthopedic cushion will improve your comfort. It provides soft comfort in addition to firm support to your back.
The Huffington Post may receive revenue via links on this page.
Calling all HuffPost superfans!
Sign up for membership to become a founding member and help shape HuffPost's next chapter