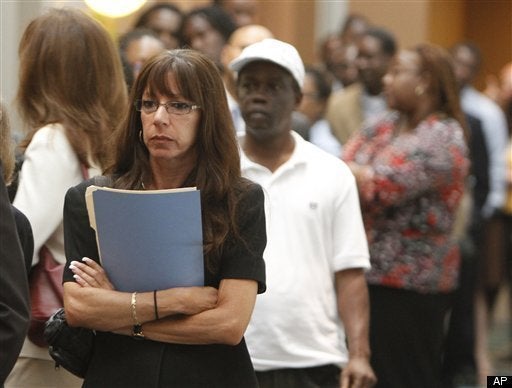 WASHINGTON -- Since demand for temporary workers has been on the rise since the recession, staffing agencies have played an increasingly important role in helping jobless Americans find work. Some worker advocates say job-seekers should be wary.
The number of temporary workers in the United States on any given day jumped to an average of 2.6 million in the third quarter of 2010, about 25 percent higher than the same period a year earlier, according to the American Staffing Association, the trade group representing such firms. The Department of Labor reported last week that staffing firms have added about 25,000 jobs to the economy in each of the past 12 months.

In an uncertain economy, employers are more likely to hire temporary and contract workers because it's easier to let those workers go when they can no longer afford them. But George Wentworth, a senior staff attorney for the National Employment Law Project, a worker-advocacy nonprofit, said job applicants should be careful when using staffing firms and temp agencies.
"A huge portion of the job growth in the last year has been in the temporary help sector, because employers are using the temporary industry as a device for trying out workers," Wentworth said. "The bottom line is that you have to be really careful with these kinds of firms. There's a growing detachment between job applicants and the ultimate employer that will be hiring you, so when there are headhunters or firms that are acting as an intermediary and taking some sort of cut, workers just need to be absolutely certain they're getting assurance from an employer and not just an entity that isn't going to have a long-term investment in the workers future."
Wentworth said staffing firms that promise full-time work after a certain period can often stretch those terms without recourse, as their unemployed clients are too desperate for work to speak up.
"There are abuses in many of these industries where employers try to keep somebody on a, quote, 'temporary' for periods of time far longer than you'd expect for a temp job, but in this economy, workers are less likely to complain," he said. "And the temp agencies are pretty much unregulated, so workers are on their own having to bring contract action."
One Colorado man, however, is not only speaking up but is suing Aerotek, a major international employment firm. Robert Koehler, 46, alleges that the company interviewed him for and later offered him a full-time position, told him to immediately quit his current temporary job and then failed to deliver the position he was promised.
Koehler said he has been working temporary manufacturing jobs on and off since he was laid off in June 2008. In July 2010, he responded to a Craigslist ad for a temp-to-hire job as a pharmaceutical production technician that would have paid him more than twice what he was currently making.
"I thought, maybe this is it, maybe I finally found a job after applying constantly everywhere, I won't have to get by on $10 an hour with no benefits anymore," he told HuffPost.
Koehler said a recruiter for Aerotek called him immediately and sent him out to interview with the client, a pharmaceutical company in Broomfield, Colo., after which he was almost immediately offered the job.
"Aerotek called me the same day and said I was hired and that they wanted me to start as soon as possible," he said. "I had to come in the very next day and do all the paperwork, give blood, do a physical drug test, a seven-year criminal background check. They said it was a sure thing."
According to Koehler, an Aerotek recruiter then told him he needed to quit his current job by July 23 so he could start his new position the following Monday. But immediately after putting in his two weeks' notice, Koehler says, the Aerotek recruitment agent entirely stopped responding to him about the position. He says his start date came and went, and it wasn't until about a week later that an Aerotek recruiter finally called him back and told him that there was no longer a job for him.
Unfortunately, by quitting his temporary job, Koehler lost his eligibility for unemployment benefits. He said he has not been able to land a job since, despite constantly applying, and his $105-a-week emergency benefits ran out this week.
"I'm so far behind, it's horrible," he said. "They've destroyed my life. I can't pay my bills, I can't do anything now. I maxed out our credit cards, used up our savings, borrowed money from one of my sisters, donate plasma twice a week for money and am using the remainder of our federal tax return to survive."
Aerotek said in a statement that it didn't do anything wrong in Koehler's case.

"Our policy is that at no time do we offer a position until the screening and/or testing process is complete. While we understand that Mr. Koehler has some issues regarding his interaction with our Denver, Colorado, office, we are comfortable that we handled the situation properly," an Aerotek spokesperson said.
Koehler isn't alone, however. Job-seekers have logged a plethora of complaints about Aerotek on websites such as www.pissedconsumer.com, a review site for products and services. One man claims Aerotek hired him, allowed him to work in a position for four months and then fired him without explanation a day before he would have been eligible for unemployment benefits.
"Thanks Aerotek, hope that little bit of money you're getting is worth taking the food off my kids' plates!" he wrote.
Richard Wahlquist, president and CEO of the American Staffing Association, told HuffPost
he is skeptical of these kinds of complaints because it is in the staffing firm's financial interest to place all of its clients.
"Staffing firms only are able to get income from their clients if they make placements, so they have a powerful incentive to put everybody to work," he said. "Of course, if you've got 10 million people coming through your doors every year, there's are gonna be some with grievances, but Allegis [Aerotek's parent company] is actually the largest staffing firm in America. They provide employment across a lot of different sectors, they've got a really strong track record, and they're proud of what they do."
Popular in the Community