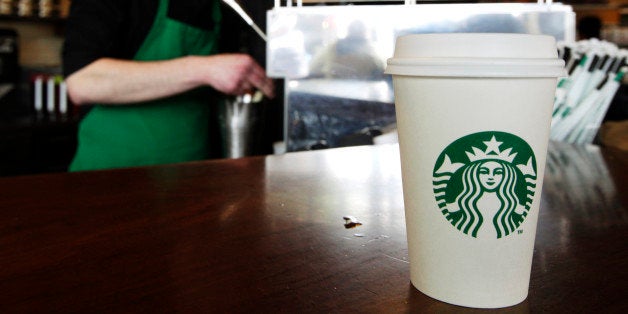 (Adds CEO, Abdul-Jabbar's comments, Seattle to dateline)
By Lisa Baertlein and Bill Rigby
LOS ANGELES/SEATTLE, March 18 (Reuters) - Starbucks Corp Chief Executive Howard Schultz has deftly navigated thorny issues such as gay marriage, gun control and Congressional gridlock, but his move to weigh in on U.S. race relations has brewed up a social media backlash.
The world's biggest coffee chain kicked off the discussion when it published full-page ads in major U.S. newspapers earlier this week with the words "Shall We Overcome?" at center page and "RaceTogether" and the Starbucks logo near the bottom.
Employees behind the counter were also given the option of writing "Race Together" on customers' coffee cups to help initiate dialog amid simmering racial tensions in the United States.
The issue flared following the August shooting of an unarmed black 18-year-old male by a white policeman in Ferguson, Missouri, and reignited with the subsequent police-involved deaths of other unarmed black men in New York City, Madison, Wisconsin, and elsewhere.
The campaign, however, has been met with snark and skepticism on social media, with many complaining the company was overstepping it boundaries with a campaign on sensitive cultural topics that had no place in the coffee shop's lines.
"Our intent is to try to elevate the national conversation," Schultz told shareholders at the company's annual meeting in Seattle on Wednesday. "Because we're willing to jump into the deep end of the pool ... I think others will follow us."
While some customers, and shareholders, appreciated the effort of a large company to engage on ground-level social issues, they questioned how workers such as baristas, many of them young adults who are not trained to navigate such difficult conversations, would manage.
"Not sure what @Starbucks was thinking. I don't have time to explain 400 years of oppression to you & still make my train. #RaceTogether," April Reign, a 44-year-old media consultant from Washington, D.C., wrote on Twitter under the name @ReignOfApril.
"I will be wary of these conversations and would prefer that Starbucks not continue the program or revamp it significantly," she said.
Other users pointed out that photos for the campaign only featured white baristas holding cups bearing the hand-written "Race Together" message. Some came up with satirical names under the hashtag #NewStarbucksDrinks, such as "iced white privilege mocha" and "by any beans necessary."
Starbucks Senior Vice President of Global Communications Corey duBrowa said in a post on Medium.com that he temporarily deactivated his Twitter account earlier this week because he "felt personally attacked in a cascade of negativity" in response to the campaign.
Former NBA star Kareem Abdul-Jabbar praised Schultz and the campaign in a Time.com column: "I'm in awe that he's willing to endure the snarky ridicule and lame coffee jokes from pundits as well as the inevitable death threats from clueless trolls."
Still, Abdul-Jabbar, a Hall of Fame player who has been outspoken on racial issues for decades, questioned the execution of the plan: "He's picked the wrong venue with the wrong audience using the wrong spokespersons."
Schultz said that the company would move forward with its plans despite the reaction.
An eight-page insert in the USA Today newspaper on Friday will ask readers questions to start conversations on race, such as how many friends of a different race they have? Starbucks did not say whether this was a one-time event.
"We knew this wouldn't be easy, but we feel it is well worth the discomfort," the company said in a statement.
Shareholder Evie Scribner, a Seattle-area retiree who turns 75 this month, said at the annual meeting that the campaign forced her to rethink her views.
"I thought I was doing well, but maybe I'm not, I think I can do better. I'll just start by being more accepting," she said. (Reporting by Lisa Baertlein in Los Angeles; Additional reporting by Bill Rigby in Seattle; Edtiting by Alan Crosby)

Before You Go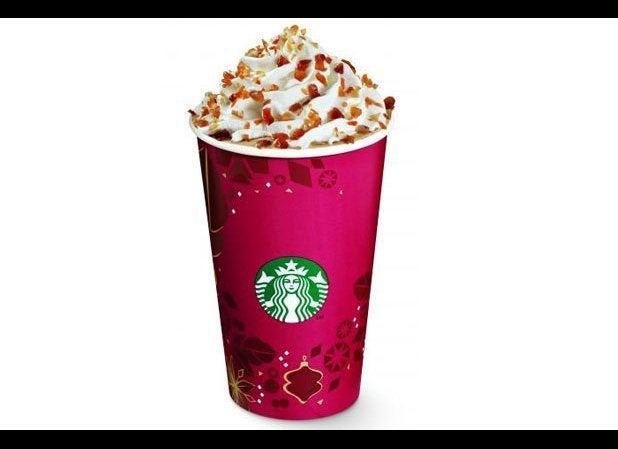 The Unhealthiest Hot Starbucks Beverages
Popular in the Community