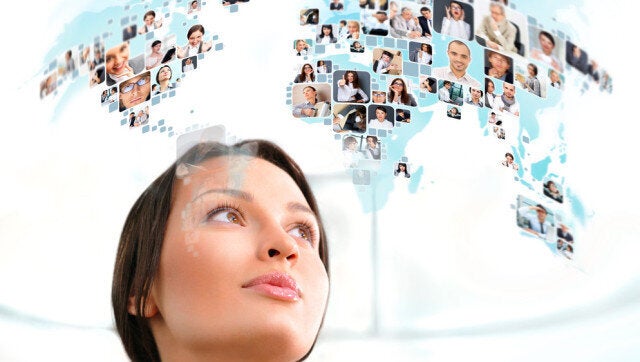 On paper, Leslie Bradshaw is the perfect MBA candidate. At just 30 years old, she's already graduated at the top of her class at the University of Chicago, built a successful company that generated $13 million in revenue, and was named one of Inc Magazine's "30 Coolest Entrepreneurs Under 30."
But after running data visualization agency JESS3 for six years, she decided to abandon her long-held dream of going to business school -- to start another company and join a startup instead. This month, she joins Guide, a Miami-based technology startup whose product is software that converts online news and blogs into video for on-the-go media consumers. Bradshaw is joining as Chief Operating Officer, where she'll focus on developing strategic partnerships with online news publishers, and lead marketing strategy, fundraising, talent development, and administration with CEO Freddie Laker. "I want to build something that can scale and make a lasting impact on the industry. This is an exciting moment, there's disruption happening -- it's too exciting to step out of the game right now and go to grad school," Bradshaw told me.
Conventional wisdom says that one can only go so far in the business world before an MBA is required for entry into the next level -- but in the new economy, creating game-changing technology tools may be more valuable than getting an old-school degree. After doing much soul-searching and seeking advice from mentors like Whitney Johnson and Nilofer Merchant, Bradshaw decided that an MBA wasn't the answer. She shared with me her three reasons why, for ambitious young people looking to move up in the business world, startups are a better career move than an MBA:
1) The people doing the most innovative, next-generation, game-changing work are not your professors. Instead, you'll find the next gen doers out in the industry building things. Those people are engineers, product managers, developers and strategists. These are the people that aspiring MBAs stand to learn the most from -- people who are building products and solving real world problems, not teaching from case studies.
2) Startups give you a more interdisciplinary and practical experience than business school. In a small startup, you have your hands in multiple projects and get exposure to development, design, marketing, fundraising, and more. In most MBA programs, students on a leadership track would not be intimately involved in the code, user experience and customer support. Working in a startup, you're part of a small team, and you're working on solving a real problem and working across many disciplines -- experience that most business schools simply can't give you, despite their best efforts.
3) Grad school is a financial investment, but startups pay you to learn on the job. And there is always a potential upside. Instead of taking out loans for the $150,000-200,000 that business school requires and going into debt, you're making money (albeit a lower salary) and have the promise of something bigger. It's a risk -- but if your startup is successful, there's potential to make the team quite a significant amount of money. Of course not every startup is the next Facebook, but taking that calculated risk is all part of the learning experience.
While a Harvard MBA degree may still carry prestige, building and running a startup can provide experience, skills, exposure, and connections that rival those offered by most business programs. Startups can be just as valuable a training ground for preparing America's future business leaders -- without the hefty price tag and student loans of business schools. Millennials like Leslie Bradshaw are proving that startups might just be the new MBA.
Related
Popular in the Community