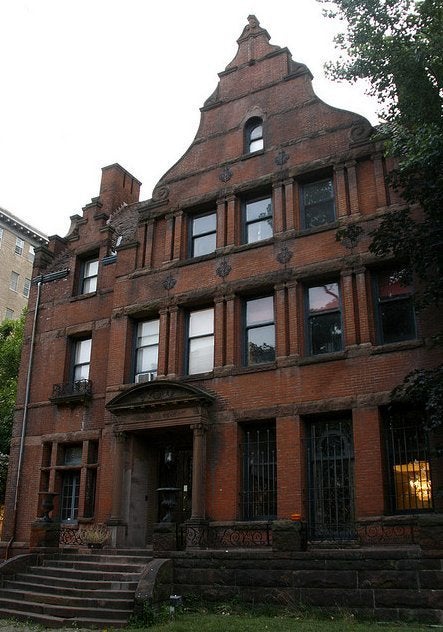 WASHINGTON -- The State Department "expects" the Republic of Congo to take "prompt, corrective action" to remove its paved-over front lawn it recently constructed on its embassy property in Dupont Circle.
According to a State Department letter sent to the Dupont Circle Conservancy -- and published by Greater Greater Washington -- the District Department of Transportation notified the embassy last month that its driveway was in violation of a Board of Zoning Adjustment's earlier rulemaking on how the front yard, which sits at 16th Street NW and Riggs Place, could be used.
The African nation had been rebuffed earlier in the year by the State Department and DDOT in its request to construct a circular driveway on its property at the Toutorsky Mansion.
Since the property is occupied by a foreign embassy, the situation is far more complicated.
In November, Congolese Ambassador Serge Mombouli told the Examiner:
"We had requested a driveway and that was not approved, [so] we came to the decision we should pave the front because anyway there was not really a yard there ... It was just a lot of mud and a lot of mosquitoes."

"Nobody can stop us to do that driveway."
In his letter to Dupont Circle Conservancy President Rauzia Ruhanna Ally, the State Department's acting director of diplomatic property, taxes, services and benefits, Cliff Seagroves, said that the embassy has taken great care to "renovate and preserve the character of this historic property."
The embassy has 30 days from the dating of DDOT's Nov. 17 letter to replace the paved-over front lawn with DDOT-approved landscaping, according to Seagroves' letter.
It would be comical if it weren't emblematic of a city that continues to allow the voices of so few to wield oversized influence in matters of economic development and the disruption, or even disallowance, of popular neighborhood amenities.

Businesses such as the gay-owned B&B previously operating for several years at the site were vehemently opposed and hindered by these same characters.

The backstory is less about a lawn gracing the oversized and beautifully intricate manse and more about the unintended consequences created by shortsighted small unrepresentative groups and ad hoc neighborhood obstructionists constantly battling local community enterprises.
The Toutorsky Mansion, built in 1894, is one of the few examples of Flemish Revival architecture in the nation's capital and was once home to Supreme Court Justice Henry Billings Brown, who wrote the 1896 decision in Plessy v. Ferguson.
Photo by Flickr user dbking using an Attribution 2.0 Generic Creative Commons license
CLARIFICATION: An earlier version of this post has been updated to reflect that the Congelese embassy does not have "extraterritoriality" and are therefore is not sovereign territory. Like other embassies, it is the sovereign territory of the host nation and governed by agreements between the foreign nation and the host nation.
Related
Popular in the Community