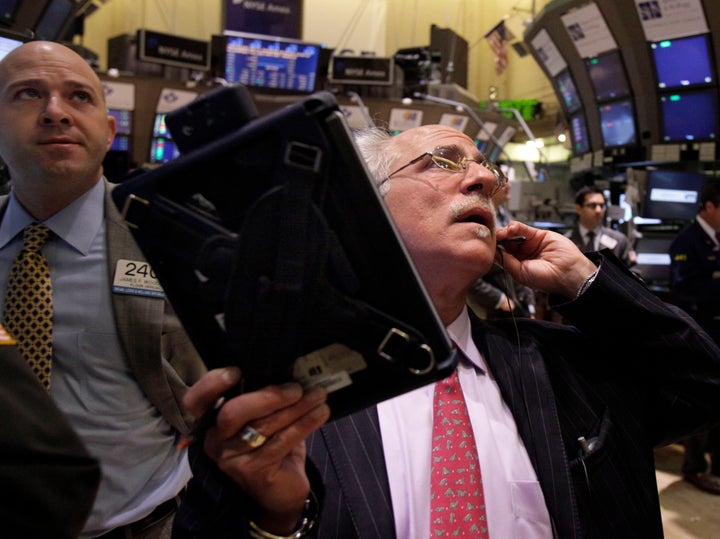 The stock market plunged on Thursday as investors viewed it as increasingly likely that the global economy is slowing.
U.S. stock indexes lost more than 3 percent of their value, as the Dow Jones Industrial Average plummeted 3.51 percent to 10,733.83 and the S&P 500 fell 3.19 percent. With new data pouring in suggesting that China's growth is slowing and Europe may be entering a recession, investors panicked, pushing equities and commodities such as gold and oil downward.
Many investors had entertained modest hopes for Federal Reserve action that would help the global economy avoid a possible recession. But disappointed by the broad outline of the Fed's program to shift its portfolio toward longer-term securities, dubbed Operation Twist, they retreated as they became increasingly convinced that the global economy is headed for a slowdown.
"Europe is going through their Lehman Brothers moment now," said Philip J. Orlando, chief equity market strategist at Federated Investors.
Hedge funds led the global sell-off on Wednesday and Thursday, since they are "absolutely certain that we're already in a double-dip recession," Orlando said. He added that the markets have been swinging further up and down this past summer because investors are caught in a "tug-of-war" deciding between whether the economy is experiencing slow growth or a double-dip recession.
Europe probably is about to enter a recession that will drag down on growth in the United States, said Gus Faucher, director of macroeconomics at Moody's Analytics. He said that a recession in Europe would tighten lending from European banks to American companies, reduce American exports to Europe, and bring down U.S. stock prices, spurring American consumers to spend less because they would be more nervous about the economy.
Investors are nervous about the prospect of a slowdown in China, since China has largely fueled global growth with its increasing demand for goods and services, Faucher said. "As growth in China weakens, then yes, I think we could have a substantial global slowdown," he said.
"Given the fragile state of the markets, I think investors were hoping for something a little more out of the box from the Fed," said Anthony Valeri, markets strategist for fixed income with LPL Financial.
While investors hoped that the Fed would announce more drastic action to alleviate the slowing economy, stocks started to plummet after the Fed announcement, and the Fed's decision to shift its portfolio toward longer-term securities would not have a "material impact" on the economy, Valeri said. But he emphasized that the markets are being driven primarily by "economic data" indicating a global slowdown.
Investors wondered why the Fed would release such a gloomy statement without announcing more drastic action to stimulate the economy, said Clark Yingst, chief market analyst for the investment firm Joseph Gunnar.
As investors grapple with a potential slowdown in Europe and Asia, the likely direction for the stock market may be further down. Mark Vitner, senior economist at Wells Fargo Securities, said of the stock market, "I think we're headed down for a while."
Popular in the Community