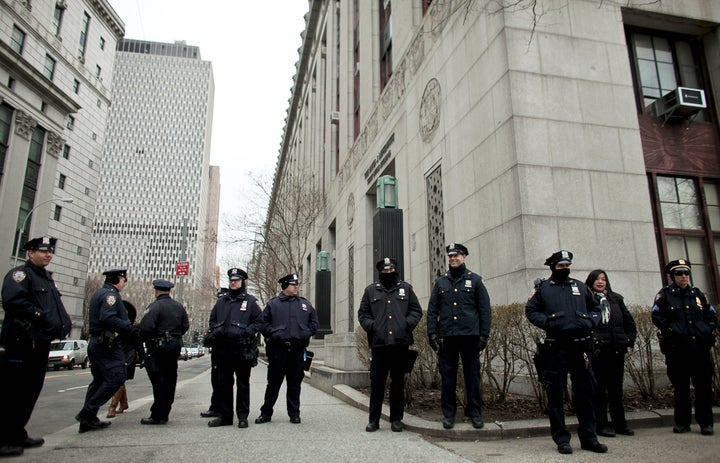 NEW YORK -- The city's controversial stop-and-frisk police tactic faces new scrutiny this week as a federal civil trial began in four men's class-action claim they were illegally stopped, and records for two police officers who fatally shot a Brooklyn teenager this month showed repeated lawsuits filed by people who claimed to have been illegally stopped and roughed up.
Mayor Michael Bloomberg this week described the tactic, formally called "stop, question and frisk," as a key crime-reduction tool that no "rational" person would oppose. But the federal trial and the March 9 killing of 16-year-old Kimani Gray when officers tried to stop and question him have sparked fresh debate about the true cost of stop-and-frisk, a strategy police officers use to reduce crime by stopping, questioning and searching people they consider suspicious. The tactic has led to mass demonstrations, City Council hearings and mayoral candidates calling for change. The lawsuit seeks a court-appointed monitor to oversee changes to how the police make stops.
The $185.6 million the city spent in fiscal 2011 to settle legal claims against the police department marked a 35 percent increase from the year before, according to a report by New York City Comptroller John Liu in December. At least some part of that is attributable to stop-and-frisk, Liu has said. The precise legal cost of stop-and-frisk lawsuits is difficult to determine, because the suits make a variety of claims, including civil rights violations, excessive force and unlawful arrest, Liu said.
"Stop-and-frisk has driven a deep chasm between communities and police, which makes everyone less safe," said Liu, who this week announced his candidacy for mayor. "As stop-and-frisk has increased, we have also seen a marked increase in lawsuits and claims against the NYPD -- bills that taxpayers are on the hook for."
Court records show five legal settlements paid by the city to people who claimed their civil rights were violated by Sgt. Mourad Mourad and Officer Jovaniel Cordova -- the cops involved in Gray's killing. The settlements cost taxpayers about $215,000, according to the records. Mourad has served as a police officer for eight years and Cordova for two.
Bloomberg's claim that stop-and-frisk has helped reverse New York crime trends -- a boast echoed by city lawyers in the federal trial this week -- fails to recognize the human toll of the tactic,said City Councilman Jumaane D. Williams, who represents portions of Brooklyn.
"Mayor Bloomberg has failed to show any correlation between his use of stop, question and frisk and the rates of weapons recovery, shootings or murders," Williams said. "He is wedded to a failed policy and has shown a unique obstinacy in defending it against an overwhelming mountain of evidence...The cost of stop, question and frisk in money, lives and overall community health is immeasurable."
The New York Civil Liberties Union said last week that the police department is nearing 5 million stop and frisks. Of the 4.4 million stops already recorded, more than 86 percent of the people involved were black or Latino, and 88 percent of these interactions did not lead to an arrest or citation requiring a court appearance, NYCLU said.
No one denies stop-and-frisk brings intense policing to high-crime neighborhoods, said Heather Mac Donald, a fellow at the right-leaning Manhattan Institute who studies cities and crime. Crime rates in New York have fallen further and continued to decline over a longer period of time than any other major U.S. city, Mac Donald said.
"All of the liberal root causes for crime, like poverty, inequality … stayed the same," Mac Donald said. "Conservative causes like out-of-wedlock birthrates, that stayed the same, too. The only thing that changed in New York in the 1990s was the style of policing."
Mac Donald, who is observing the federal stop-and-frisk trial this week, said opponents of the tactic, in New York and elsewhere, often try to depict it as discriminatory or unfair because the number of blacks and Latinos stopped and frisked far outpaces their presence in the population.
"But that's not how policing is determined, nor should it be," Mac Donald said. "Policing goes where victimization is happening. The police are trying to bring the same level of safety to every community in New York."
The reality is that high-crime neighborhoods are home to mostly black and Latino residents, and 98 percent of shootings occurred after a black or Latino perpetrator fired a gun, Mac Donald said. More frequent stops in these neighborhoods and interactions with minority individuals makes legal sense and helps improve overall public safety, she said.
"You cannot protect the victims of crime without generating racially disparate police statistics," said Mac Donald. She added, "I would say that stop, question and frisk is the lesser of two evils. Is there a cost? Yes, there is a cost to some people. But I would say crime is a higher cost."
Khalil Muhammad, director of New York's Schomburg Center for Research in Black Culture, said New York's homicide rate has declined precipitously since the 1990s, but it did so in most U.S. cities. Almost every city in the country –- small, medium and large -– experienced the same trend, he said.
Bloomberg and other proponents of Stop and Frisk want New Yorkers to leap to the conclusion that stop-and-frisk drove this trend in New York without clear evidence that it did so, said Muhammad, a historian who studies the history of U.S. law enforcement and race.
Bloomberg and others have said that while the number of people stopped and ultimately arrested or ticketed is small, stop-and-frisk helps to keep people who might cause trouble from carrying guns or engaging in crime because they know they are likely to be caught.
"Massive crime and killing -- or the wholesale and regular violation of black and brown people's rights," said Muhammad. "That's the false dichotomy they have set up when we know there are other methods that have worked and do work in other cities that do not ... revolve around increased incarceration."
When Muhammad hears Bloomberg talk about stop-and-frisk as the reason for falling crime, Muhammad said he hears echoes of an earlier and ugly time in American history. In the Jim Crow South, white community leaders often expressed a need to contain and monitor black populations, to suppress perceived criminal impulses and maintain public safety. Now, New York is practicing what Muhammad called a "Jim Crow" form of justice in its high-crime neighborhoods.
Calling all HuffPost superfans!
Sign up for membership to become a founding member and help shape HuffPost's next chapter
BEFORE YOU GO
PHOTO GALLERY
Stop And Frisk Protest