The declaration "I love New York" is a sentiment felt by millions and one that we here at HuffPost Style proudly wear across our chests. The iconic "I Love New York" T-shirt is as synonymous with the Big Apple as the Empire State Building and Times Square. Whether you're a tourist or a local, you're bound to have one of these shirts in your wardrobe.
But how about an upgrade? Well, the company Street People Atelier has done just that by creating a collection of T-shirts that puts a modern twist on our love affair with NYC. The contemporary clothing brand says it designs for a woman who is confident, a statement-maker, and "a creative ingenue thriving on NYC's energy and ambition." Amen.
We got our hands on a few of Street People Atelier's stylish T-shirts and took some photos rocking them according to our personal styles. We also shared some of our favorite things about NYC, which made us happy enough to dance (literally)! Check it out below.

How has New York influenced your style?
"I got my first MAC lipstick in New York (my fave, Heroine) and ever since I've worn some of my boldest lip colors in the city, including black, bright pink, crazy purples and variations of reds. It's like I'm giving the city a different colored kiss every day!"-- Chanel Parks, Associate Style Editor

What would a perfect day in NYC look like?
"My perfect New York City day would be one of those (seemingly rare) fall days when it's still warm enough to be outdoors but cool enough not to feel like you're living in the exhaust pipes of a bus. Of course, it also involves a lot of food. I would start at La Colombe (my favorite iced coffee in the city, hands down.) From there it would be brunch at either Café Orlin or Café Mogador (whichever one has a less offensive wait time). One of my favorite things to do is see how many blocks I can walk before my feet fall off, typically to the Upper West Side (a visit to my old stomping grounds; I went to high school in the neighborhood.) On my perfect day I would have dinner in a big, cozy booth somewhere with a fireplace with friends at a restaurant where everyone knows my name (if anyone knows a restaurant where everyone knows my name, please e-mail me.) It would also be a Saturday, the most superior day of the week (duh.)"-- Jamie Feldman, Associate Style Editor

Why is New York City is the world's undisputed fashion capital?
"The people who strut down the streets have in-your-face styles that you can't find anywhere else. The sidewalks are our runways, baby!" -- Dana Oliver, Executive Fashion and Beauty Editor

When did you fall in love with New York City?
"I think I actually fell in love with New York twice. The first time was was during my first trip to the city. I was 11 years old and we visited right before Christmas. Between the frozen hot chocolate at Serendipity, the windows at Bloomingdales and the toys at FAO Schwarz, I was hooked. I realized that my love for NYC was the real deal when I was 16 and took a summer fashion design course at Parsons. It my first time without real parental supervision and I spent my days taking class in the fashion district and my nights drinking margaritas in the lower east side (sorry mom). That summer I realized that I would never be happy living anywhere else. And it turns out, I was right." -- Michelle Persad, Fashion Editor

Your T-shirt reads "Once Upon A Time In New York" -- how would you finish that statement?
"Once upon a time in New York, a girl from a small town in Pennsylvania dreamed of becoming a fashion editor. She not only did that, but she also fell in love...got married...and had a beautiful baby boy. Wowzas! Thus proving once again that dreams really do come true!" -- Julee Wilson, Fashion And Beauty Editor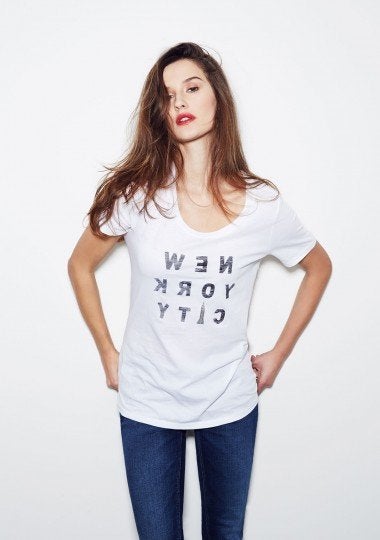 Street People Atelier T-Shirts