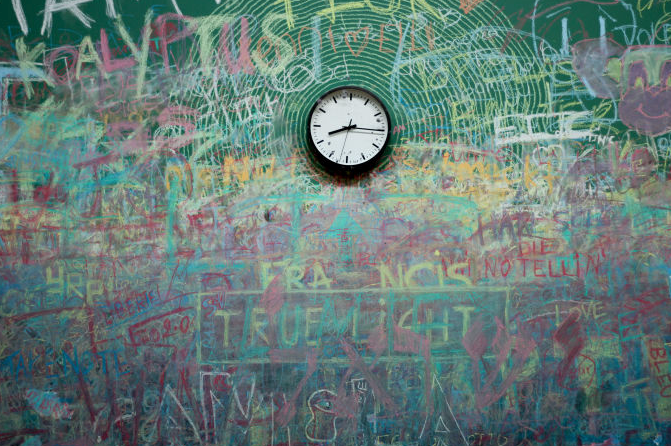 In a world unabashedly spewing opinions and value propositions to anyone who will listen, we stand at a crossroads in American education (see election 2016). Can we change course from a community of apologists often afraid to challenge expected and legacy approaches touting outdated practices to a community of activists embracing overt actions that celebrate individuality and common sense thinking?
A salvo of sorts? Perhaps.
I am privileged each and every day to interview global thought leaders in education. Some we have all heard of and some we need to know. Many have messages that get lost in the rhetoric of policy and funding discussions. The discussions after the red light of the camera dims often trail off into similar ideas- how can we gain enough attention to support our work, our innovations, our company and our organization to build substantive outcomes to improve education?
At some point, the systems before us will be what they will be. President-Elect Donald Trump just announced Betsy DeVos as Secretary of Education further fueling the school choice movement and the expected 'death' of the Common Core State Standards.
What will the response be and how will EdReform advocates alter course and/or support new federal marching orders? Early this year I interviewed education scholar Jack Schneider who previously explored whether or not disruption is actually needed. Should we tear the system down to build it back up? I remain steadfast that the status-quo limits thinking and prohibits our adult ability to align with the fast-charging students of the 21st century. Can we explore change without complete disruption? The devil always seems to be in the details and education is not immune. Our responses to the new path ahead will provide an indication of just how well we understand our education system. Will we accept the status quo, or will we push aside the niceties and embrace what is needed?
One of the greatest needs in education today is the need for innovation. What will be the response of parents, teachers, school administrators and innovators working to supply education with these vital innovations?
I am not sure any of us has a realistic clue as to what will unfold. The question that remains is whether or not we can continue to challenge outdated approaches and, dare I say it, people and positions in education that need a corporate 're-org.'
The first step in an all-out reorganization is to examine the manner that we communicate the comings and goings in education with full transparency about our impact on future generations.
If our industry, from the customer side, continues to force entrepreneurs to play in a mysterious world of procurements and payments then we will suffer the consequences of brilliant designers, engineers, problem solvers and entrepreneurs who avoid doing business with us for fear of being stifled economically and operationally. What innovations could our children and their schools be working with, right now, that might spawn the next great American innovation? What have we already missed out on?
I have interviewed Richard Culatta, Rhode Island's Chief Innovation Officer and former Director of the Office of Education Technology for the United States Department of Education a number of times. Between you, me and a fence post - I wish my children could experience the Rhode Island education system.
They are inverting the model. Instead of forcing innovation to the back of a line that looks like an urban DMV office, they are rolling out the welcome mat to EdTech companies who want to test out their technology in districts and schools across the state. What a novel idea! Allow students and teachers to play an active role in which solutions are utilized - and at the same time provide valuable insights to well-intended innovators and companies.
This will date me a bit, but haven't we seen this approach before? Remember the classic movie 'Big' with Tom Hanks? Having kids test out toys gave the toy company valuable information impacting the market and more importantly the end-user - kids.
This is a story that needs more oxygen. More states and innovators need to know about forward-thinking approaches that incorporate the target audience.
Innovating around the business of education is one thing. Innovating real-time educational practices with students at the head of the class takes us to another level. This week I spent time with nationally acclaimed Superintendent, Dr. David Miyashiro of Cajon Valley Unified School District in California, discussing his approach to leadership and innovation. Miyashiro challenged most notions that we have about district leadership and expanding student experiences outside their local school bubble.
Miyashiro looks to known and successful brands like Google and Virgin Atlantic to inform how his district is run. He has collaborated with the TEDx brand to integrate his students voice. Next week a first grader, from his district, is flying to New York to meet with TED leadership about his, "Math is Everywhere" TEDx talk.
We need to know about and identify the other Miyashiros spread across the American landscape.
We need to promote Miyashiro and others without apology. He should represent the norm not the exception.
We need to promote and encourage states to explore Rhode Island's approach to innovation understanding that we cannot predict success or failure. And, we need to explore alternative means to reach the goals that we seem to all have; successful educational experiences that lead to satisfying careers and lives.
Should we not explore the very nature of funding education? Can we have discussions that more thoughtfully and thoroughly explore public-private-partnerships? Our public education system struggles to innovate around funding models while the rest of our lives are decorated with branding and messages promoting products and solutions we actually want and ideally need. Our education system needs operational support and financial options, yet we demonstrate an unwillingness to push back against a system that says it is ok to outsource toilet paper and cafeteria services yet at the same time scoffs at outside assistance for in-class service delivery etc.
Education policy will change or at least experience some level of change with each political season that passes. As proponents and concerned citizens we need to stand up, ask thoughtful questions and strip away the niceties that assume those in educational leadership can truly steer us through an ever-evolving global economy.
More Articles and Information:
Audiences have enjoyed education interviews with the likes of Sir Ken Robinson, Arne Duncan, Randi Weingarten, Sal Khan along with leading edtech investors, award-winning educators, and state and federal education leaders. Berger's latest project boasts a collaboration with AmericanEdTV and CBS's Jack Ford.
Popular in the Community