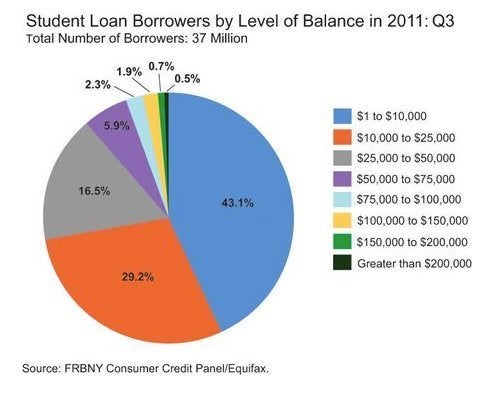 Here's one case where it doesn't pay to be in the 1 percent.
The average person who has student loan debt owes $12,800. But 1 percent of those with outstanding loans owe a staggering $150,000+ in debt, according to data from the Federal Reserve Bank of New York released in early March. (H/t The Atlantic).
To pay off that much debt, you have to earn at least six figures. It would take a salary of at least $207,000 per year in order to pay off $150,000 in 10 years; $137,000 per year to pay off the loan in 20 years; $117,000 per year to pay off the loan in 30 years; or $109,000 per year to pay off the loan in 40 years, according to the FinAid calculator.
For comparison, the average starting salary for college graduates is $41,701 per year, according to the National Association of Colleges and Employers.
The top 1 percent of student loan borrowers may have been overoptimistic when taking out their loans. Nearly two in three student borrowers were surprised by some of the terms of their student loans, according to a recent study by Young Invincibles.
These massive debts often are a result of going to graduate school, which accumulate when students take out loans from private lenders. Eleven percent of graduate students took out private loans in 2007-2008, and 14 percent of undergraduates took out private loans, according to a recent study by the Department of Education. The Consumer Financial Protection Bureau wrote in a press release earlier this month that they anticipate complaints from private student loan borrowers including "difficulties making full repayment, confusing advertising or marketing terms, billing disputes, deferment and forbearance issues, and debt collection and credit reporting problems."
Update: This article has been updated to include statistics on private loans.
Related