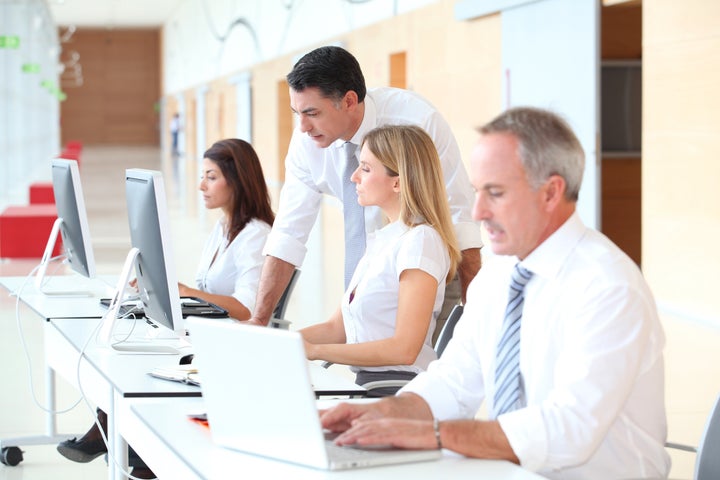 Older workers take up a lot of jobs, but not necessarily at the expense of younger workers.
Baby Boomers are ruining it for everyone else, taking up all of the jobs and making life tougher for younger workers.
At least, that's one theory of why many younger Americans are struggling in the job market. But new research suggests that's not the case. A new paper from the Pew Charitable Trusts' Economic Mobility Project shows that, though younger workers may be hurting right now from the economic downturn, they over the longer term tend to gain jobs alongside older workers. From 1977 to 2011, the report finds, a one-percentage-point increase in employment among workers age 55 to 64 was associated with a 0.2-percentage point increase in the employment rate for 25-to-54-year-olds, and a 0.21-percentage point increase for workers age 20 to 24.
Understanding exactly why different age groups gain jobs together is difficult, says Erin Currier, Pew project manager, but she believes it may simply be that an improving job market boosts everyone.
"If the job market is positive, the economy can clearly expand for a whole host of different kinds of workers," she says.
More older workers in the workforce isn't just associated with a bump in the number of younger workers. The Pew data also show that a one-percentage-point increase in employment for workers age 55 to 64 is also associated with increases in hours worked for younger workers, as well as small declines in those workers' unemployment rates—by 0.1 percentage point for workers age 20 to 24 and by 0.05 percentage points for workers age 25 to 54.
The data help to discredit the so-called "lump-of-labor" theory: the idea that there is a fixed amount of work in the labor market. Many economists view the idea with skepticism—it is often referred to as the "lump-of-labor fallacy." However, the current recovery, in which many boomers are delaying retirement, has at times raised the question of whether younger workers just might be better off with fewer of these old folks taking up all the desks. The Census Bureau defines the Baby Boom as the period between mid-1946 and 1964, making boomers around 48 to 66 years old this year, meaning that retirement is a big decision facing many of these older workers.
Numbers from the Labor Department do show that older workers are growing as a share of the workforce, while other groups stagnate and even decline. In August 2007, workers age 20 to 24 made up 9.5 percent of all workers age 16 and older. That figure changed little over the last five years, standing at 9.2 percent as of August. People age 25 to 54 have also declined slightly, from nearly 69 percent five years ago to 66.2 percent now. Meanwhile, the share has grown for workers 55 and over, from 17.8 percent in August 2007 to 21.5 percent now.
But there are flaws in thinking that older Americans are taking jobs away from younger workers. Older workers, Currier points out, tend to have jobs that require more experience and knowledge than their younger peers have.
Even if there were a mass exodus of boomers from the job market, then, it wouldn't make for a seamless transition to a younger workforce. In fact, it could require a rebalancing of workers as younger workers gain more skills. Aside from being more experienced, older workers tend to be in different professions than their younger peers. Workers over 55 are more heavily concentrated in manufacturing and education and health services, while younger workers work in leisure and hospitality—think hotels and restaurants—more often than their parents' generation. All of which means that as baby boomer retirement increases in coming years, younger generations are going to have to make sure they have the skills to take over.
Danielle Kurtzleben is a business and economics reporter for U.S. News & World Report. Connect with her on Twitter at @titonka or via E-mail at dkurtzleben@usnews.com.
Calling all HuffPost superfans!
Sign up for membership to become a founding member and help shape HuffPost's next chapter
BEFORE YOU GO
PHOTO GALLERY
7 Ways To Smooth Over The Age Gap At Work (Or How To Behave If Your Boss Is Your Kid's Age)