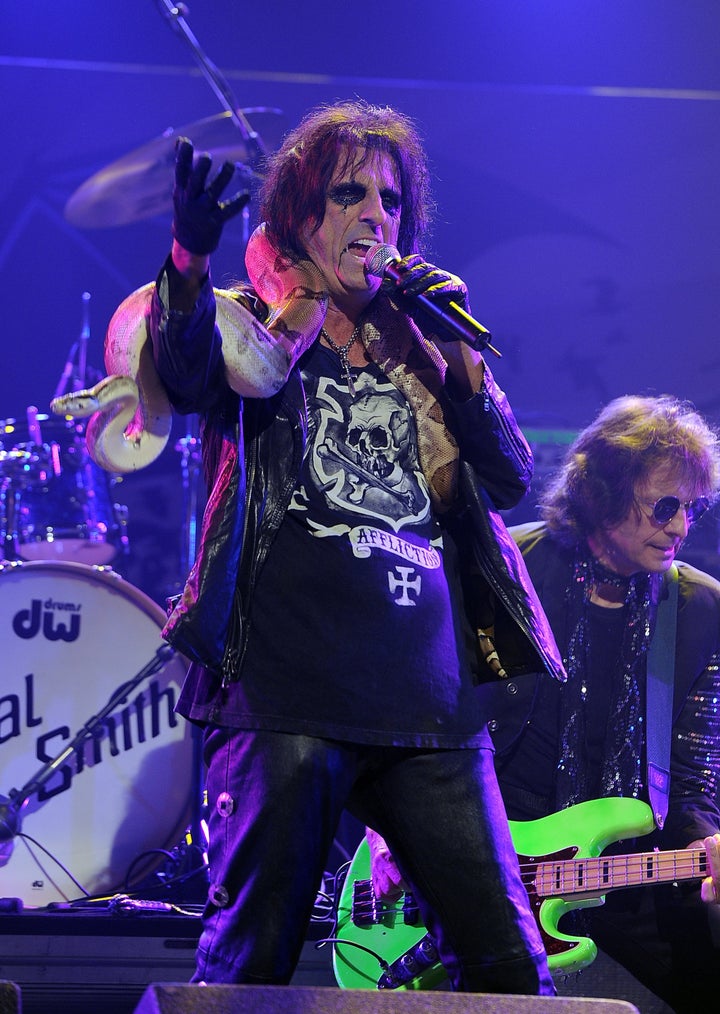 Summertime in America is as nostalgic and sweet as apple pie. It's a time for new memories and old friends. From concerts and cook-outs, to a cold beer on a hot day, every moment has a soundtrack of life, laughter and sunlight that transports you to this magical season whenever you hear the first notes.
To celebrate the most memorable time of the year, here are my favorite summer songs. I hope you sing, hum and maybe even dance along!
1. "School's Out" by Alice Cooper
I've loved this song since I first heard it on The Simpsons. It's easy to relate to that feeling of excitement when school is out for the summer -- or forever. It's something about those last minutes, that quick exchange of phone numbers and most importantly, that last school bell and big exhale that truly begins the season.
2. "Summer Breeze" by the Isley Brothers
Although not the original version, the Isley Brothers version of this song truly "makes you feel fine." Not many songs can relax and invigorate you at the same time, but they have mastered the "Art of Summer" with this classic groove.
3. "Ain't Nuthin But A G Thing" by Dr. Dre and Snoop Dogg
"1, 2, 3 and to the 4..." you know summertime is here when you hear this flow. From the cook-out scene to the easy breezy So-Cal vibe of two of the greatest Hip-Hop artists in their prime, this song screams of youth, mischief and fun. And isn't that what Summer is all about?
4. "Summertime" by DJ Jazzy Jeff and the Fresh Prince
With a great sample from "Summer Madness" by Cool & The Gang, this is arguably Will Smith's greatest song and solidified him as a story-teller. Nothing says summer like pretty girls, parks and good friends and this classic encompasses it all.
5. "Summer Love" by Justin Timberlake
Who didn't have a fleeting summer love that stayed with you long after the inevitable break-up? No other relationship fades away so softly than a summer love. The drama, no tears, just a hug, kiss and smile as it fades away into autumn. This song takes you down that musical memory lane.
6. "All Summer Long" by Kid Rock
Bikinis? Check. Country with a little bit of Rock-n-Roll? Check? Boats and Trucks? Check and Check. All-American boy Kid Rock gets the crowd thumping with this summer anthem and makes you wish the summer would never end.
7. "Run This Town" by Jay-Z featuring Rihanna and Kanye West
Jay-Z should be called the King of Summer. Every year, he creates a track that gets constant play on the radio and parties around the world. Teaming with Kanye and Rihanna adds just the right mix of bravado with a care-free vibe that has me ready to run any town I visit. Summer is definitely the time that you feel like you can take over the world.
8. "Regulate" by Warren G and Nate Dogg
Warren G and Nate Dogg made a timeless song that always brings back nostalgic memories and puts a smile on my face. Nothing says summer like a So-Cal classic that makes the crowd sing along word for word.
9. "Party Rock Anthem" by LMFAO
Parties rock extra hard during the summer months and this silly, catchy tune is the ultimate staple at any get-together. There is no better way to kick off your shoes, let down your hair and kick off the summer than with this jam.
10. "Moves Like Jagger" by Maroon 5 featuring Christina Auguilera
How many songs have an opening so distinctive that the dance floor is packed before the hook even begins? Well, "Moves Like Jagger" is definitely one of them. An eclectic rock/dance hybrid, this song is destined to be on repeat at cook-outs and pool parties all over the country.
So, there you have it -- my ten favorite summer songs. So gas up the car, grab a few friends, light up the grill and let the summer fun begin!
While listening to these classics, of course.
Calling all HuffPost superfans!
Sign up for membership to become a founding member and help shape HuffPost's next chapter