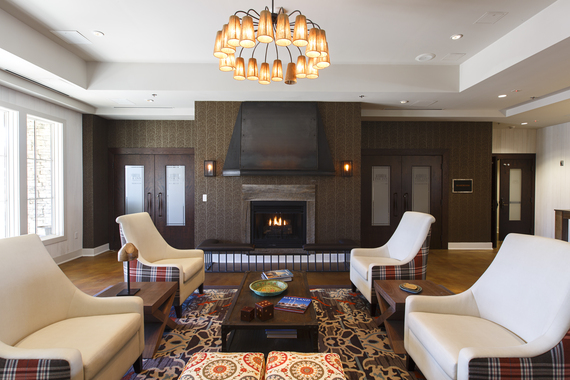 For travelers coming from Washington, D.C., Virginia and the western shore of Maryland, there is no easier property to get to on Maryland's Eastern Shore than this one. The newly opened Inn at the Chesapeake Bay Beach Club in Stevensville on Kent Island, is situated in the shadow of the Chesapeake Bay Bridge, luring drivers to its many charms from a small beach front to its charming gardens to its farm-to-table restaurant to its new spa. The design of the 54-room boutique hotel is best described as industrial chic meets farmhouse sleek. Not a bad way to kick off a relaxing getaway.
Rooms
Despite it's location adjacent to Route 50, the rooms are blissfully free of noise. New construction has ensured that what happens outdoors stays outdoors. The interior design is carried through to the rooms, with sliding farm doors and metal lamps paired with rough-hewn wood tables and stone fireplaces. On one side of the property, rooms have views of the surrounding farm fields, along with the property's gardens, including its new hops crop. On the other side, those on the fourth floor (this is a compact hotel in keeping with its environment), have a view of the Chesapeake Bay and its famous five-mile long bridge.
Spa
Opened in early June, this is the spa that the Eastern Shore has been waiting for. The airy space with its peaked ceiling and batten board walls is reminiscent of a farmhouse barn, if only that barn sprung from Martha Stewart's imagination. There's a roomy lounge with seating round a stone fireplace for cold days and a view of the garden through a bank of French doors on the other. A patio with a wall fountain makes the perfect perch to sip an herbal tea or, better yet, a sparkling wine. Denise Haddaway, whose previous stints at Linden Spa at the tony Inn at Perry Cabin in St. Michaels and The Spa of Colonial Williamsburg brings prowess to her position as spa director. Although the spa is intimate with just four rooms (one a double), the spa menu is substantial. On a recent visit, I chose the Himalayan salt stone massage, where warm salt stones were rubbed into my tense muscles. Although I didn't have time to try another treatment on my last visit, the espresso mud body scrub, which exfoliates with a combination of Arabica coffee, Indian sarsaparilla and volcanic pumice, was tempting.
Restaurant
In this era when just about every other restaurant claims to be farm-to-table, Knoxie's Table actually is. Nearly all of the ingredients on the menu come from within a 90-mile radius of the kitchen. And starting later this summer, some will come from as close as twenty feet away as Executive Chef Paul Shiley's garden comes to fruition. On the outdoor terrace that's punctuated with a tall stone fireplace, a grill is fired up most nights, serving $5 "Bay Bites" on sugar cane skewers, like jerk chicken and shrimp with rosemary. Indoors, it's once again high style meets rural chic with barrel lights, a stone-topped bar, and wicker chairs paired with comfy sofas. The menu is seasonal and changes often. Recent offerings: Maryland cream of crab soup and homegrown tomatoes speckled with local blue cheese. And throw your "my body is a temple" philosophy to the side for one night and dig into the dreamy duck fat fries along with a slice of freshly made pie by a resident baker that likes her pies thick and sweet.