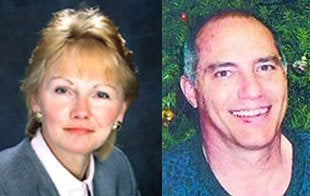 When sheriff's deputies responded to a call at the Konneker residence in Springfield, early on the morning of January 23, they found Patrick Burns standing in the Konnekers' yard. He was in his T-shirt and underwear, bleeding, delirious and combative.
What happened next is where the questions begin.
To subdue the raving Burns, police fired four Tasers a total of 21 times. When that wasn't enough, they used additional force. He was then hog-tied and transported to Memorial Medical Center. An initial assessment at the hospital showed he had a faint pulse and wasn't breathing. His condition deteriorated quickly, and he died in the hospital that afternoon.
The Sangamon County Coroner, Susan Boone, investigated his death, as did pathologist Dr. Jessica Bowman. Bowman called Burns' death "a textbook case" of excited delirium, a condition in which drug use sends the brain into overdrive and kills the patient. Burns had cocaine in his bloodstream, according to toxicology reports.
Unhappy with the results of Boone and Bowman's inquiry, the family of Patrick Burns hired a private pathologist to investigate the death. Dr. John Ralston's examination of the facts raised a number of points that challenged the ruling of excited delirium.
Burns didn't have a toxic amount of cocaine in his system at the time of his death. Moreover, Ralston believes he showed all the signs of a so-called "anoxic episode," where the brain shuts down from oxygen deprivation. Riding to the hospital hog-tied and face-down could easily have arrested his breathing for several minutes.
What's more, Bowman, the pathologist used by the coroner, isn't board-certified in forensic pathology. Surrounding counties don't use her, instead preferring Ralston's work.
"I was like a lot of other coroners. She was all I had, so I had to use her," said Morgan County Coroner Jeff Lair. "I was just waiting to get a qualified person in." Lair quit using Bowman because he believed her findings were inaccurate in some cases. ...

Macon County Coroner Michael Day and Cass County Coroner Wyatt Sager also don't use Bowman.

"I will be very honest with you. The fact that Dr. Ralston is board-certified is definitely a positive, in my opinion," Day said.

The SJ-R points out another recent case in which Bowman ruled that 2-year-old Anakin Credit died of a rare childhood cancer. "Two pathologists now have ruled the death a homicide -- an obvious one, judging from their reports," writes the paper's editorial board.
Boone has repeatedly defended Bowman, arguing that board certification is not a reflection on a doctor's competence.
Still, at the request of the Burns family, a Sangamon County judge has appointed a special prosecutor to investigate the coroner's office for official misconduct in the case.
And to the Journal-Register's editorial board, which has repeatedly called for Boone's resignation, this comes none too soon.
"That investigation will be a service not just to the Burns family but to all of Sangamon County," writes the paper.
Burns, a state employee, had struggled for years with bipolar disorder. He is survived by his two daughters.
Related
Popular in the Community