Wednesday night was the private opening of SWELL -- a survey of surf-themed art, curated by Tim Nye and myself. The exhibition showcases work from members of the California Minimalism movement, as well as from prominent east coast artists' interpretations of the Pacific surfing scene. Some of New York's most celebrated social figures and many of the featured artists attended the event. Themed "You've gotta go East to go West," attendees started at Nyehaus and worked their way through Friedrich Petzel Gallery and Metro Pictures toward the Hudson River, where they boarded the elegant Turkish yacht, the Quasart, for a cocktail party that lasted deep into the night.
The show historically contextualizes beach culture and its poetic and freeing nature on the Beat Generation, Assemblage, Light and Space, Finish Fetish and early Pop Art. From this group of California artists, works by Wallace Berman, George Herms, Bruce Conner, Llyn Foulkes, Ed Kienholz, Billy Al Bengston, Tony Berlant, Ed Ruscha, Laddie John Dill, Dewain Valentine, Peter Alexander, John McCracken, Larry Bell, Craig Kauffman and Helen Pashgian will be on view.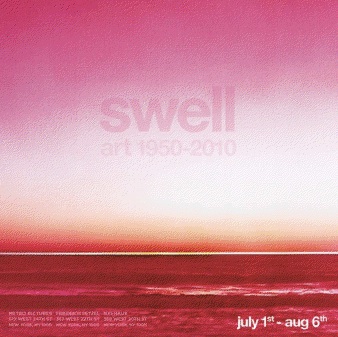 One of the main axes of the show is the obvious yet sensual relationship between shapers and the Finish Fetish movement of the 60s. As the show focuses on two cities, L.A. and New York, it attempts to place the ocean and its proximity to both cities as an antidote to a cacophony of quantities, speed and competing images. It also addresses how later generations of artists have looked back at assemblage, ephemera and graffiti as a way to either incorporate or reject the piercing presence of branding, advertisement and information technology.
Spanning six decades (1950-2010), the three-gallery exhibition features painting, sculpture, photography and video works from more than 50 artists, including Billy Al Bengston, Shepard Fairey, Robert Longo, Richard Prince, Ken Price, Catherine Opie, Dennis Hopper, Frank Gehry, Fred Tomaselli and Ed Moses. SWELL also showcases actual surfboards made by legendary shapers and decorated by the artists themselves, further reflecting the influence of surfing on the artistic community.
SWELL is a state of mind, but it is also our way of understanding distant forces, the beyond.
"And the deal with the Beads?" friend, critic, historian and artist extraordinaire, C.R. Stecyk asked. He continued:
I gladly would have traded anything for those sparkling glass bubbles. A genuine infatuation for phenomenology is a requirement for participation. Something like this requires three gigantic spaces in Chelsea. A Stone Age Polynesian pursuit governed by Gods. I never would have guessed or envisioned this. But after all, Gotham is a true island culture.
The SWELL exhibition opened to the public on July 1st and runs through August 6th.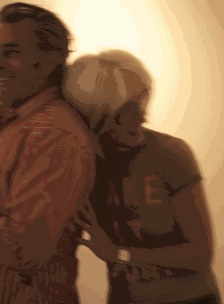 Curator Jacqueline Miro and artist Steve Olson during installation at Nyehaus/Photo by C.R. Stecyk
Check out the SWELL blog for updates during the exhibition's run this summer.
Calling all HuffPost superfans!
Sign up for membership to become a founding member and help shape HuffPost's next chapter