 Red roses, tulips, heart-shaped toys and teddy bears cram the stands of Rawda Flowers in an upscale district of Damascus, but with war raging few people have indulged in gifts for Valentine's Day.
"My business is almost dead. Most of my old clients, who once came to buy bouquets for thousands of Syrian pounds, have fled the country because they fear kidnapping," the shop owner told AFP on condition of anonymity.
"I am selling this bouquet for 3,000 Syrian pounds ($30)," he said, pointing to a blood-red bouquet of roses.
"The world-famous Damascene rose now costs 250 pounds ($2.5), while it used to cost just 100 pounds ($1) in previous years," said the flower seller, blaming inflation that has soared by more than 50 percent.
The price is out of reach for most people in Syria where 2.5 million are in need of emergency food aid, according to the World Food Programme.
In another shop, two beautifully wrapped packages gather dust on a shelf in the back of the room.
"A client ordered these gifts a month ago. On any other year, you would have seen a mountain of packages," said Abu Ahmed, owner of a gift shop in the Shaalan commercial hub if Damascus.
For Abu Rashed, a driver who fled the violence engulfing the town of Moadamiyet al-Sham southwest of the capital for the relative safety of Damascus, "this is not the time, for love or flowers".
Abu Rashed has been separated by war from many other family members. His uncles have sought shelter in Ifrin, 400 kilometres (250 miles) north of Damascus, he said.
"I don't have the heart to celebrate. Everything in my country is becoming death and destruction," he told AFP.
Valentine's Day became fashionable in Syria in recent years, with shops, restaurants and even main roads in big cities decked with red ribbons and other decorative items to celebrate the feast of love.
But nearly two years have passed since the uprising against President Bashar al-Assad's regime morphed into a bloody insurgency amid a merciless army crackdown.
"Certainly, this is not the time for love. We are all suffering from violence," said Samir, a 23-year-old shop assistant, who sat with his girlfriend Basma, 18, under a lemon tree in a public park, exchanging conversation above the distant sound of bombardment.
Samir plans to leave for Saudi Arabia, but first, and despite the war, he and Basma will celebrate Valentine's Day at the Barada club in the upscale district of Mazzeh, in northwestern Damascus.
For Nawwar, a 35-year-old Syrian state employee, Valentine's Day provides a rare opportunity to celebrate and to forget for a moment a brutal conflict which the UN says has left nearly 70,000 people dead.
"If we celebrate love, we can forget for an instant the tragedy (of war) because love inspires dialogue" among divided Syrians.
"Without love, there can be no solution to the crisis," Nawwar said.
Copyright (2013) AFP. All rights reserved.
Related
Before You Go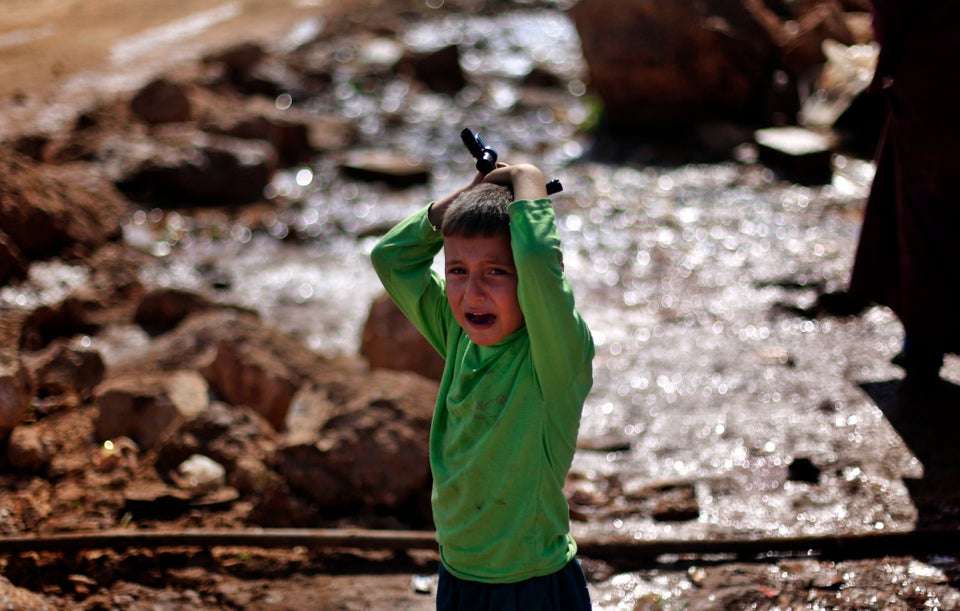 Real Victims Of The Syrian Crisis
Popular in the Community