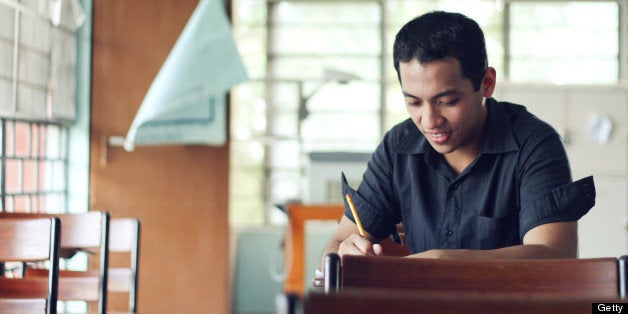 The business world has taken up a term popularized by poker: table stakes.
"Table stakes" are what it takes to get a seat at the table. If a player is prepared for a nickel- ante game but his tablemates are tossing in ten-dollar chips, his lack of resources will soon make itself apparent. He simply can't compete.
In the modern global economy, the table stakes have increased over the past two generations, and the United States is struggling to keep up.
According to the Organization for Economic Co-operation and Development, in 2010 the United States' high school graduation rate ranked 22nd out of 26 industrialized nations. We rank 4th among 34 industrialized countries in adults with college degrees, but that drops to 13th among younger adults aged 25 to 34. In other words, those leaving our workforce are relatively well educated, and those entering it are not.
Meanwhile, according to Anthony Carnevale of the Georgetown Center for Education and the Workforce, over the past 40 years the percentage of U.S. jobs requiring postsecondary education has more than doubled, from 28 to 59 percent.
Carnevale projects that the lifetime earnings of people who drop out of high school are $1.2 million, while high school graduates are expected to earn $1.8 million and those holding bachelor's degrees $3.4 million. Finally, according to McKinsey and Co., if Americans were educated at the same levels as South Koreans and Finns, our gross domestic product would grow between $1.3 and $2.3 trillion per year.
In poker terms, a couple trillion dollars will get us a seat at the table as long we care to play.
ACT just released its "Work Readiness Standards and Benchmarks" report, in which we describe some of the ways our country can enhance educational and economic performance. In addition to "cognitive" abilities that can be developed in schools, we found that soft skills such as attitude and integrity also have a powerful ability to predict on-the-job performance.
EdLink (full disclosure, an organization owned in part by ACT), recently issued a report on employer tuition assistance programs. The firms EdLink serves annually invest more than $4,300 of tuition funds in each of their employees. While some employers are reluctant to invest "too much" in their staff for fear that they'll take their new skills elsewhere, the most enlightened organizations recognize that engaged workers are more likely to stick around for the long haul -- and make significant contributions throughout their careers.
Unlike poker, where only one person wins a pot, investments in human capital are win-win-win situations: for employees, employers and the economy as a whole.
I don't want to overdo my allusions to poker, but I have one more.
There is an expression that goes something like this: "When you sit down at a high-stakes game, look around the table for the pigeon. If you can't see the pigeon, it's you."
When Americans look around the table at their counterparts from around the world, there are few pigeons to be found. That's fine. We're in a serious game.
However, we also don't want the pigeon to be us. In keeping with America's heritage, and our future, let's show the world how an eagle plays the game.
Related
Popular in the Community