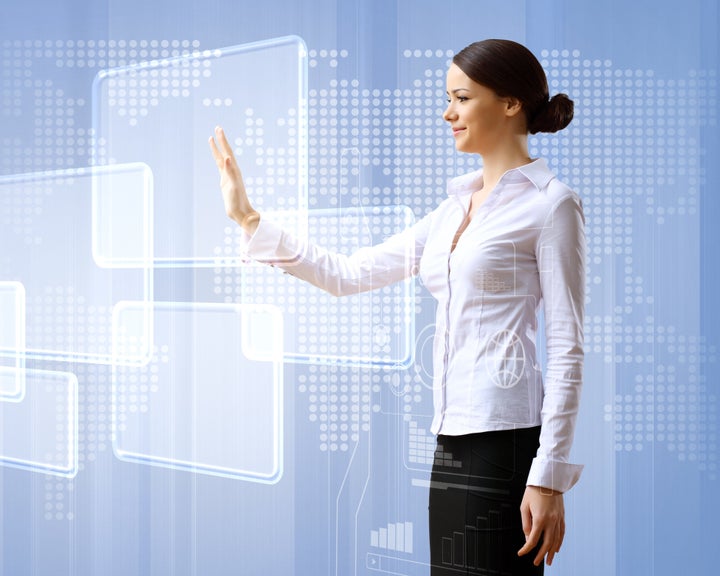 Before startups where "hot" and being a successful Silicon Valley entrepreneur was the quickest way to guarantee getting laid on the regular, the innovators of yesteryear, without the connectivity and democratization of information that technology now affords, built businesses around a solid skill set or profession, created educational institutions that challenged the status quo, and singlehandedly brought us things like blenders and washing machines.
We are, for all intents and purposes, amidst a huge, seismic shift but constant reminders of our "no jobs" economy are actually, not as true as you'd think. We're not losing the global innovation war.
While the polarized political climate is palpable and the complaints around economic stability are great, the groundswell of entrepreneurship has never been more apparent.
While many Americans stand firmly among the "dung" of a shifting job market in clear need of modernization, updated hiring modalities, and (frankly) a workforce able to keep up with the changes facilitated by our incessant hyper-connectivity, a beacon of light calls to our very individualized, cultural DNA.
This is the core of who we are (innovators) and here is what we have done in the past decade in case you've missed it: we have democratized entrepreneurship and the startup ecosystem that supports it, and we are re-building the middle class from Ground Zero.
What was once reserved for the elite and major market leader locales like New York, San Francisco, Boston, and Los Angeles is now being laterally afforded to nearly every regional market across America for those willing to giddy up and go get it.
This not a girl thing, a boy thing; a gay thing, a straight thing; a poor thing or a rich thing... nah nah, this is a soul thing.
The Proof is In the Pudding
From Austin to Detroit to Minneapolis to Columbus to Chicago, "non sexy" startup (tech) economies are taking the lessons from Recession 2.0 and the learnings from Silicon Valley (lean startup methodology) to grow their own local economies. Each has their own set of assets and needs based on historically high performing industries. Furthermore, the high cost of large urban cities is a catalyst for entrepreneurs to seek out smaller, more affordable cities to launch their companies and raise their families.
As my good friend Joanna Riley-Weidenmiller, CEO of The One Page Company, a San Francisco-based startup focused on shifting the paradigm around hiring, said to me recently:
"America was built on innovation. We are a bunch of immigrants who were once outcasts, and our infrastructure was built for people who had the balls to do big things, think for themselves, and create something from nothing. It's what makes us great."
We Are Building More Than You Realize
Let me assure you, we are at it again. Building. Toiling. Shifting. Changing.
From a comparative standpoint, Austin and Detroit seem about as step-brothery as they come.
One (Austin) is touted for its rip roaring music and entertainment scene which now rivals that of Los Angeles, New York, Chicago, and Nashville. And the food -- to die for! Been to Bangers? Beyond the beer, brats, and BBQ, emerging tech has recently exploded in this area as the once music and film focused SXSW bloomed into a showcase for emerging startups to strut their stuff.
Detroit, known historically for it's crime and crumbling auto industry is an unassuming mecca for developers; now powering many of the tech startups both in major U.S. markets as well as their own startup scene. It may currently reside in the shadow of showboat-y Austin, but the through-lines around why these two economies are seeing a recent boom are eerily similar.
Carlo Longino, who spearheads activities around building developer communities for WIP Factory customers like Verizon and AT&T, offers valuable insight about Austin and Detroit, two economies he knows well:
"The tech scene in these two regional markets are growing because they are great places to have a business on a variety of levels. For starters they have good pools of talent with less competition than areas such as Silicon Valley, and employees command lower salaries (thanks to a much lower cost of living). Both have great universities in the area, such as the University of Texas and the University of Michigan, along with government incentives, low taxes and other structural enticements for startups and tech companies. Both also have a history of innovation and strong engineering; Detroit has more traditionally focused on the automotive business, while Austin's roots are in computer hardware and chips, but both are now looking to software and services."
Despite its ridiculously frigid and long-term winters, those "salt of the earth" Minnesotans are not effing around for one minute when it comes to getting their gigantic, Nordic-ancestral hands into the startup pot. What was once known as "Mall Capital of the World" (Ah-hem, Mall of America fans unite) is now a testing ground for the convergence of tech and retail.
Minnesota-born-and-raised Ahmed Siddiqui has an interesting take on this burgeoning startup scene. (Standard disclaimer: he now resides in the Bay Area but his entire family and slew of cousins, nephews -- you name it -- give him regular reports).
"The Minneapolis startup scene is growing rapidly, with co-working spaces popping up where there were once flour mills. Although there is much to be desired in terms of investment landscape in Minneapolis, entrepreneurs with solutions in retail are finding new inroads with Target and Best Buy, both of which are headquartered there."
And then there is Columbus. Big. Healthy. And totally undercover. Check it out.
The Columbus region has traditionally been heavily reliant on advanced information processing -- with sectors such as banking, retail, insurance and healthcare driving the economy. CompuServe was born here and OCLC maintains the world's largest online library catalog connecting libraries from across the globe. It has been said that the Midwest has always been recognized for doing the "heavy lifting" in software programming for business -- much of which has been done, and continues to be done, in Columbus.
This rich history has given rise to a creative class of entrepreneurs, steeped in the knowledge of software development and problem solving who have turned those talents into entrepreneurial pursuits.
According to TechColumbus spokesperson Tricia Strahler: "This region is quickly gaining a reputation in healthcare IT with companies such as HTP being launched and eventually acquired by McKesson and Health Care DataWorks, a spin off from The Wexner Medical Center at Ohio State. This was one of the earliest health information electronic data warehouses to achieve "meaningful use" designation under new federal regulations.
But Columbus is also rich in research and development assets. In 2008, Forbes named Columbus the "#1 Up and Coming Tech City" primarily due to the number of "significant patents" issued to the city's behemoth research institute, Battelle. Together, the region's institutions, which include Ohio State, Battelle, the Research Institute at Nationwide Children's Hospital and others, represent more than $2 billion annually in managed research and development. This has led to the growth of many startups in areas such as advanced materials, agriculture and healthcare.
Last but certainly not least, and a city near and dear to my heart despite the cold factor: Chicago.
Lead by J.B. Pritzker, built in Chicago, Chicagoland Entrepreneurial Center (which operates co-working space 1871) and Excelerate, this foodie-lovers and sports fan dream city is getting its serious startup groove on.
"Having a 'hub' for startups is THE most important thing to get a startup scene off the ground," remarks Sharon Schneider, Startup America member and Founder & CEO of MoxieJean, a Chicago-based startup that works out of the 1871 building. "In Chicago, it's like the new pickup line: 'I work for a startup.' When that starts to happen in a local economy you know the wave has hit. Chicago has been brilliant in terms of figuring that out and building a place for the startup community to come together."
Her insights around the entire startup ecosystem are well put:
"But like any burgeoning economy, there has to be the 'perception' of opportunity. Entrepreneurs need to know they don't need to go to the coasts to get the support... it's really a chicken and egg scenario for the fundable startup pipeline. You have to have the pipeline of the entrepreneurs first, then you have to prove the viability in order to attract investors."
For Sharon, and the hundreds of thousands of entrepreneurs crawling out of the woodworks, harnessing their strength, and taking the plunge, there is no doubt the opportunity is theirs for the taking.
Build it and they will come. What major tech markets can't offer in terms of affordability, regional markets can. This is not an either/or scenario; it's a both/and. Both communities are important. But the reality is that the majority of U.S. growth will happen as smaller markets build these infrastructures, create their own hubs, and shift their investment strategies to include building a healthy, sustainable startup ecosystem.
And if you don't believe me, I'll leave you with this perspective from Scott Case, CEO of the Startup America Partnership, an organization whose mandate is to lead the charge in this new economy where entrepreneurs and developers act as the modern day foot soldiers:
"There are amazing startups in every single state in the U.S. focused on solving big problems and growing their companies. Whether it's Denver, Des Moines or Dallas, founders are building their businesses in their hometowns, establishing vibrant local startup economies and creating jobs."
Related
Popular in the Community