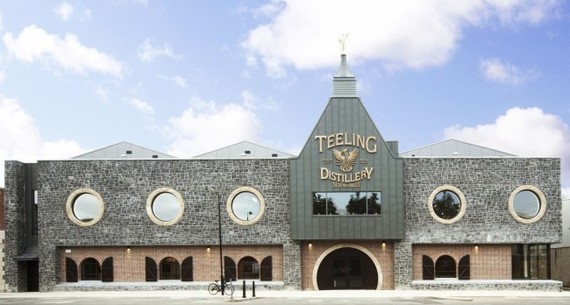 The Teeling Whiskey Company, Dublin's newest distillery

The logo of the Teeling Whiskey Company is a phoenix - that mythical bird which is periodically consumed by fire only to be reborn from its ashes. It is a fitting symbol for Teeling Whiskey, the Teeling family and for the revival of the Irish whiskey industry; an industry with which the Teeling family has had a long association.
The Teelings has been distilling Irish whiskey since 1782, when Walter Teeling set up a craft distillery on Marrowbone Lane in the area of Dublin known as the Liberties. This period was the beginning of the first Irish whiskey boom and would at its height see over 37 independent distilleries in Dublin alone.
The industry peaked in 1900, when it produced around 12 million cases of Irish whiskey. World War I, Prohibition in the United States, the Irish War of Independence and subsequent civil war, poorly thought out Irish government regulations, plus ongoing trade disputes with Great Britain, all combined to steadily erode the whiskey industry's sales over the following three-quarters of a century.
By the end of 1972, production had fallen too just under 500,000 cases and there were only two operating distilleries left, Midleton and Bushmills, both owned by Irish Distillers Ltd. (IDL). This was the nadir of Irish whiskey.
Two events would mark the start of the Irish whiskey revival, the purchase of IDL by the French wine and spirits conglomerate Pernod Ricard in 1988 and the founding of the Cooley Distillery in 1987 by John Teeling.
When it opened, Cooley was the first new whiskey distillery in Ireland in over a century. Beam Incorporated purchased Cooley on January 17, 2012, and since renamed it Kilbeggan after its flagship brand. Suntory in turn purchased Beam on April 30, 2014. Since 1989, Irish whiskey production has soared; surpassing seven million cases in 2014, and is expected to surpass the old record of 12 million cases by 2018.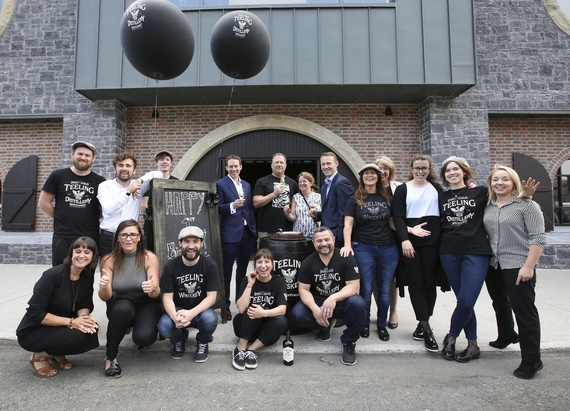 The staff at Teeling Whiskey celebrate the distillery's first birthday

The Teeling Whiskey distillery was opened in 2013, only a short walk from where the original Teeling distillery was set up in 1782. The distillery was the first new distillery in Dublin in 125 years and the first distillery to produce whiskey there since 1976. The company's three copper pot stills pay tribute to the Dublin tradition of triple whiskey distillation, while continuing with the innovative cask finishing techniques used by Cooley Distillery.
Currently, Teeling offers three separate categories of Irish whiskey: a single malt range, a grain whiskey and a blended Irish whiskey.
The Teeling single malt range features a blend of single malt whiskies that has been finished in barrels that previously held sherry, port, Madeira, white Burgundy or Cabernet Sauvignon.
The company does not disclose the source of the malt whiskey. Most of the whiskey came from stocks at the family's Cooley Distillery before it was sold. Some of the older whiskies feature the pronounced stone fruit taste and aroma profile that usually points strongly to Bushmills, due to its use of crystal malts in the production process, as the likely source.
Crystal malts are made from malted barley that is cooked prior to drying. The heat from the kilning caramelizes some of the sugars in the barley and, for reasons that are not entirely clear, produces a distinctive stone fruit flavor in the resulting whiskey.
The single malt expressions range from a premium bottling comprised of a vatting of malt whiskeys that have been aged on five different types of wine casks, and that carries no age statement, to a range of specialty bottlings ranging in age from 13 to 30 years.
There is also a Teeling Revival 13-year-old (YO) bottled at 46% alcohol by volume (ABV), which has been finished for a year in a cask that previously held Calvados, an apple brandy from Normandy, and a 24 YO double distilled single malt bottled at 48.3% ABV. There is also a 23 YO sherry cask finish expression, 52.5% ABV, that is available only at the distillery as a custom bottling.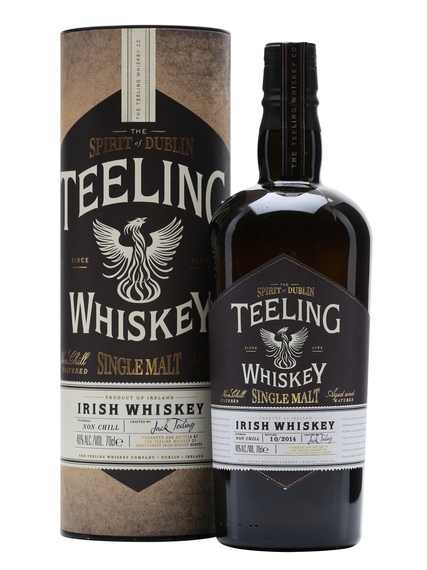 Teeling single malt Irish whiskey

Teeling Single Malt, No Age Statement, 46% ABV, 70 cl
Appearance: The whiskey has a bright gold color and consists of a blend of malt whiskies that have been separately finished in casks that previously contained sherry, port, Madeira, white Burgundy and Cabernet Sauvignon. The vatted malt includes stocks up to 23 years old.
Nose: On the nose there is a pronounced "grapeiness," like grape jelly, followed by cereal notes, a hint of shortbread and some butterscotch. There are pronounced tropical fruit aromas of melon and fig as well as ripe apple and some red fruits, sort of a fruit cocktail, followed by some citric orange notes and just a hint of chocolate.
Palate: On the palate the tropical fruit flavors of mango, melon and pineapple are even more pronounced, especially with the addition of a little water. There are baking spice notes of cinnamon, cloves as well as a bit of ginger pepperiness, followed by notes of chocolate, some orange marmalade and some vanilla. There is a hint of smoke in the background, more wood smoke than peat, and a bit of woodiness.
Finish: The finish is medium length, well balanced, featuring tropical fruits, spice and just a hint of bitterness. The tropical fruit notes tend to persist giving the finish a slight sensation of sweetness.
Conclusion: This is an excellent whisky, offering a complex array of fruit and spice notes. It is well integrated, nicely balanced, with a satisfying finish.
Rating: Appearance: 8/10, Nose, 26/30, Palate 27/30, Finish 27/30 Overall Score: 88/100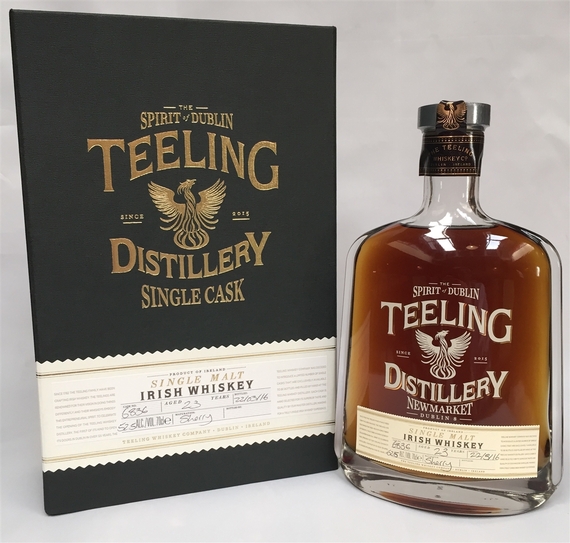 Teeling 23 YO Irish malt whiskey

Teeling Single malt, 23 YO, 52.5 ABV, Sherry Cask Finish, Single Cask Bottling #6836.
Appearance: The whiskey has a rich, brown mahogany color typical of sherry cask aged whiskies.
Nose: On the nose there are ripe apple and pear notes, followed by some caramel and some dried fruit aromas of fig, a little apricot and some raisin.
Palate: On the palate there is a thick, smooth, creamy sensation typical of sherry cask finished whiskies. There is a pronounced stone fruit taste of ripe peach, some raisin, followed by light tropical fruit notes. There are some spice notes with a hint of pepperiness, and just a touch of wood. There is a slight, dried fruit sweetish note that hangs throughout.
Finish: The finish is long, with a distinctive caramel and peppery notes, and interlaced with dried fruit sweetness and a creamy texture on the mouth.
Conclusion: This is an outstanding whiskey, extremely well integrated with a complex range of ripe and dried fruit flavors. The sherry cask influence is unmistakable and contributes the sweetness and creamy texture typical of sherry cask finishing. The pepperiness is a nice counterpoint to the sweet note that hangs in the background.
Rating: Appearance: 9/10, Nose: 28/30, Palate: 29/30, Finish: 28.30 Final Score 94/100
Additional bottlings, now hard to find, but which occasionally turn up, include a Revival 15 YO rum cask finished bottling and a 21 YO, 26 YO and 30 YO Vintage Reserve single malt bottlings.
Teeling also offers a Single Grain Red Wine Cask Finished bottling, which is completely matured in Cabernet Sauvignon wine barrels from California. The expression carries no age statement, but is believed to be around five years old and is bottled at 46% ABV. The grain whiskey is sourced from the Cooley Distillery. The mash bill is 95% corn and 5% malted barley.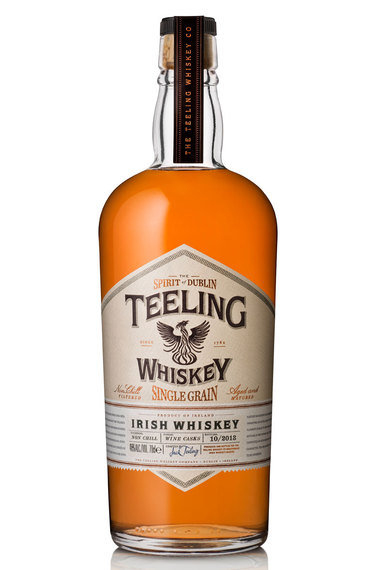 Teeling Single Grain Irish whiskey

Teeling Single Grain Red Wine Cask Finish, NAS, 46% ABV

Appearance: The whiskey has a rich golden bronze color with a slight orange tint.
Nose: On the nose there is a distinctive bourbon-like corn sweetness, followed by red fruit and kirsch notes with vanilla, coconut and baking spices.
Palate: On the palate there is a soft, creamy honey sweetness, vanilla, a bit of buttery shortbread, and pepper. There are red fruit notes throughout, with a bit of a wood note hanging in the background.
Finish: The finish is long, peppery, with a caramel sweetness throughout.
Conclusion: This is an interesting whiskey. It's smooth, and offers a broad array of flavors but like most Irish grain whiskies lacks the intensity of pot still malt. It's easy to drink and its fruity notes would make for an excellent aperitif.
Rating: Appearance: 7/10, Nose 24/30, Palate 25/30, Finish 26/30 Final Rating: 82/100
Finally, the company has a Small Batch whiskey offering that consists of a blend of Irish grain (65%) and malt whiskies (35%), which are married in Flor de Cana rum casks for six months and bottled at 46%
ABV. The expression carries no age statement but is believed to contain whiskies between four and seven years of age.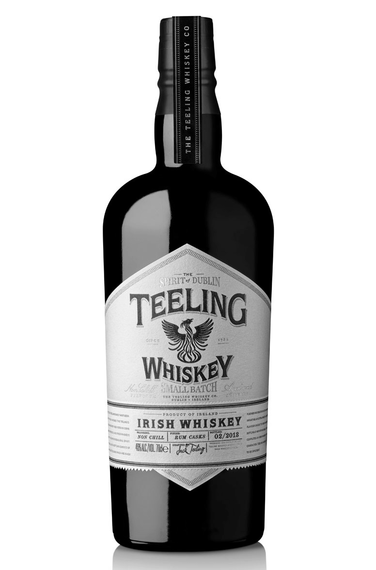 Teeling Small Batch Irish whiskey

Teeling Small Batch, NAS, 45% ABV
Appearance: The whiskey has a rich golden color.
Nose: On the nose there are distinct ripe fruity aromas featuring, apricot and a bit of peach, followed by apple and pear notes. There is a bit of a cooked sugar, caramel, cotton candy sweetness throughout. There is also a very slight medicinal, herbal note in the background.
Palate: On the palate the whiskey is sweetish, featuring a creamy mouthfeel. There are flavors of apricot and apple, with some vanilla and spice and peppery notes, as well as cooked sugar notes of caramel and a bit of molasses.
Finish: Medium length, featuring sweet and fruity notes initially, with some woodnotes and a bit of dryness at the end.
Conclusion: This is a good whiskey. The rum cask finish adds some additional flavors and complexity as well as a cooked sugar sweetness.
Rating: Appearance 7/10, Nose, 26/30, Palate 26/30, finish 25/30 Final Rating: 84/100
As the Teeling family enters its third century of whiskey distillation, its new namesake distillery is well poised to continue a long-standing tradition of producing superb, finely crafted whiskies that bridge both the traditions of traditional Irish whiskey and contemporary production and finishing techniques. The Irish whiskey revival is still in its infancy, and both it and Teeling whiskey will no doubt have many more interesting and flavorful surprises in store for Irish whiskey enthusiasts.