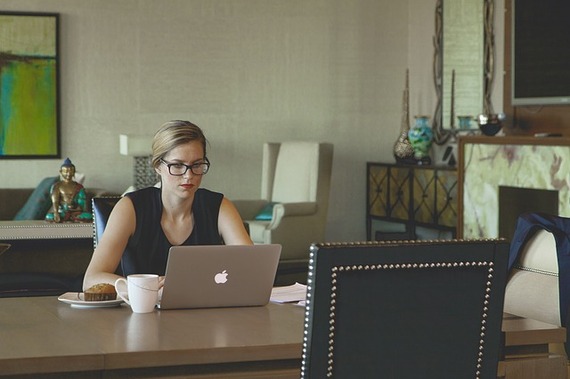 Allowing employees to work from home, otherwise known as "telecommuting," is becoming a common human resources discussion. One of the main focuses of this discussion is how this trend affects companies. You might be surprised to learn that studies, including a recent study by Stanford University, have found that employees who work remotely are often more productive and work longer hours than those who head into the office.
To garner a better understanding of this trend, we've outlined the most prevalent pros, cons and even risks of this hot topic.
2. Employers retain crucial employees. The flexibility of telecommuting helps employers retain key employees who may otherwise leave because of personal reasons, such as moving further from the office. In fact, employees who evade extensive work commutes often experience less stress and can better sustain a positive work/life balance.
3. It is cost efficient for both the employer and employees. The Stanford University study also examined a Chinese travel agency and found that the company saved an annual average of about $2,000 per employee who worked remotely.
This is because telecommuting reduces expenses across the board -- from real estate and building maintenance, to security, furniture, office supplies and other expenses. Employees also can see a positive effect of telecommuting, by saving on minor expenses, such as fuel costs.
Cons of Telecommuting:

1. Employees experience issues with work/personal boundaries. For parents, telecommuting while the kids are home is often a difficult task. Making a frequent transition between the role of a parent and the role of a professional at home can often be confusing for children who may not understand why you are unable to be continuously available.
2. Employees are left out of social activities. Experts agree that socializing among colleagues is very important to build positive trust and support in the workplace. Those who work from home may forego important collaborative opportunities that occur during social activities and networking events.
3. Employees experience less creativity due to lack of collaboration. Research on creativity has found that certain moments of brilliance are sparked by unexpected conversations (for instance, while grabbing a cup of coffee with a colleague). Lack of presence in the office prohibits telecommuters from experiencing unintentional creativity throughout the workday.
1. Extended Workers' Compensation. Remote workers are changing the landscape of where traditional business is conducted. This, in turn, also changes the clarity and classification of workers' compensation. Take for instance, an employee who chooses to work while on vacation. There is potential risk that the employee may be injured from unsteady working conditions, such as checking emails while on a boat.
Although telecommuters may not initially appear to be a noticeable workers' compensation risk, many employers could be unaware of the working conditions of their employees. The most important step that employers should implement when allowing employees to work from home is to set up clear guidelines -- in writing -- and have the employee read and sign the agreement.
2. Increased risk of network privacy and security loss. Maintaining safe and effective network protection can often be difficult enough within an organization, but when employees remotely access documents located on a company's internal network, privacy and security can be compromised. A breach in security could lead to detrimental situations and costly circumstances -- including losses of consumer personal or medical data.
To help prevent potential security breaches, employers should provide telecommuters with company-issued equipment and prohibit administrator privileges. It is also wise for employers to invest in both first-party and third-party business insurance. First-party insurance protects a company's assets -- including files, expenses and internal records -- while third-party insurance covers settlements and defense costs in case a third-party lawsuit emerges.
Popular in the Community