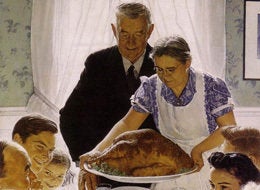 During the presidential campaign, Obama said that sweet potato pie was his favorite. So, on election night, before any returns came in (we're on the East Coast), we made a sweet potato pie for a good luck dessert. It was DELICIOUS (and the good luck worked!). Here is the recipe we used:
Ingredients:1 pound sweet potatoes1/2 cup butter, softened1 cup white sugar1/2 cup milk2 eggs1/2 teaspoon ground nutmeg1/2 teaspoon ground cinnamon1 teaspoon vanilla1 9-inch unbaked pie crust
Directions:Boil sweet potato whole in skin until soft when poked with fork (40 to 50 minutes for 1 large sweet potato or 20-25 minutes for group of smaller ones). Run cold water over cooked potatoes, remove skin, and place in large mixer bowl.
Mash cooked potato and beat with softened butter until combined. Add sugar, milk, eggs, nutmeg, cinnamon, and vanilla. Beat on medium speed until smooth. Pour into unbaked pie shell.
Bake in preheated oven for 55 to 60 minutes, or until knife inserted in center comes out clean. Pie will puff up like a soufflé, and then sink down as it cools.
Serve warm or at room temperature with vanilla ice cream or whipped cream.
Related